YourSaskatoon Blogs
YourSaskatoon provides you a place to voice issues dear to you on our site. If you have a blog idea for the local audience message us. Share your idea we may provide you the vehicle to reach your audience. We must respectfully reserve the right to not accept all ideas submitted.
6 minutes reading time
(1221 words)
Brainsport Times Oct. 5, 2016
It's not every day you hear about a husband and wife duo training for, and running ultramarathons together - and doing so successfully. However, if you're a regular at the Brainsport Run Club you already know a couple doing just that!

As mentioned in last week's Times Brainsport's Harvey Mathies, and his wife Karon, both ran outstanding races at the Lost Soul Ultramarathon in September. Karon completed the 100 mile race, placing 5th in her age group; while Harvey ran a personal best in the 100 kilometre race. In this week's Times we're speaking with Harvey to learn more about the experience.

Q&A with Harvey Mathies

Tara: You and Karon both ran extremely well at this year's Lost Soul Ultramarathon with Karon completing the 100 mile race, placing 5th in her age group; and you ran a personal best in the 100 kilometre race. What do you think was the key to your success this year?
Harvey: Karon and I have discussed this question a number of times since the race and believe that there are several reason for our success this year.
Seeking the advice of a nutritionist gave us the confidence that we were taking the right nutrition as we ran. Neither of us had any cramping or GI distress throughout the run because we were eating and drinking adequately.
We both took a Brainsport Run Academy Marathon clinic through the summer with Pat Somerville as the coach. The intensity of the clinic and weekly workout sessions prepared us mentally and physically to run well beyond our mental and physical comfort. I can't say enough about this type of training as part of the overall ultramarathon training.
When training for these long runs we definitely needed to run alone at times to get our heads around being alone but the group runs are so helpful. The Friday Night Lights Trail group and the Saturday morning Brainsport Run Club really stretched us as we ran with much better runners than ourselves so we were pushed beyond our running comfort.
The last one I will mention is the support and encouragement of running partners. In these long races there is nothing better than to see a friendly face at an aid station or to have someone run with you for a while when you don't have the mental strength on your own.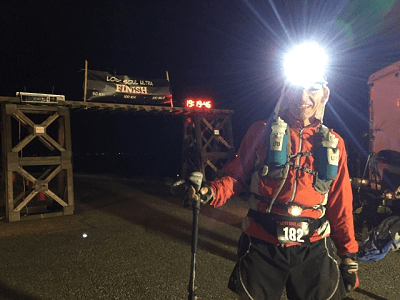 Harvey at the 2016 Lost Soul Ultramarathon in Lethbridge, AB.
Tara:
You've now had a few weeks of rest, and time to reflect on the race. What stands out as highlights of the event?
Harvey: There are a number of highlights that stand out to me. To start, the incredible race organizers and volunteers, who were supporting runners for 35 hours - many of them with very little, or no sleep. Other highlights included running with friends we had trained with all year, enjoying the social aspect of the race - meeting new people, and running through the night, which is an amazing experience. Also, very high on the highlights list is running and training with Karon and experiencing a huge success for both of us.
Tara: Was there a part of the race that was particularly challenging? How did you get through it?
Harvey: The most challenging part of the race for both of us was the mental fatigue. To a lesser extent for me because Karon ran 60k further than me but we both had to overcome it. I literally focused the last 30k or 40k on how good a burger and Coke was going to be. This sounds silly, but that promise of a burger and Coke after a running for more than 19 hours was huge. Karon was very fortunate to have some great friends to get her through the the last 50k. Between Rachelle, Kelly, Steve and myself we took turns pacing Karon to keep her going. These friends had already run 100k, but hurting or not , they were there to get Karon through an amazing feat of 100 miles. As Karon said, she would not have completed that run without the help of these friends. Her carrot through the last part of the race was not food, it was simply that she wanted to be able to stop running.


Karon making a climb at the Lost Souls Ultramarathon.

Tara: Can you tell us a bit about how the running community in Saskatoon helped prepare you for the race?
Harvey: For anyone wanting to stretch themselves beyond their normal trail running this is a great avenue to do so. Saskatoon has some of the best single track trails and also a large group of trail runners who are excited about the sport. The SRRA promotes trail running through their Trail Racing Series they organize each year. If anyone is interested in knowing more about trail running they can talk to anyone at Brainsport or contact the SRRA as well. Get involved in all the running opportunities in the city, Brainsport Run Club Wednesday evening and Saturday morning, SRRA training Monday night Hill workout and the Monday night speed workout. Being part of the running community in the city gives you a social, and training, network that is so important in trail running.

Tara: Is there anything else you would like to add?

Harvey: A huge thank you to the race directors, committee, volunteers and city of Lethbridge for putting on one the best organized race I know of. I'll also add I'm very happy Karon and I are both healthy enough to enjoy this type of activity. There is so much to say - I could go on for a long time, but I'll leave it at this. As Roy Rogers used to say "happy trails to you!"

UPCOMING EVENTS

The Gingerbread Run



Registration opens for the 2016 Gingerbread Run opens mid-morning on Oct. 1. Go to the Brainsport webpage and follow the prompts to register. Race day is Nov. 20 - save the date and get ready to catch that Gingerbread Man!


Running Tour of King George Neighbourhood
The SRRA is hosting a free running tour of the King George Neighborhood on Nov. 5. Starting time is 10 a.m. Participants are asked to arrive by 9:45 at Wolf Willow Co-Housing at 530 Avenue J South at 17th Street. Subjects of the tour will include: King George School, Gordie Howe, Don Freed and Conversion of Rails to Trails - plus more.


SRRA Annual General Meeting
The Saskatoon Road Runners Association's annual general meeting is being held on Nov. 5 at 11 a.m. This year's meeting will be held at Wolf Willow Co-Housing at 530 Avenue J South at 17th Street. Complimentary lunch will be served at noon.

TRX Strength for Runners & Triathletes

Gain strength and alignment in the off-season with a focus on swim, bike and run movement patterns. Sessions will also include recovery techniques for injury prevention. Coached by Carly Priebe, certified triathlon and running coach with experience coaching at international level. Classes are Thursdays from 7:15 a.m. to 8 a.m. for six weeks through September and October.

Go to www.transitionsportandfitness.ca for more information.


Product of the Week
Salomon Speed Cross
This week's featured product is Harvey's pick: the Salomon Speed Cross. Harvey likes its agrresive grip, which is soft enough for running, but very stable on uneven terrain - perfect for the trails! It's also popular winter running shoe pick.
---
Thanks for reading the Times this week . . gotta run . . .Tara
Stay Informed
When you subscribe to the blog, we will send you an e-mail when there are new updates on the site so you wouldn't miss them.
Comments
No comments made yet. Be the first to submit a comment