YourSaskatoon Blogs
YourSaskatoon provides you a place to voice issues dear to you on our site. If you have a blog idea for the local audience message us. Share your idea we may provide you the vehicle to reach your audience. We must respectfully reserve the right to not accept all ideas submitted.
6 minutes reading time
(1223 words)
Brainsport Times Oct. 12, 2016
Happy belated Thanksgiving to everyone! Hopefully you all had a great holiday weekend and are now back into the swing of things.

In this week's Q&A we're speaking with Brainsport's Jamie Epp. For those of you unfamiliar with Jamie's background, he's a former U of S Huskies running star, with a seemingly endless list of national championship titles to his name - in events from the 1,500m to cross-country. He has also represented Canada in five international competitions, most notably placing fifth in the 10,000m at the 1999 Pan American Junior Championships. Last year Jamie's remarkable career was recognized with his induction into the Saskatoon Sports Hall of Fame.

Jamie is now passing along his knowledge and experience to the next generation of Huskies, holding an assistant coaching position with the cross country team for the past four years. The team is having a standout season this fall, so we thought we would get the scoop from Jamie on all that's been going on.

Q&A with Jamie Epp
Tara: Let's jump right into this season, which is going really well, in particular on the women's side. Would you mind telling us about the success the team's had so far this year?
Jamie: Our women's team is quite strong this year with them currently being ranked 13th in the country (which has not happened in many years). The women's team started with winning the team title at the Cougar Trot in Regina with individuals going 1,2,4,5,7,8, and they followed that up with a 2nd place finish at our home meet, the Sled Dog Open. Shayna Uhryn, our top recruit, finished 1st at the Cougar Trot and 2nd at Sled Dog open in her rookie year. The men's team has also ran well in the first two meets even without last years 6th place finisher at Nationals, Erik Widing. Erik has been nursing an achilles injury so we have sat him out of the first two races.
Tara: What's been the key has been to this great season?
Jamie: The success of the team has come from doing more recruiting and having the top two recruits joining our women's team this year. The team has also got along extremely well and I have found when the team is having fun and getting along they tend to race better. The core of the men's team has been together for three years now and have a close friendship and this has helped them succeed.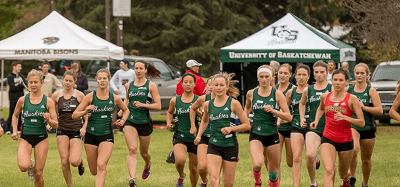 Huskies Women's Cross Country Team taking off in 2016.

Tara: Did you expect the success you're seeing this year?
Jamie: Honestly, yes I did expect the success. I knew how strong our team was coming into the season and adding strong rookies guarantees success in future years as well. We have added depth to the team which is the exact thing we needed to do to become a contender on the national level. As for the guys team we don't have many members on the team but the quality is high so I can expect the guys team to surprise a few teams come our next races.


Huskies Men's Cross Country Team huddling up.
Tara: What are your hopes for the remainder of the season?
Jamie: We only have two races left in the season (one on Oct. 29 in Calgary, and then nationals on Nov. 12 in Quebec City), so I expect to see our women's team move up into the top 10 in the country and surprise a lot of teams at Nationals. We are only losing one girl next year (due to eligibility and her being done school) so in the big scene we have an extremely young team and this year will be a good chance for them to see what it is like to run at university nationals. Our men's team is a bit older, but in the next two races they will show their experience and strength by moving up in the results and showing they deserve a spot at Nationals.
Tara: Is there anything else you would like to add?

Jamie: The U of S cross country and track teams are the most successful teams on campus (both academically and athletically) but they are also a couple of the worst funded teams. The cross country and track teams have won 13 National Championships, which is the same amount that every other team on campus combined has won. If you want to see this success continue and for young athletes to get these amazing opportunities you can support the team by donating to Huskie Athletics or also by registering for the Brainsport Brainfreeze in March, which helps support the cross country team. More information will come out soon. http://www.huskies.usask.ca/donate/donatehome.

UPCOMING EVENTS

Yoga for Runners

BreathMoveBe is offering six more weeks of yoga for runners this season. Classes will be held from 6 p.m. to 7 p.m. from Nov. 8 to Dec. 13 at 615 2nd Ave. N. Saskatoon. For more information contact Leanne Parsons: (306) 251-2964 http://This email address is being protected from spambots. You need JavaScript enabled to view it.. http://www.breathemovebe.ca.

The Gingerbread Run



Registration opens for the 2016 Gingerbread Run opens mid-morning on Oct. 1. Go to the Brainsport webpage and follow the prompts to register. Race day is Nov. 20 - save the date and get ready to catch that Gingerbread Man!


Running Tour of King George Neighbourhood
The SRRA is hosting a free running tour of the King George Neighborhood on Nov. 5. Starting time is 10 a.m. Participants are asked to arrive by 9:45 at Wolf Willow Co-Housing at 530 Avenue J South at 17th Street. Subjects of the tour will include: King George School, Gordie Howe, Don Freed and Conversion of Rails to Trails - plus more.


SRRA Annual General Meeting
The Saskatoon Road Runners Association's annual general meeting is being held on Nov. 5 at 11 a.m. This year's meeting will be held at Wolf Willow Co-Housing at 530 Avenue J South at 17th Street. Complimentary lunch will be served at noon.

TRX Strength for Runners & Triathletes

Gain strength and alignment in the off-season with a focus on swim, bike and run movement patterns. Sessions will also include recovery techniques for injury prevention. Coached by Carly Priebe, certified triathlon and running coach with experience coaching at international level. Classes are Thursdays from 7:15 a.m. to 8 a.m. for six weeks through September and October.

Go to www.transitionsportandfitness.ca for more information.


Product of the Week
Saucony Reflex Ride 9 and Saucony Zealot ISO 2 Reflex
If you follow Brainsport on Facebook you may have seen manager, Lisette, had some fun showing off these glowing shoes recently in the attic of the store. In addition to their fancy reflection, these two neutral shoes are both fitted with Saucony's trademark EVERUN topsole, which provides a super smooth landing in the heal and reduced pressure on the forefoot. The Zealot's glove-like fit is a popular choice for many speedsters, while the Ride is consistently a top pick among those looking for a smooth comfortable "ride" that will take you through many, many miles,
---
Thanks for reading the Times this week . . gotta run . . .Tara
Stay Informed
When you subscribe to the blog, we will send you an e-mail when there are new updates on the site so you wouldn't miss them.
Comments
No comments made yet. Be the first to submit a comment