The selected editor codemirror is not enabled. Defaulting back to codemirror.
5 minutes reading time
(911 words)
Brainsport Times Aug 5, 2015
Welcome to August everyone! Hopefully you all had a wonderful long weekend filled with short runs, long runs, family runs, and, well, just a whole lot of fun!

In this week's Times we're talking to, Milly Gibbons, one of our Team Brainsport members who's been working with coach Jen Kripki. You may recall several editions back we spoke with Jen about this most recent run clinic aimed at getting people prepped for the Queen City Marathon. We thought it would be interesting to check in with a participant and learn a bit about what they've been experiencing so far. This is Milly's second time taking part in one of our Team Brainsport clinics.

Q&A with Milly Gibbons

Tara: You're several weeks into the clinic with Team Brainsport. What have you learned so far?

Milly: So many things! It's great to run with knowledgeable coaches and other experienced runners, as I¹ve picked up ideas on hydration, nutrition, and injury prevention, for example. Not every strategy or routine works for every runner, so it's nice to hear about different people's experiences.

Tara: What have you found, so far, to be the benefits to training with a group?

Milly: For me, the motivation factor is huge. To know that about 20 other runners are doing the same workout as you at some point during their day helps me stay focused and motivated to get out there and get it done.


Milly competing in the 2015 Brainsport Mogathon half marathon. This was her goal race for her first Team Brainsport Clinic.

Tara: How has direction from Jen impacted your training, not only during the group sessions, but while on your own?

Milly: Jen has been fantastic. She's put together a solid training program based on her knowledge and experience, and is always there to answer questions and provide guidance. I think of her and her advice on things like my posture or arm swing, when I'm getting tired or climbing a hill. She helps me be a better runner.

Tara: What are you most looking forward to as the clinic carries on?

Milly: Well, since this is my first time training for a full marathon, I look forward to the long runs. It's a great feeling each week, to know that you've gone farther than you¹ve ever gone before.

Tara: Do you have any words for runners out there who may be thinking of taking part in Team Brainsport in the future?

Milly: I'd say definitely do it. The Team provides a great social environment for training, and has been both motivational and educational for me.
Upcoming Events:
Frank Dunn Triathlon
The 34th Frank Dunn Triathlon is being held in Waskesiu on August 9. This is Western Canada's oldest triathlon. For more information and to register visit www.frankdunntriathlon.ca.

Tri-Unity Challenge
This event held at Pasquia Park, between Carrot River and Arborfield, on August 8 has something for everyone — from pre-schoolers right on up to those looking to run a half-marathon!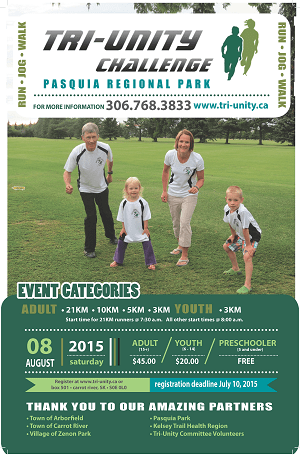 Check out the website for more information:http://www.tri-unity.ca.

Happy Body Movement Classes

Learn how to keep your body healthy, strong and working at its best. This 8-week program is being run by soon-to-be Osteopath Anne-Marie Mougeot.


More information on each specific class is available on Anne Marie's
website
.
There are a variety of registration options including dropping in to specific classes, or multi-class passes. Spaces are limited and I am already starting to receive registrations.
Online Registration is available
here
.
Crown The King Openwater Swim
This openwater swim race is held in Waskesiu on September 7. It features 1.6K and 4K distances. For more information click here.

Queen City Marathon
There are plenty of distance options at the Queen City Marathon with a 5K, 10K, half-marathon, marathon, mini-marathon and relay. Race dates are September 12 and 13. From more information click here.

Miles for Smiles
Support the Saskatchewan Children's Hospital Foundation at the 12th Annual Miles for Smiles on September 12. There's a 2.5K fun run, a 5K walk/run and a 10K run. For more information visit www.miles4smiles.usask.ca.

Melfort Multi-k
The 5th Annual Melfort Multi-k get's underway September 19. This event was named by Canadian Running Magazine as one of the Top 10 Fall Races to attend in Canada last year!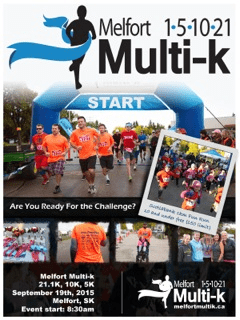 There's a distance for everyone: Scotiabank 1K Fun Run Free for 150 kids 10 and under. 5K and 10K walk/run and 21.1 K run. For more information go to www.melfortmultik.ca.

SRRA Trail Series - Race #3 Blackstrap
The Saskatoon Road Runners Association Trail Series ends on September 20 with a race at Blackstrap. Distances are approximately 5K, 10K, 15K. For more information and to register click here.

Before wrapping up the Times, long-time run club member Dave Stark sent this photo in for us to share. This is what's been dubbed the "urban adventure" group of Brainsport's Saturday morning run club — they often find something really interesting in their travels.



A couple of Saturdays ago the group ran by Kinsmen Park, where renovations are nearly complete. They came across the new train and had a nice chat with the proud engineer. He showed off his new toy and fired up the impressive diesel engine and even blew the air horns for them.

One last mention before signing off, there's an exciting announcement coming up in next week's Times you'll want to check out. Hint: You're in store for some great deals!

Thanks for reading the Times this week . . .gotta run . . . Tara
Related Posts
Comments
No comments made yet. Be the first to submit a comment