The selected editor codemirror is not enabled. Defaulting back to codemirror.
5 minutes reading time
(1025 words)
Brainsport Times Aug 11, 2015
It's time for that announcement mentioned in last week's Times! You may have already heard on the radio, or by word-of-mouth, about the "greatest sale in Brainsport history" starting on August 14. But what you likely haven't heard is our ever-so-fantastic Brainsport community (that's you!) is getting in on the savings early!

This is our way of thanking you for your constant interest and support. Starting tomorrow, August 13, and going through until August 22 you'll receive 20 to 50 percent off all shoes and apparel at both Brainsport and New Balance!!

There are so many cool shoes and apparel to choose from — decisions, decisions, decisions — so, to help you out we thought it would a good idea to chat with Lisette, one of our managers. She's got tons of insight on the products that come into the store and is, in general, a really fun and informative person to talk to — as many of you already know.

Q&A with Lisette Schermann

Tara: It's an exciting time for us here at the store and for our customers. There are so many great shoes and products in our inventory. What excites you most about this sale?

Lis: I think that this year's running gear is the best I've ever seen, so a sale is an invitation for people that have been hanging back to come out and experience it. Sometimes you need a bit of a boost to get out and replace a tired pair of shoes, or treat yourself to a new running top - this is that boost.

Tara: For our wonderful community of Times readers and social media followers we're bringing them in a bit early on this sale. Can you talk about the decision to do this and what the details are?

Lis: We're so fortunate to have this wonderful community of active people that support our store. It's nice to be able to give them some perks where we can. We're going to start giving sale prices on Thursday, but we're only advertising it through the Times and our Facebook community. Ads for the general public have the sale starting on Friday. That way store insiders get a chance to shop the best selection at the sale prices, before everybody else.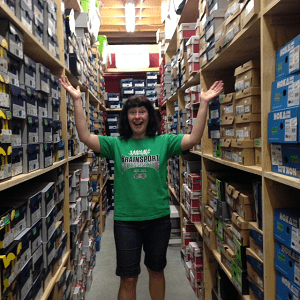 Lis showing off some inventory down one of the many halls of our stock space.

Tara: You do the ordering for the store and get to see the selection of shoes and merchandise before it even hits the floor — are there any items that are standing out to you right now as must-haves, or particularly unique, or functional?

Lis: I think that all the ladies need a pair of reversible capris. Capris are a great, basic, wear everywhere, item to have around and the reversible ones let you switch between colours and patterns any time you want. On a more serious note, I also think that every active person needs to have compression socks in their life. They can be used for travel, work, recovery, injury prevention and performance. Having them and using them gives you an extra tool for handling those challenges.

Tara: You certainly are a familiar face around Brainsport, but I don't know if everyone understands all that you do - it's a lot and it's interesting - could you tell us a bit about what you do behind the scenes?

Lis: A big part of my job is making sure that we have the right products at the right time. We source our stuff from dozens of suppliers and we're always looking for the coolest, the best, the smartest gear. Then I use a bunch of boring tools like phone calls and spreadsheets and style numbers to get it into the store so you can shop it. I'm such a shoe geek that I could talk about them all day, and sometimes I do!

Tara: Any final thoughts or message to readers as we enter sale time?

Lis: Tell your friends! Our customers know that we've got shoes and gear for everybody, not just runners, but sometimes people say, "I don't run marathons, why would I go there?" This sale is an awesome opportunity to introduce somebody to everything we do.
Upcoming Events:

Happy Body Movement Classes
Learn how to keep your body healthy, strong and working at its best. This 8-week program is being run by soon-to-be Osteopath Anne-Marie Mougeot.



More information on each specific class is available on Anne Marie's website.
There are a variety of registration options including dropping in to specific classes, or multi-class passes. Spaces are limited and I am already starting to receive registrations.
Online Registration is available
here
.
Crown The King Openwater Swim
This openwater swim race is held in Waskesiu on September 7. It features 1.6K and 4K distances. For more information click here.

Queen City Marathon
There are plenty of distance options at the Queen City Marathon with a 5K, 10K, half-marathon, mini-marathon and relay. Race dates are September 12 and 13. From more information click here.

Miles for Smiles
Support the Saskatchewan Children's Hospital Foundation at the 12th Annual Miles for Smiles on September 12. There's a 2.5K fun run, a 5K walk/run and a 10K run. For more information visit www.miles4smiles.usask.ca.

Melfort Multi-k
The 5th Annual Melfort Multi-k get's underway September 19. This event was named by Canadian Running Magazine as one of the Top 10 Fall Races to attend in Canada last year!


There's a distance for everyone: Scotiabank 1K Fun Run Free for 150 kids 10 and under. 5K and 10K walk/run and 21.1 K run. For more information go to www.melfortmultik.ca.

The 8th Annual KIN Spin Walk, Run, and Roll
This event raises money for the College's Special Needs Trust Fund, which provides much needed funding for Special Needs programming within the College. September 19 at the University of Saskatchewan Bowl.
To register go to: https://give.usask.ca/online/kinspin.php


SRRA Trail Series - Race #3 Blackstrap
The Saskatoon Road Runners Association Trail Series ends on September 20 with a race at Blackstrap. Distances are approximately 5K, 10K, 15K. For more information and to register click here.

Thanks for reading the Times this week . . .gotta run . . . Tara
Related Posts
Comments
No comments made yet. Be the first to submit a comment