YourSaskatoon Blogs
YourSaskatoon provides you a place to voice issues dear to you on our site. If you have a blog idea for the local audience message us. Share your idea we may provide you the vehicle to reach your audience. We must respectfully reserve the right to not accept all ideas submitted.
9 minutes reading time
(1820 words)
Brainsport Times Aug 10, 2016
The Olympics are in full swing, and its about to get even better this Friday, August 12, when the athletics events get underway! Athletics Canada has sent the largest Olympic team in its history to the Rio Games, with 65 athletes set to compete. There will certainly be no shortage of homegrown talent to watch over the next couple of weeks, but there's also a connection with two Kenyan athletes we'd like to share with you in this week's Times.

In 2004 Jason Warick won a journalism fellowship to write about anything in Africa. He's topic of choice - running. So off he went, along with Brian and his parent's - Judy and Randy. The rest is history - really interesting history, at that, so let's get right to our Q&A with Jason.

Q&A with Jason Warick
Tara: Let's start with a bit of background about the approach you took going into this project in Kenya. You wanted to do something unique. Would you explain this some more?

Jason: Previous winners (of the journalism fellowship) had done stories on war, malaria, HIV/AIDS, poverty, etc. in Africa. These are important, but I wanted to tell some new stories for Canadians. I wrote about the Kenyan runners and their training, but mostly about the incredible things they're doing with their race winnings. They're building schools, health clinics, training camps and other amazing projects for their communities. I called Kip Keino, the father of Kenyan distance running, to ask if I could interview him. I ended up staying with him, as did Brian and my folks for all of our trips to Kenya.

Tara: Where did the idea of taking over running shoe donations come from?

Jason: I asked Kip what I could bring him as a gift. I thought of a coffee table book of Saskatchewan or maple syrup. He wanted running shoes for his athletes - new, used, whatever. I asked friends like Brian, and family for donations, and took several hockey bags full of used shoes. Brian then embraced the concept and started collecting in bins at the store and other locations. We took hundreds more to Kenya, Guatemala, Niger and other countries. And Brian and the staff have taken it to a whole new level with the Saskatoon community school shoe giveaway day.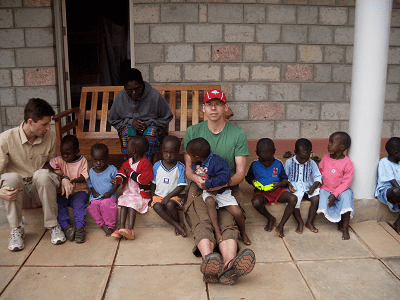 Jason and Brian at Kip Keino's orphanage in Kenya.
Tara: How did you go about distributing the shoes?

Jason: On my first trip, I simply gave the shoes to Kip and the other coaches and they decided who got what type of shoe. When Brian came, he personally fit each athlete, which was great. The heartbreaking part was deciding who got them. We had to say no to many people who needed shoes. In the end, the shoes went to those with the best chance of using them to make a living running and helping their community.
Tara: One of those who received shoes, Asbel Kiprop, is expected to medal in the 1500m in Rio. And, another who received a pair of shoes, Ezekeil Kemboi, is a favourite in the 3000m steeplechase. Will you be watching them compete?

Jason: For sure! You could see Kemboi was already world class when we met him, but we were lucky enough to see one of Asbel's first ever races. He won a local 5k Xcountry meet in a village, and his finishing kick (against the best runners in the world) was breathtaking. Within 6 months, he'd go on to win the World Junior XC and 1500m titles. Now they're both Olympic champions.

Tara: From your observations a few years back, what do you believe it is about these two athletes that has lead to their success?

Jason: They are talented and genetically gifted, no doubt. But they are supremely dedicated, as are the other five athletes who received Saskatoon shoes and went on to medal at global championships. They've been active since birth, eat well, sleep nine hours a day plus a nap, run on soft surfaces with good technique, train in highly motivating groups and listen carefully to the coaches. Aside from them, there are a few dozen others who made or are making a decent living on the international race circuit, picking up fifty or sixty thousand dollars a year in prize money in Europe or North America.

Tara: How do you believe your visit impacted these athletes, who were quite young when you were over there? And, how did the visit impact you?

Jason: I hope the shoes played some small role in helping these athletes to find success and help their family and community. For me and Brian and my parents, we got an inside look at one of the greatest concentrations of athletic talent on the planet and learned the meaning of generosity.

You can watch the documentary Jason wrote titled: Run . . . by clicking the following link. https://vimeo.com/69907238.

UPCOMING EVENTS
Wapiti Bush Run 2

If you're up for a race outside of Saskatoon later this month (August 28) check out this event hosted by the Tisdale Track Club and Melfort X-C Ski Club. Run 5.5K or 8.5K and receive a Wapiti Bush Run collectors item and a "unique bush lunch" and refreshment. For more information go to: http://raceroster.com/events/2016/7956/wapiti-bush-run-2.
Ryding for the STARS - STARS Air Ambulance Ryde-A-Thon


Get together a relay team of four riders and help raise funds for STARS Air Ambulance on September 10. The fundraising platform is online where pledges can be made through August. If you're interested in learning more details, or putting a team together contact Clay Sparks, Co-Creator of Breathe Cycle Studio & Advance-Tek Consulting at 306-230-1800.

Louis Riel Relay Days
The Louis Riel Relay Days is taking place at the Batoche National Historic Site, on August 20 and 21. The Batoche relay will have multi-participant teams competing in succession in six events – running, biking, hill hiking, canoeing, horseback riding and archery.
Organizers are looking for teams of 6 and individuals to compete in the inaugural, resurrected Louis Riel Relay. Every racer will receive weekend event admission and a concert ticket! The winning competitive relay team will also win a cash prize. For more information contact Carissa at 306-539-4928 or visit: http://www.louisrielrelaydays.com/.

Miles for Smiles

The Student Medical Society of Saskatchewan is hosting its 13th annual fundraising event on September 10, 2016 - Miles for Smiles! Come out and run/walk 2.5K, or run a 5K or 10K (chip timing is available). All funds raised will go to the Children's Hospital Foundation of Saskatchewan. For more information on the event go to: http://miles4smiles.usask.ca/.

Folkfest Torch Run

In celebration of this year's Olympic Games, the Greek Pavilion is putting together a torch run for opening day of Folkfest, on August 18. There will be an opening ceremony at the Greek Pavilion, followed by a torch run through all the pavilions involved in Folkfest 2016! The torch will be run all the way to City Hall, and the raising of the Folkfest flag. If you're interested in carrying the torch email Brian at This email address is being protected from spambots. You need JavaScript enabled to view it.

The Ultra Ethnography

Trail runners, here's an interesting opportunity! A graduate researcher out of Calgary, Ian MacNairn, is doing a study exploring the community of ultra-running. Our friend Ian Colvine brought this to our attention. The study has just moved into the online portion and would like your participation. To do so you will be guided through an online interview and questionnaire hosted through Survey Monkey. Ian (MacNairn) is hoping to have as many people as possible from the community participate and complete this online It takes approximately 1 hour to complete.

The link to the interview and questionnaire is: https://www.surveymonkey.com/r/ultraethnographyemail. To learn more about Ian's project you can visit the website at: www.theultraculture.com.

If you are an ultrarunner, a retired ultrarunner, an aspiring ultrarunning, or participate by any other means in ultrarunning, e.g. as volunteer, race director, crew, pacer, fan, documentarian, etc. he would love to have you join!

Crown the King Openwater Swim Race

On September 5 a king will be crowned at Trippes Beach on Waskesiu Lake! Registration is through Registration Logics and the Prince Albert Triathlon Club.For more information visit the Crown The King Facebook page or email This email address is being protected from spambots. You need JavaScript enabled to view it..


Beaver Flat 50 - Ultra Trail Marathon



Saskatchewan's first ultra trail marathon will get underway on September 17 at Saskatchewan Landing Provincial Park. With more than 2500 metres of vertical gain across 50 kilometres, there's nothing really flat about this race! The Beaver Flat 50 is a tough get-your-feet-wet, wreck-your-shins, and roll-your-ankle kind of run. For more information clickhere.

Brainsport Free Stroller Walking Club
Stay-at-home-parents, and caretakers we have a great opportunity for you to come out and meet some new people, enjoy the outdoors, and fit in some exercise. Our free Stroller Walking Club is underway on Tuesday at 10 a.m. (weather permitting). Everyone will meet at Brainsport before heading out!
SRRA Trail Race Series
Race #1 Saskatoon April 28 at 6:30 p.m.
Race #2 Cranberry Flats, July 17 at 9 a.m.
Race # 3 Blackstrap, September 18 at a.m.
For more information on all the races visit:
https://srratrailraces.wordpress.com/
.

16th Annual Saskatchewan Credit Unions Queen City Marathon

The 16th Annual Saskatchewan Credit Unions Queen City Marathon takes place the weekend of September 10 & 11 in Regina. This event includes races for people of all paces. Runners and walkers are welcome in the 42.2K, 21.1K, 10K, Team Relay and 5K events. Kids, as young as three-years-old, are encouraged to participate in the Mini Marathon. For more information or to register please visit: http://runqcm.com.
Product of the Week
Speedo 35L Teamster Backpack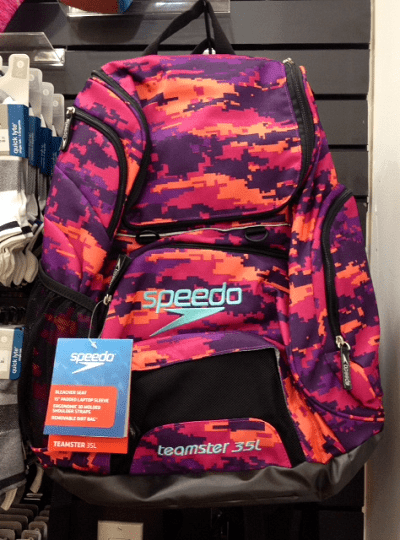 Whether a swimmer with your eyes set on your own Olympic dreams, a road runner, trail runner, or simply an active person, this backpack will carry you through with great function and style. It has tons of pockets, a waterproof bottom, sits upright when you set it down, and even has a waterproof "dirt bag" for messy items. Oh, and we can't forget the padded bleacher seat! If you live an active lifestyle you'll want to check this Speedo backpack out.
Also, in case you missed it last week, the Brainsport Pop-Up Clearance Shop is open at our old location at 704 Broadway Avenue. Come drop by and discover our great collection of running shoes, boots, sandals, walking shoes, and more! The sale is on until August 13, while supplies last.
---
Thanks for reading the Times this week . . gotta run . . .Tara
Stay Informed
When you subscribe to the blog, we will send you an e-mail when there are new updates on the site so you wouldn't miss them.
Comments
No comments made yet. Be the first to submit a comment