YourSaskatoon Blogs
YourSaskatoon provides you a place to voice issues dear to you on our site. If you have a blog idea for the local audience message us. Share your idea we may provide you the vehicle to reach your audience. We must respectfully reserve the right to not accept all ideas submitted.
9 minutes reading time
(1703 words)
Brainsport Times Aug 17, 2016
We're less than week into the track and field events in Rio and already we've been treated to some spectacular Canadian performances. From Derek Drouin's gold-medal high jump performance last night, to Andre De Grasse's head-spinning 100m race to bronze and the courageous comeback by Humboldt's Brianne Theisen-Eaton to claim bronze in the heptathlon.

As our eyes continue on Rio we'll also be looking out for the performances of two Kenyan athletes: Asbel Kiprop in the 1500m and Ezekeil Kemboi in the 3000m steeplechase. As we learned last week these two athletes received shoes from Saskatoon's running community in 2004 when Jason Warick made his first trip Kenya. Jason's trip, and Brian's involvement in getting shoes gathered to take over, born what we now know as the Brainsport Shoe Donation Program.

In this week's Q&A we speak with Colin French, Brainsport's Shoe Donation Program Captain, to learn more about this remarkable program that has put shoes on thousands of people in need.

Q&A with Colin French
Tara: As we learned in last week's Times, the Brainsport Shoe Donation Program was born out of the idea to take gently-used running shoes over to Kenya. It's since turned into a massive donation program here in Saskatoon. What kind of impact have you seen it have in the community, and why is it so important?
Colin: As a Community Mental Health professional, I see many of the challenges faced by people in our city who struggle to meet their basic needs. Keeping feet warm and dry for a homeless person, or reducing foot pain for a diabetic who is used to only wearing flip-flops, can be extremely rewarding. Over time we have partnered with a wide range of groups needing specific footwear. For example, transgendered clients (large women's dress shoes sizes), young female graduates, wedding parties, soccer teams, and new Canadians. One partner in Moncton, NB even installed a shoe library in her elementary school so all the kids had footwear for activities.
Tara: Broadway Theatre manager, Kirby Wirchenko, donated a pair of Asics Landreth trainers, which ended up being given to, now Olympian, Asbel Kiprop. Who knows, maybe a future Olympian is wearing a pair of donated shoes right now - in Saskatoon! Do you ever think about where these shoes end up, and who's feet they're on?
Colin: You bet! Track coaches from rural Saskatchewan communities like La Ronge are able to use the spikes and trainers from our program for their dedicated athletes. Athletics Canada promotes the Long Term Athlete Development model which tries to include as many types of athletes as possible, not just those who already shine. Canadian women in the Rio Olympics are showing us all just what they can do when the support is there at all levels.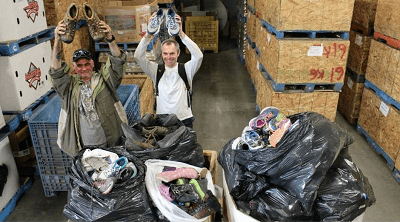 Colin (right) delivering shoes to the Saskatoon Learning Centre and Food Bank.
Tara: What kinds of shoes are most needed and what should people avoid donating?
Colin: If they're gently used and have all of the original parts (shoe/boot, laces, insoles) then we will find them a good pair of feet to accompany for the rest of their days. It's a waste to have shoes laying around in closets and workshops and basements when they could make a huge difference for someone in need of them. If readers work on a site where construction boots are required, they could organize a drive once or twice a year to collect extra work boots for new residents or those who are just entering the workforce.
Tara: Tell us a bit more about the partnership with the Food Bank Clothing Depot, and how this has helped make shoes available throughout the year.
Colin: We started with hockey bags stuffed with a few dozen pairs of trainers on occasional trips to Africa. Eventually that grew into collecting 2000-3000 pairs of all kinds of footwear, for all ages, over a full year. We partnered with a core neighbourhood elementary school to host a Free Shoe Day for the community, where we gave them all away. That was exciting and we got to meet so many wonderful and appreciative recipients of donated shoes. I always checked to see how long my donated shoes would last before someone scooped them up. This summer the YXE Connects event brought us in touch with the Food Bank Clothing Depot and it's an ideal partnership. We provide them with 300-400 pairs of shoes monthly to distribute through their storefront on Avenue B. So far the demand has been strong and we'll try to keep up.

Tara: Is there anything else you would like to add?

Colin: There are shoe donation boxes at Shaw Centre and Saskatoon Fieldhouse facilities, plus Freedom Fitness and the PAC at the university. If readers would like to join our four schools or rural community partners in collecting shoes, please contact me at 306-381-5219. When I watch someone find a donated pair of shoes that are right for them, then see their shoulders relax and a smile brighten their face, I know we've really hit the target.


UPCOMING EVENTS

Yoga For Runners with BreathMoveBe

Have you ever considered working yoga into your training routine? This is your opportunity to join a yoga class designed specifically for runners. There are two eight-week options available this fall.

Wednesday, September 14 to November 2 from 7:30 p.m. to 8:45 p.m. Brainsport Community Room
Tuesday, September 13 to November 1 from 6 p.m. to 7 p.m. Namaskar Yoga Studio (615 2nd Avenue North)

Contact Leanne atThis email address is being protected from spambots. You need JavaScript enabled to view it. or 306-251-2964 with questions, or to register.

Wapiti Bush Run 2

If you're up for a race outside of Saskatoon later this month (August 28) check out this event hosted by the Tisdale Track Club and Melfort X-C Ski Club. Run 5.5K or 8.5K and receive a Wapiti Bush Run collectors item and a "unique bush lunch" and refreshment. For more information go to: http://raceroster.com/events/2016/7956/wapiti-bush-run-2.

Ryding for the STARS - STARS Air Ambulance Ryde-A-Thon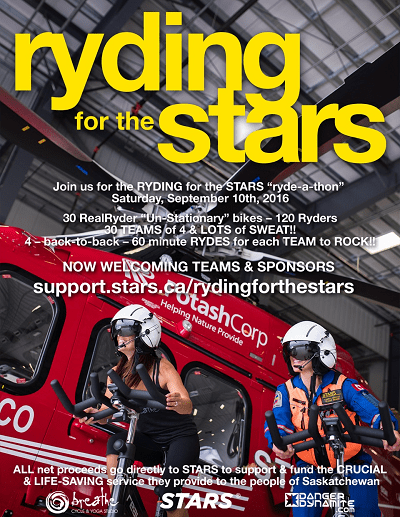 Get together a relay team of four riders and help raise funds for STARS Air Ambulance on September 10. The fundraising platform is online where pledges can be made through August. If you're interested in learning more details, or putting a team together contact Clay Sparks, Co-Creator of Breathe Cycle Studio & Advance-Tek Consulting at 306-230-1800.


Louis Riel Relay Days
The Louis Riel Relay Days is taking place at the Batoche National Historic Site, on August 20 and 21. The Batoche relay will have multi-participant teams competing in succession in six events – running, biking, hill hiking, canoeing, horseback riding and archery.
Organizers are looking for teams of 6 and individuals to compete in the inaugural, resurrected Louis Riel Relay. Every racer will receive weekend event admission and a concert ticket! The winning competitive relay team will also win a cash prize. For more information contact Carissa at 306-539-4928 or visit: http://www.louisrielrelaydays.com/.

Miles for Smiles

The Student Medical Society of Saskatchewan is hosting its 13th annual fundraising event on September 10, 2016 - Miles for Smiles! Come out and run/walk 2.5K, or run a 5K or 10K (chip timing is available). All funds raised will go to the Children's Hospital Foundation of Saskatchewan. For more information on the event go to: http://miles4smiles.usask.ca/.


Crown the King Openwater Swim Race

On September 5 a king will be crowned at Trippes Beach on Waskesiu Lake! Registration is through Registration Logics and the Prince Albert Triathlon Club. For more information visit the Crown The King Facebook page or email This email address is being protected from spambots. You need JavaScript enabled to view it..


Beaver Flat 50 - Ultra Trail Marathon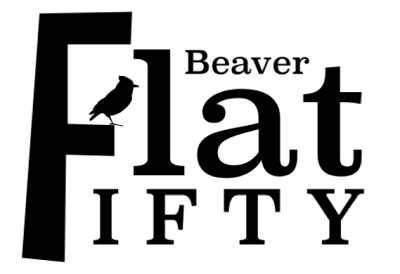 Saskatchewan's first ultra trail marathon will get underway on September 17 at Saskatchewan Landing Provincial Park. With more than 2500 metres of vertical gain across 50 kilometres, there's nothing really flat about this race! The Beaver Flat 50 is a tough get-your-feet-wet, wreck-your-shins, and roll-your-ankle kind of run. For more information click here.


Brainsport Free Stroller Walking Club
Stay-at-home-parents, and caretakers we have a great opportunity for you to come out and meet some new people, enjoy the outdoors, and fit in some exercise. Our free Stroller Walking Club is underway on Tuesday at 10 a.m. (weather permitting). Everyone will meet at Brainsport before heading out!
SRRA Trail Race Series
Race #1 Saskatoon April 28 at 6:30 p.m.
Race #2 Cranberry Flats, July 17 at 9 a.m.
Race # 3 Blackstrap, September 18 at a.m.
For more information on all the races visit:
https://srratrailraces.wordpress.com/
.

16th Annual Saskatchewan Credit Unions Queen City Marathon

The 16th Annual Saskatchewan Credit Unions Queen City Marathon takes place the weekend of September 10 & 11 in Regina. This event includes races for people of all paces. Runners and walkers are welcome in the 42.2K, 21.1K, 10K, Team Relay and 5K events. Kids, as young as three-years-old, are encouraged to participate in the Mini Marathon. For more information or to register please visit: http://runqcm.com.
Product of the Week
Mizuno Enigma
The Mizuno Enigma is back in stock! And, as Brainsport manager Lisette says, "Everybody needs a friend like the Enigma, it's strong, stable, neutral and always there when you need it. It might not give you a ride home at 2 a.m, but it will for sure get you out for a run the next morning!" There you have it - a shoe worth trying out.
Before signing off, let's get to some details about Brainsport's upcoming Stinker Sneaker Sale. From August 20 to August 27 you'll save $20 on all regular footwear priced over $100, and save $10 on all regular footwear below $100. In addition to this, bring in a pair of shoes for the Brainsport Shoe Donation Program and you'll receive a ballot to win a $50 gift certificate. There will be draw for a new gift certificate every day during the sale!
---
Thanks for reading the Times this week . . gotta run . . .Tara
Stay Informed
When you subscribe to the blog, we will send you an e-mail when there are new updates on the site so you wouldn't miss them.
Comments
No comments made yet. Be the first to submit a comment