The selected editor codemirror is not enabled. Defaulting back to codemirror.
8 minutes reading time
(1639 words)
Brainsport Times Sept 09, 2015
The hustle and bustle of summer's end is in full swing. There's been plenty of action at the store and we're looking forward to seeing even more at our Street Sale on September 12. We're also looking forward to the start of our Learn To Run Clinics.

In this week's Q&A we chat with coach Stacey Mortenson-Spokes. She has a wonderful message to share. For more information on our clinics take a look at the "Upcoming Events." There's still time to sign up!

Q&A with Stacey Mortenson-Spokes

Tara: Running carries with it inherent challenges, and for you, a big one has been managing Type 1 Diabetes. Would you mind telling us about when, and how, you found out you are diabetic? And how you responded?
Stacey: I was a few weeks out from having completed my fourth marathon in Kelowna when I started to feel very sick. I ignored symptoms for quite awhile until I couldn't any longer. When my doctor told me I had Type 1 Diabetes (formerly known as juvenile diabetes) I was in complete shock. Type 1 is an autoimmune disease with no known cause or cure. I did the "Why me?" thing for a few weeks, and then changed that thought to "Why not me?" and made it my goal to learn as much as I could to manage the disease and maintain my lifestyle.

Tara: How have you altered your training to manage Type 1 Diabetes?

Stacey: I carry a lot of stuff with me, as I definitely have to be careful. Type 1 Diabetes is very dynamic. It was a pretty steep learning curve and I still have days when I can't always explain what's going on but because of everything I learned, and trial and error, I feel extremely comfortable out there running. Exercise is so good for everyone but especially people with Diabetes – Type 1 or 2.

I carry a glucose checking device, insulin and sugar on every run. My first marathon as a T1 diabetic was very nerve wracking and exciting. I loaded up my arms and waist with everything I was going to need for 26.2 miles and coincidentally that run was my fastest and my first Boston Qualifier.

I can almost always check my blood while I move now if I need to – that took some practice. I have done seven marathons since my diagnosis and all three of my BQ's and Boston marathons have been as a type 1 diabetic.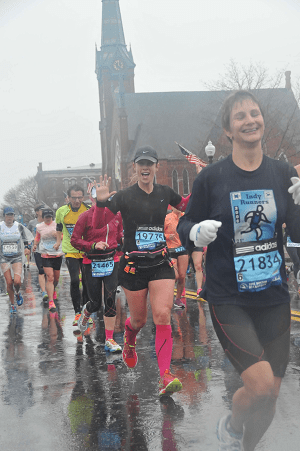 Stacey running the Boston Marathon (in the pink socks).

Tara: What have been some of the positives that have emerged through the diagnoses?

Stacey: Don't be mistaken, getting a disease like Type 1 Diabetes is devastating and difficult but with everything we know today and for all of the developments in the research, the ability to manage it well has improved significantly even in the last ten years. I was living a pretty healthy lifestyle at diagnosis but many positives have come from this – including throwing more vegetables into my day because vegetables don't require insulin. I find that people are sometimes confused, and maybe even a little embarrassed about diabetes - Type 1 or Type 2.

I love talking about it to anyone who is curious. I didn't do anything to make it happen, it just happened. It seems taboo for some people and it shouldn't be. I hope my openness about it is a positive.

Tara: What advice do you have for others with Type 1 Diabetes who want to run, but have reservations?

Stacey: Be patient. It cannot become easy over night. If you accept the fact that fitness is a lifelong process, and be proud of every step you take – big or small – it will be so rewarding! I promise.

For the diabetics – it is possible to exercise just like a non-diabetic, you just need to learn how. Trust me. Exercise also does amazing things for insulin sensitivity (and we all love that)

Tara: You're coaching one of Brainsport's Learn To Run Clinics starting later this month. What are you most looking forward to about that experience? And what do you hope participants will learn from you?
Stacey: I can't wait to meet the crew and see them grow and develop through the weeks! I can remember what it was like being a new runner like it was yesterday and I'm pretty certain by sharing my journey participants will learn the joy and satisfaction of running and getting stronger!

Upcoming Events:

The Terry Fox Run
September 20 at Kiwanis Memorial Park (Vimy Memorial Bandshell). Registration Starts at 11 a.m. and the run begins at noon.

The Terry Fox run is a fun run or walk to celebrate the inspiring legacy left by Terry Fox in 1980, and to continue his mission to raise funds for cancer research. This is a very inclusive event as there is no set registration fee. Participants are encouraged to donate and/or fundraise to benefit the Terry Fox Foundation.

The course is a just-under-5K loop on the Meewasin Trail between the University and Sid Buckwold bridges. Participants can choose to do one or two loops.
Register and fundraise/donate in advance by going to the Terry Fox Foundation site www.terryfox.org/Run/ and selecting 'Register Today.' You can also search 'Terry Fox Run 2015-Saskatoon' to find a Facebook event for the run.

If you are interested in volunteering, contact Alison by email at This email address is being protected from spambots. You need JavaScript enabled to view it.

Newly Added 4-Week Session - Happy Body Movement Classes
Soon-to-be Osteopath Anne-Marie Mougeot is adding a 4-week session of Happy Body Movement Classes, after having a great response to her first series of classes. Learn how to keep your body healthy, strong and working at its best in this series of classes. For more information click here. And, to register click here.

Outlook River Run
The 3rd annual Outlook River Run is set for September 19.
is holding its 3rd annual run on Sept. 19. There are options for runners there is a 10K, 5K, and 2K. The 2K is also open to walkers. The trail portion of the 5K run is on the Trans Canada Trail. And part of the 10K run is on a single track trail joining the Trans Canada Trail. There are also some short hills and beautiful scenery.

Following the run there is a lunch served and live music from a local professional musician.
Door prizes will be drawn after the race as well. These include a Fitbit donated by Shoreline Realty and $100 gift certificate donated by Brainsport.

The run starts at 10 a.m. Meet at the museum on Railway Avenue at the end of Franklin Street by 9:30 a.m. Click here to register now. For more information call Ric Janzen at 306-860-7566.

Brainsport Learn to Run Clinics
Brainsport is offering two Learn to Run Clinics beginning September 28 and September 30. These eight-week clinics are designed to safely take a non-runner through a walk/run progression so that by completion participants are able to run 30 minutes at a time.

Clinics Include: Experienced coaches, proven program to follow, guest speakers, and souvenir tech shirt.

Benjamin Rempel is coaching the Monday clinic. Ben is an experienced ultra-runner. He looks forward to bringing his knowledge and experience to those looking to add running to their lifestyle.

Stacey Mortenson-Spokes is coaching the Wednesday clinic. Stacey is a three-time Boston Marathoner. She's excited to make running fun and enjoyable for our participants.

For more information and to register go to www.brainsport.ca/clinics.html.

Brainsport 10K Running Clinic

This 10-week clinic begins on September 15 and will be coached by the very-experienced Pat Sommerville.

Clinic includes: A proven program to follow, guest speakers on topics ranging from injury prevention to nutrition, plus a souvenir tech shirt. If you're wondering how you can take your training and racing to the next level, this clinic is a great way to achieve your goals.
Note: You must be able to run 25 minutes continuously for this clinic For more information go to www.brainsport.ca/clinics.html.

Day of the Dead Fun Run
Grab a headlamp and hit the trails at the 9th annual run. Enjoy a challenging short 5K (approximately) or long 10K (approximately) course at beautiful Blackstrap Provincial Park. The run starts at 7 p.m. on Sunday, November 1. For more information and to register, go to www.mudfirstracing.com or pick up a registration package at Brainsport. Early-bird pricing lasts until September 30.
Queen City Marathon
There are plenty of distance options at the Queen City Marathon with a 5K, 10K, half-marathon, mini-marathon and relay. Race dates are September 12 and 13. From more information click here.

Miles for Smiles
Support the Saskatchewan Children's Hospital Foundation at the 12th Annual Miles for Smiles on September 12. There's a 2.5K fun run, a 5K walk/run and a 10K run. For more information visit www.miles4smiles.usask.ca.

The 8th Annual KIN Spin Walk, Run, and Roll
This event raises money for the College's Special Needs Trust Fund, which provides much needed funding for Special Needs programming within the College. September 19 at the University of Saskatchewan Bowl.
To register go to: https://give.usask.ca/online/kinspin.php

SRRA Trail Series - Race #3 Blackstrap
The Saskatoon Road Runners Association Trail Series ends on September 20 with a race at Blackstrap. Distances are approximately 5K, 10K, 15K. For more information and to register click here.

Thanks for reading the Times this week . . .gotta run . . . Tara
Related Posts
Comments
No comments made yet. Be the first to submit a comment