The selected editor codemirror is not enabled. Defaulting back to codemirror.
9 minutes reading time
(1711 words)
Brainsport Times Apr. 20, 2016
Interested in going on a beautiful trek in Peru in support of a great cause? This week we're speaking with Mavis Derksen, who's leading the way for the Leukemia & Lymphoma Society of Canada on a Machu Picchu adventure!
There's a lot to learn about this Charity Challenge, so we'll get started right away. But first note, there is also an information session on Saturday, May 7 from 11 a.m. to 3 p.m. at Brainsport.
Q&A with Mavis Derksen
Tara:
This seems like a wonderful opportunity to take on a major trek for people of varying experiences hiking. Is it fair to say it's suitable for those who have very little experience?
Mavis:
Destination hiking is very popular worldwide. The training for Machu Picchu will begin in mid July 2016. Before that I encourage teammates to walk and enjoy the outdoors. This hike is not a race. The speed you will be hiking is very slow and that is due to the altitude that we will be hiking at. As long as you are able to condition your heart through activity and then follow the training schedule this challenge will be something that will truly change your life.


Tara:
Speaking of experience, you certainly have it — having trekked all
over the world. Would you mind filling us in on your background?
Mavis:
In high school I acquired a knee injury playing sports. This forced me to rethink how to continue to be active. I ended up in the weight room with a training schedule. I then began training for road races — as a walker. I remember having to contact the various race directors requesting that they leave the finish line timer working until I finished the race. It was always easy to find my race time — at the end of the list. This has now changed and the walkers have categories to race in. I have completed nine marathons. I then changed my activities and began hiking to destinations and loved it. The training leading up to the trek is the true journey and the trek is the finish line. The emotional experience is unbelievable. You've accomplished something that many only think about doing.
Tara:
How does this trek help out the Leukemia & Lymphoma Society of Canada (LLSC)?
Mavis:
The Leukemia & Lymphoma Society of Canada raises awareness for blood cancers; Leukemia, lymphoma, and myeloma. Their mission is to find a cure for blood cancers and improve the quality of life for patients and their families. Through Charity Challenge the LLSC has embarked on destination trekking and challenges throughout the world. Once the Challenge costs have been covered the remainder of the fundraising goes directly to the LLSC.
Tara:
And, what should they expect out of the trek itself?
Mavis:
This particular trek from October 15 to 22, 2016, is unique for the LLSC. It is the only trek in Canada with Charity Challenge that will have a dedicated trainer/coach for the team. I am prepared to train with the Saskatoon team, as well as, coach/train the Prairie Region team via various media. The complete team will then meet up in Cusco, Peru, two days prior to the trek to Machu Picchu in the Peruvian Andes. No one will be left out of the team. We will embark on the journey together and experience the trek as a team.
UPCOMING EVENTS
Hike to Machu Picchu, Peru with Charity Challenge!
Do something truly life changing and start you own inspirational journey to help end blood cancer today! Not only will you be broadening your horizons and experiencing a different environment. You will be funding life saving research to beat blood cancers through the Leukemia & Lymphoma Society of Canada. The journey takes place October 15 to 22, 2016. For more information go to:
https://www.charitychallenge.ca/expedition2.html?id=1885&cid=3106.
Mental Health and Addiction Services Fun Run/Walk
Sunday May 1, at Diefenbaker Park. Distance options: 2K, 5K, 10K (individual), 16K (individual), 20K Team Relay/ For more information visit
http://www.mhasfunrun.ca/event-information.html.
Make It Happen — Triathlon
Here's your chance to give the triathlon a go — no timing involved — just fun!
Distances for women-only heats are: Swim 200 metres, Bike 6K, Run 2K. Distances for co-ed heats are: Swim 500 metres, Bike 12K, Run 4K. Race day is May 15. For more information visit
http://www.triformarlene.com.
NB Run Crew — New Balance running group


NB Run Crew meets every Thursday at 7 p.m. at New Balance Saskatoon. Always free and open to all levels. The group runs every week from April 14 to June 9. This group is led by the girls of

Black Dove Healthy Eats

(Saija Shearer & Madison Heise) and will finish at the 5K event at the Mogathon on June 12!
For more information check out
NB's Facebook page
.
19th Annual Zoo Run
Sunday, April 24 is the 19th Annual Zoo Run. Saskatoon's most unique running course featuring a 5K fun run or 2.5K walk through the winding roads and trails of the Saskatoon Forestry Farm Park and Zoo. The event is a fundraiser for the Saskatoon Zoo Society to support their environmental education programs. Participants receive a souvenir T-shirt (they are tech shirts this year), post run cinnamon buns and refreshments, a chance at some cool draw prizes, and admission to the zoo for the day. Entry forms are available at Brainsport. You can enter on-line or drop your completed entry form at Brainsport. For more information or online registration visit
http://saskatoonzoosociety.ca/event/zoorun/
or call Greg Fenty at 306-975-3042.
Brainsport Spring Run Off in Elbow


Brainsport is introducing a fun new event for you this spring! Come join us for a beautiful run along the shore of Lake Diefenbacker on May 14. Take part in either the 5K or 10K fun run and enjoy refreshments and entertainment afterward. For more details go to:
http://www.brainsport.ca/events
.
Club NB — New Balance walking group
Club NB is the New Balance Saskatoon walking group where you can enjoy a social walk at a light intensity. The group meets at the New Balance store on Broadway every Wednesday at 11 a.m. from April 13 to June 8. Club NB is suitable for all activity levels.

This group is led by NB Ambassador Carol Keesey and will finish at the 5K event at the Mogathon on June 12! Check out

NB's Facebook

page

for more details.
38th Saskatchewan Marathon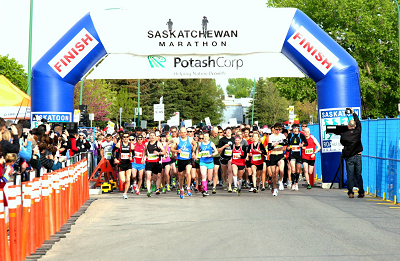 As you set your training goals for spring, don't forget to register by April 30 2016 for best prices! Don't worry you can always switch your race if you exceed or fall short of your training goals!
The 2016 Saskatchewan Marathon taking place May 29 2016 features 5K, GoodLife Fitness 10K, Half-Marathon and Marathon event distances along a scenic course highlighting the world-renowned Meewasin Valley through the city of Saskatoon. Easily deemed one of the most scenic running events in Canada, the Saskatchewan Marathon is also a qualifier for the Boston Marathon.
Register today at
http://saskmarathon.ca/races/.
Eston River Trek
The 14th annual Eston River Trek will be held on Saturday, May 14. This event has plenty of distance options including a 5K, 10K, half-marathon, full marathon and a 40 mile trek (walking challenge). For more information visit
http://www.eston.ca/rivertrek
.
YIN/Restorative Yoga Workshop
Join BreatheMoveBe for a 2 hour workshop on Wednesday, June 1 from 6:15 p.m. - 8:15 p.m. at the Brainsport Community Room.
A yoga class that is specifically restorative in design uses props to support the body to encourage relaxation as well as enabling the student to receive the benefit of poses without engaging the muscles, the props do the work, we receive the benefit. $35 registration fee. Space is limited. Register today by contacting Leanne at
This email address is being protected from spambots. You need JavaScript enabled to view it.
or text - 306-251-2964.
Yoga For Runners Spring Tune Up
This class is now full, but there are possible drop-in options. Text the number below.
Come out for some runner specific yoga. Yoga is a great compliment to running and can help
keep you running injury free! Starting Wednesday, April 6 to May 25. From 7:30 p.m. to 8:45 p.m. at the Brainsport Community Room.Space is limited and fills up fast. To register contact Leanne via email at
This email address is being protected from spambots. You need JavaScript enabled to view it.
or text - 306-251-2964.
Rock Your Run Contest
To celebrate the 25th Anniversary of the Brainsport Running Club we are excited to announce the Rock Your Run contest. Brooks shoes is sending one lucky run club member to run the Las Vegas Marathon this fall.
There are several ways to enter: 1) Every time you lead a group at Run Club you get an entry. 2) All new Run Club members will get an entry. 3) Everyone who comes out to our July 13 anniversary Run Club gets and entry. In order to win you must be present for the draw on July 13. The prize is a trip for two to Las Vegas. Air, hotel and race entry included. Hope to see you at Run Club!
Saskatoon Police Service Half Marathon
The 2016 Saskatoon Police Service Half Marathon will be held on May 1 at 8 a.m at police headquarters. For more information and to register go to
:
https://saskatoonpoliceservicefoundation.org/events/2016-half-marathon/.
PRODUCT OF THE WEEK
Hoka One One Speedgoat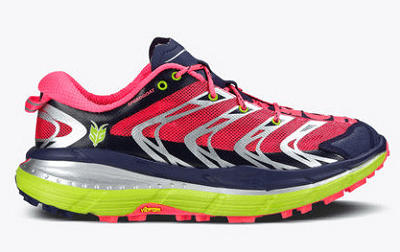 Whether you're hitting the local trails, or looking for a sweet ride to get you through a Machu Picchu trek, the Hoka One One Speedgoat is a great option! With 4mm Vibram lugs throughout the outsole and a super durable EVA midsole, this, very comfortable, shoe will get you through the toughest of terrain.
---
Thanks for reading the Times this week . . .gotta run . . .
Tara
Related Posts
Comments
No comments made yet. Be the first to submit a comment