The selected editor codemirror is not enabled. Defaulting back to codemirror.
8 minutes reading time
(1541 words)
Brainsport Times Dec. 14, 2016
Congratulations to Tarrant Crosschild on being named the 2016 recipient of the Ric Hanna Leadership Award. Through his love of running Tarrant has become a very positive influence in the province; inspiring people of all ages and backgrounds. Click here to read CBC's story about Tarrant's recognition as this year's award winner.

From inspiring personal stories of running to the industry that surrounds it - we now shift our attention to The Running Event. Each year running industry folks flock to this trade show and conference where hundreds of exhibitors strut their latest and greatest. In this week's Q&A we speak with Brian, who recently returned for this massive event in Orlando, FL.

Q&A with Brian Michasiw

Tara: Before we get to more of the specifics about your time at The Running Event, what are your thoughts on the event as a whole from year to year?

Brian: The Running Event is an annual trade show that is designed for small to medium sized running shoe store owners and staff. The event attracts running shoe retailers from the USA, Canada, Mexico, Asia and Europe. This conference is a unique opportunity to learn how to compete with online and big box retailers. We also learn specifics on how to serve our customers better. In addition to lectures, there is also a trade show where the retailers can preview running shoes, clothing and accessories that will be in stores in Fall of 2017.

Tara: This year, what stood out to you as being a potential hit product as we enter into 2017?

Brian: I'm interested in what booths have the most buzz around them. New Balance, Hoka and Altra were the some of the busiest booths at the show. However the product I'm most excited about for next year is a shoe brand called ON. ON is a Swiss brand that has an innovative midsole design that adapts to your individual running personality. This unique technology and feedback from other retailers about the fit will give Brainsport customers another great option when they come in to look at shoes next summer.



ON is an exciting new running shoe brand that will be arriving at Brainsport in the upcoming year.

Tara: What was the highlight, or highlights of the event for you?

Brian: The New Balance booth had a couple of sponsored athletes that were signing autographs. One athlete was Emma Coburn who won a bronze medal at the Rio Olympics in the 3000 meter steeple chase. The other athlete was another New Balance athlete named Abbey D'Agostino. Abbey was also at the Rio Olympics but had a very different experience than her teammate Emma. Abby was competing in the 5000 meter event. She collied with Nikki Hamblin of New Zealand. Both athletes fell to the ground, and it was Abbey that got up first. Instead of chasing the pack, she helped up Nikki and made sure she was okay. The two athletes were injured but they finished the race, but not before Abbey fell and this time Nikki stopped to help her up. I remember watching this race and felt tremendous respect for both Nikki and Abbey. It was a real honour to meet Abbey. Click here to read more about this story, and see video of the race.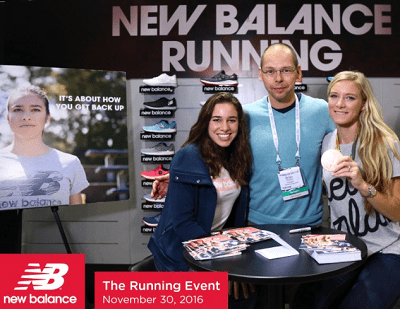 Brian with Abbey D'Agostino (left) and Emma Coburn at the New Balance booth in Orlando, FL.

Tara: What were some of the key takeaways for you?

Brian: Brooks is developing a sophisticated system that will help shoe fitters better pinpoint the type of shoe to bring to their customer. I'm really excited to about this because I believe this system will help Brainsport staff take customer service to a new level. We are hoping this technology will be available in the next 12 months.

Tara: Is there anything else you would like to share from the event?

Brian: Yes, I came across a new company called Hickies. They make a no-tie elastic shoe lace. They gave me some samples and I fell in love with them. They work well for running, but also great for slipping shoes on and off quickly. They were nice to have going through security, but I think they may be a good solution for people with mobility issues. I also put some on my kid's shoes and they love them. I placed an order and am hoping they arrive before Christmas.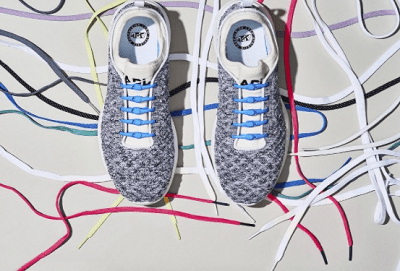 Hickies laces caught the attention of Brian, and have been ordered to the store.


UPCOMING EVENTS

Brainsport Brainfreeze



The 9th Annual Brainfreeze, in support of the U of S Cross Country Team, is set for Sunday March 5, 2017! This year there will be the addition of a 5K race, along with the 10K and half-marathon distances. Start time is 10 a.m. in front of Brainsport (also the finish). Register by going to www.brainsport.ca.


The Brainsport Running Streak

It's not too late to join the Brainsport Running Streak! In fact, this week Harvey will be leading a group run from Brainsport on Thursday, Dec. 15 at 6 pm. Come join in this group run and help keep the running streak alive.

Check out Brainsport Manager Lisette Schermann's message below for more details on the Brainsport Running Streak.

"The Brainsport Running Streak is back to help you keep running during this holiday season. We're challenging you to run every day for the entire month of December, even if it's only one mile. December is dark, and cold, and busy for many of us. It can be the toughest time of year to stick to a regular running routine. The Running Streak is the cure! There are so many great opportunities to go for a run in December, that we've made a calendar with an event, group run or workout inspiration for every day of the month.

Go to the Brainsport Facebook page and join our Running Streak group. It's a great place to share your pictures and comments and encourage fellow Streakers. Our Running Streak Ambassador, Theresa, will keep you motivated with workout ideas and a few fun contests along the way." - Lis


4th Annual Lighten Up Fun Run

Looking to get into the festive spirit? Get out your bells and battery-operated i.e.d lights and decorate yourself for a fun run on December 18 at 6:30 p.m. The run starts and finishes at D'lish. Hot beverages and dainties will be be provided by D'lish. No fee, no registration, just come have fun. Bike and well behaved pets are welcome too. This is a very easy pace 2.5 mile loop. For more details visit: https://www.facebook.com/events/394467787608552/.


Athletics Canada Road Running Survey

Athletics Canada is asking runners to take a moment to fill out the 2016 Athletics Canada Road Running Survey. These questions allow Athletics Canada to learn more about Canadian runners and provide a better experience in 2017. As a thank you, you can receive a coupon for 15% off at http://shop.athletics.cathat is good until December 31, 2016. Click the following link to get started: http://www.surveygizmo.com/s3/3028417/c3ba78016764.


Start2Finish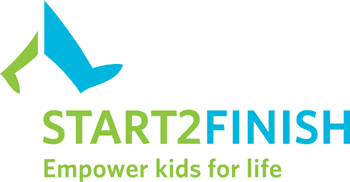 Every week, at one of Saskatoon's community schools, volunteers and children come together for a running and reading program called Start2Finish. The program aims to break the cycle of poverty by providing ongoing educational support to Saskatoon's at-risk children. You run, read, and share a word of the day with the group of kids. Start2Finish not only allows you the opportunity to give back to the community, and gain a rewarding experience, but also allows you to help children grow in a positive way. If you are interested in giving a couple hours of your time email http://This email address is being protected from spambots. You need JavaScript enabled to view it. or http://This email address is being protected from spambots. You need JavaScript enabled to view it.. For more information on the program go to www.start2finishonline.org.

Charity Challenge - Hike Machu Picchu, Peru

Hike to Machu Picchu, Peru May 13 to 20, 2017!

This is an opportunity for a great adventure, while also funding life-saving research to beat blood cancers through the Leukemia & Lymphoma Society of Canada. Join challenge leader, Mavis Derksen at the Brainsport Run Club Wednesday's at 6 p.m. where she'll be leading a weekly walk in preparation for the hike! For more information go to:https://www.charitychallenge.ca/expedition2.html?id=1885&cid=3106.


Triathlon Training

Transition Sport and Fitness is offering Distance Group, or Personalized Coaching for anyone wanting to take their swim, bike, or run training to the next level.

Visit www.transitionsportandfitness.cafor more info on all programs.


Product of the Week

New Balance USD200 V2




Looking for the ultimate gift for the sprinter on your list? Just arrived is the New Balance USD200 V2. This spike is designed for the 100meter and 200meter distances. Light weight and responsive, the Boa helps to secure the upper around the foot for a glove like fit. $190.
---

Thanks for reading the Times this week . . gotta run . . .Tara

Related Posts
Comments
No comments made yet. Be the first to submit a comment