YourSaskatoon Blogs
YourSaskatoon provides you a place to voice issues dear to you on our site. If you have a blog idea for the local audience message us. Share your idea we may provide you the vehicle to reach your audience. We must respectfully reserve the right to not accept all ideas submitted.
11 minutes reading time
(2155 words)
Brainsport Times Dec. 26, 2018
Each year Brainsport presents the Ric Hanna Award to a runner who demonstrates leadership and makes running more meaningful for fellow run club members. This year's Ric Hanna Award winner is Don Cochrane, who has been a part of Brainsport's run clubs since the run club's first meeting in July 1991.

Prior to accepting the award on Dec. 22, Cochrane spoke with the Brainsport Times about his journey in running and what the Brainsport run club has meant to him.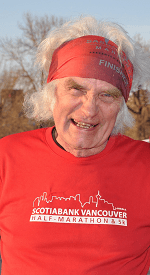 Don Cochrane's fascination with running began in his early teens.

He remembers growing up in Ontario and being captivated by stories of the great athletes who raced the Boston Marathon.

"I thought 'Nobody in their right mind could ever run 26 miles,' " recalls Cochrane, now 78. "This just caught the imagination of a 13 year old. But way down deep, I said 'One day, one day I'm going to do that.' "

Cochrane didn't start running right away though. He played hockey in high school and was a boxer at Queen's University in Kingston, Ont. where he did his undergraduate degree in English and Philosophy. It wasn't until he moved to California to teach that he started running at age 36.

"I realized, possibly, that the 30s were for getting on with dreams you had when you were a teenager that you didn't get to in your 20s," Cochrane said. "So I started running at night because I was afraid that somebody would ask me what I was doing. And the answer would be I was preparing for Boston Marathon. And I could run one mile. And I didn't want the embarrassment of being asked what I was doing."

Cochrane started running farther and eventually enlisted the help of track coach Laszlo Tabori, a Hungarian middle- and long-distance runner who defected to the United States at the close of the 1956 Melbourne Olympics. Tabori taught Cochrane how to structure a workout and how to recover from one

"If I ever became a runner, Laszlo made me a runner. I'm indebted to him," Cochrane said.

Cochrane moved to Vancouver in 1976 and ran the Vancouver Marathon in May 1977, in his second year of running. He clocked a 2:39:16, which punched his ticket to Boston. It remains his personal best to this day.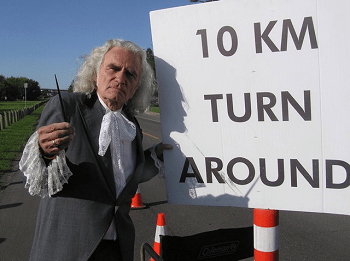 Don Cochrane, dressed as Beethoven, is a familiar face at the Saskatchewan Marathon, where he volunteers to conduct runners when the course splits off for different distances.

Cochrane moved to Saskatoon in 1980 to become department head of educational foundations for the University of Saskatchewan's College of Education. He joined the Saskatoon Road Runners Association and trained with other members of the group. He also coached young track athletes, including Brian Michasiw, who would go on to open Brainsport in 1991.

Cochrane attended Brainsport's first run club when the initiative launched less than a week after the store opened and has been a consistent presence ever since. His longest absence from the club was from December 2002 to March 2003 when he was recovering from a quadruple bypass surgery necessitated by the narrowing of the arteries supplying blood to his heart.

Cochrane is often a group leader for Brainsport's run clubs and, for the past few years, has overseen a nine-and-one group where participants run nine minutes and walk one minute.

"People come to trust me. If they run with me they know the pace will be steady and no one will be left behind and we help each other through," Cochrane said.



Don Cochrane living his dream by running the Boston Marathon.

"I couldn't train alone now. So if I'm going to run at all, I have to be running most of the time with a group. And they see me as helping them through and I see them as helping me through. We don't articulate, but we know full well what's going on."

Ric Hanna, for whom the Ric Hanna Award is named, was one of Saskatchewan's best marathon runners and led Brainsport run club groups for many years before Huntington's Disease took its toll on his body. He died in 2016.

Cochrane ran with Hanna at Brainsport and said he remembers his late friend as "an amazing runner, but also a very decent human being and a fine educator."

"It's an honour to receive an award established for someone that I knew and respected and admired," Cochrane said.

Cochrane's next running goal is to run a half marathon at age 80. He last raced a half marathon four years ago in Vancouver where he ran a 2:07. He hopes the half marathon he runs at 80 will not be slower than his 2:39 personal-best marathon
Upcoming Events

Until Thursday December 27: December Brainsport Lunchtime Runs
Meet at the clocktower across from the Sheraton hotel in downtown on Thursdays at 12:08 p.m. for a 30 minute run. This informal workout is suitable for all levels of runners. No charge, no sign-up, just bring a friend and come ready to run!

Monday December 31: No Frills Chili Run
Brainsport is hosting a no-swag year-end run in support of the Child of the Cross running clinics. Register in-store for a five-kilometre run or 2.5-kilometre walk. Registration is $20 and the race starts at 5 p.m. After the run you will get a bowl of chili, a dessert and some sparkling apple juice.

Saturday January 5: Transition Sport and Fitness is hosting an indoor "Bring in the New Year" Brick workout
This workout runs from 9 a.m. to 10 a.m. at the Saskatoon Field House. $20 individual drop in and $25 family options available. There will be a triathlete/duathlete option as well as a no-biking strength/run circuit that will be family friendly. Register here.

Sunday Mar. 3, 2019: Brainsport Brainfreeze
Brainsport's Brainfreeze is a winter run that raises money for the University of Saskatchewan cross country team. Enjoy the snow-coated scenery as you choose from a five-kilometre, 10-kilometre or half marathon distance along the beautiful South Saskatchewan River. Register now.




Saturday May 11, 2019: Royal Road Race (Regina)
The ninth-annual Royal Road Race, hosted by the Jaleta Pacers and the RCMP is once again being held on Mother's Day weekend. Since it began, this race has contributed over $161,549 to local charities. Held on the RCMP Training Academy grounds in Regina, this fast course has something for everyone with five-kilometre and 10-kilometre races, a five-kilometre walk, a five-kilometre wheelchair and a one-kilometre Mini-Mountie run for children. This race sells out fast so make sure to register soon. Prices increase Mar. 31.

Sunday May 26, 2019: Saskatchewan Marathon
The Saskatchewan Marathon is the oldest marathon in Saskatchewan. The event is organized and produced by the Saskatoon Road Runners Association. The 2019 Saskatchewan Marathon features Craven SPORT services five-kilometre, Goodlife Fitness 10-kilometre, half-marathon and marathon event distances along a scenic course highlighting the world-renowned Meewasin Valley. Easily deemed one of the most scenic running events in Canada, the Saskatchewan Marathon is also a qualifier for the Boston Marathon. Sign up today. Prices increase Mar. 1.
Courses and programs

Brainsport Running Academy: Full Marathon and Half Marathon Clinic
This clinic, coached by Pat Somerville, is ideal for less experienced runners or those looking to improve their previous half or full marathon times. It is recommended you be able to run 40 minutes consecutively before joining this clinic. The clinic runs Monday evenings from Brainsport starting at 6 p.m. It runs from Jan. 21 to May 20 and will prepare runners for the 2019 Saskatchewan Marathon on May 26. In addition to weekly coached runs, there will be informational sessions on topics such as injury prevention, core stability, running technique, nutrition, yoga for runners, and more. Register online now.

Transition Sport and Fitness Triathlon Training Group
The three-month winter program starts Jan. 8. Choose from one-, two- or three-times-per week options. Register here. Email This email address is being protected from spambots. You need JavaScript enabled to view it. for more information or to register for a distance triathlon training group.

Virtual Cycle Sundays and Virtual Pilates Mondays
Hosted by Transition Sport and Fitness, the Sunday rides run from 9 a.m. to 10 a.m. and the Monday pilates go from 8:15 p.m. to 9 p.m. The pilates class is tailored towards triathletes. Visit www.transitionsportandfitness.ca or email This email address is being protected from spambots. You need JavaScript enabled to view it. for more information.

Breathe Move Be Yoga for Athletes
Breathe Move Be offers a Yoga for Athletes course Thursday evenings from 5:45 to 6:45 p.m. from Jan. 10 to March 14 at Midwest Karate Studio. $140 to pre-register for all classes. Drop-in spots will be made available for $18 when space is available. For more information and to register contact Leanne Parsons at This email address is being protected from spambots. You need JavaScript enabled to view it..
Announcements

Track and Field Volunteers Needed
Here's your chance to support young track and field athletes! Two-hour clinics will be held at the Saskatoon Field House during the Sled Dog Open on Jan 11 and 12 to train people to be part of the city's volunteer officiating team. Clinics are Fri. Jan. 11 at 6:30 p.m. and Sat. Jan. 12 at 9:30 a.m. For more info or to register contact Ken by email at This email address is being protected from spambots. You need JavaScript enabled to view it. or by phone at 306-664-6744.

Saskatoon Road Runners Association Matching Donations to Improve Shakespeare on the Saskatchewan Site
Until Jan. 31, The Saskatoon Road Runners Association will match donations up to $50,000 to improve the Shakespeare on the Saskatchewan site and adjacent trails. Donate and learn more about the project through the Shakespeare on the Saskatchewan website.

Saskatchewan Marathon Seeking Pace Bunnies
Pace bunnies are needed for the five-kilometre, 10-kilometre, half-marathon and marathon distances for the May 26 races. The most important bunnies are at the 0:30, 1:00, 2:00 and 4:00 times in the respective distances. Organizers will then look for bunnies in five-, 10- or 15-minute increments on either side of the milestone times. If you're interested, please contact pace bunny wrangler Dave Stark by email at This email address is being protected from spambots. You need JavaScript enabled to view it.. Your event registration will be free!
Product of the Week

Nordic Grips


Don't let icy conditions keep you inside! Nordic Grips slip over your shoes to give you traction on slippery roads and sidewalks.
The Brainsport Times brings you news and stories from Saskatoon's running community every Wednesday. If you have a story to share, an event you want featured or suggestions for future content, please email Brainsport Times editor This email address is being protected from spambots. You need JavaScript enabled to view it.This email address is being protected from spambots. You need JavaScript enabled to view it..
Stay Informed
When you subscribe to the blog, we will send you an e-mail when there are new updates on the site so you wouldn't miss them.
Comments
No comments made yet. Be the first to submit a comment