The selected editor codemirror is not enabled. Defaulting back to codemirror.
9 minutes reading time
(1721 words)
Brainsport Times Dec. 18, 2018
Following Brainsport's free Saturday morning run club this weekend, Brainsport will present the Ric Hanna Award to an athlete who has demonstrated leadership and made running more meaningful for fellow run club members. The presentation will take place in Brainsport's community room at 10 a.m. as part of a holiday celebration. Brainsport will provide some coffee and tea. Runners — please bring some dainties to share!

In other good news:

Six-year-old Lucy Olynick loves her new shoes.

The Gr. 1 student has been showing them off to her classmates since she bought them at Brainsport last month. The shoes are sparkly, which Lucy thinks is awesome. But what makes them really special is they have a zipper that allows the shoes to completely open up so Lucy can slide her feet in easily even though she wears ankle-foot orthotics (AFOs).

Lucy was born with club feet and used to wear casts and braces. In early October she had surgery to correct her condition and was fitted with AFOs so her feet will be kept flat while she heals.

Carrie Olynick, Lucy's mom, says Lucy will wear her AFOs for about a year.

When Carrie knew her daughter would need AFOs she started looking online to see what type of footwear would accommodate someone with feet that won't bend at the ankle. She stumbled upon BILLY Footwear, an American company that specializes in adaptive footwear. Their shoes have zippers that go along the side and around the toe, allowing the shoe to be completely opened up so the foot can be placed straight in without the ankle having to bend.

Lucy and Carrie Olynick pose in Brainsport with Lucy's new BILLY shoes.

"We had found them online and Lucy had looked through and picked out the ones she liked best, but then when we went to try to order them it was just a bit too expensive," Carrie said.

Between the shipping costs and currency conversion rate, the shoes were prohibitively costly to order online and Carrie didn't know what they would do. But after Lucy had her surgery, a woman who was in the waiting room while Lucy was getting her AFOs mentioned that Brainsport might have a solution for a hard-to-fit foot.

Carrie and Lucy drove to the store and learned it had just started carrying BILLY Footwear in October.

According to the BILLY website, Brainsport is the only Canadian location where the footwear is sold.

Lucy slipped her feet into the shoes and zipped them on — all by herself.

Lucy has been in her new shoes for about three weeks now and Carrie says the best part is how little grief they cause.

"Since her post-op casts have come off, Lucy has been very sensitive and anxious regarding things touching and moving her feet," Carrie said. "These are so perfect because they allow us to put her shoes on without having to manipulate her feet or put pressure on them at all — Something we are all grateful for."
Upcoming Events

Until Thursday December 27: December Brainsport Lunchtime Runs
Meet at the clocktower across from the Sheraton hotel in downtown on Thursdays at 12:08 p.m. for a 30 minute run. This informal workout is suitable for all levels of runners. No charge, no sign-up, just bring a friend and come ready to run!

Monday December 31: No Frills Chili Run
Brainsport is hosting a no-swag year-end run in support of the Child of the Cross running clinics. Register in-store for a five-kilometre run or 2.5-kilometre walk. Registration is $20 and the race starts at 5 p.m. After the run you will get a bowl of chili, a dessert and some sparkling apple juice.

Saturday January 5: Transition Sport and Fitness is hosting an indoor "Bring in the New Year" Brick workout
This workout runs from 9 a.m. to 10 a.m. at the Saskatoon Field House. $20 individual drop in and $25 family options available. There will be a triathlete/duathlete option as well as a no-biking strength/run circuit that will be family friendly. Register here.

Sunday Mar. 3, 2019: Brainsport Brainfreeze
Brainsport's Brainfreeze is a winter run that raises money for the University of Saskatchewan cross country team. Enjoy the snow-coated scenery as you choose from a five-kilometre, 10-kilometre or half marathon distance along the beautiful South Saskatchewan River. Register now.




Saturday May 11, 2019: Royal Road Race (Regina)
The ninth-annual Royal Road Race, hosted by the Jaleta Pacers and the RCMP is once again being held on Mother's Day weekend. Since it began, this race has contributed over $161,549 to local charities. Held on the RCMP Training Academy grounds in Regina, this fast course has something for everyone with five-kilometre and 10-kilometre races, a five-kilometre walk, a five-kilometre wheelchair and a one-kilometre Mini-Mountie run for children. This race sells out fast so make sure to register soon. Prices increase Mar. 31.

Sunday May 26, 2019: Saskatchewan Marathon
The Saskatchewan Marathon is the oldest marathon in Saskatchewan. The event is organized and produced by the Saskatoon Road Runners Association. The 2019 Saskatchewan Marathon features Craven SPORT services five-kilometre, Goodlife Fitness 10-kilometre, half-marathon and marathon event distances along a scenic course highlighting the world-renowned Meewasin Valley. Easily deemed one of the most scenic running events in Canada, the Saskatchewan Marathon is also a qualifier for the Boston Marathon. Sign up today. Prices increase Mar. 1.
Courses and programs

Brainsport Running Academy: Full Marathon and Half Marathon Clinic
This clinic, coached by Pat Somerville, is ideal for less experienced runners or those looking to improve their previous half or full marathon times. It is recommended you be able to run 40 minutes consecutively before joining this clinic. The clinic runs Monday evenings from Brainsport starting at 6 p.m. It runs from Jan. 21 to May 20 and will prepare runners for the 2019 Saskatchewan Marathon on May 26. In addition to weekly coached runs, there will be informational sessions on topics such as injury prevention, core stability, running technique, nutrition, yoga for runners, and more. Register online now.

Transition Sport and Fitness Triathlon Training Group
The three-month winter program starts Jan. 8. Choose from one-, two- or three-times-per week options. Register here. Email This email address is being protected from spambots. You need JavaScript enabled to view it. for more information or to register for a distance triathlon training group.

Virtual Cycle Sundays & Virtual Pilates Mondays
Hosted by Transition Sport and Fitness, the Sunday rides run from 9 a.m. to 10 a.m. and the Monday pilates go from 8:15 p.m. to 9 p.m. The pilates class is tailored towards triathletes. Visit www.transitionsportandfitness.ca or email This email address is being protected from spambots. You need JavaScript enabled to view it. for more information.

Breath Move Be Yoga for Athletes
Breathe Move Be offers a Yoga for Athletes course starting on Thursday evenings from 5:45 to 6:45 p.m. until Dec. 20 at Midwest Karate. Drop-in spots will be made available for $18 when space is available. For more information and to register contact This email address is being protected from spambots. You need JavaScript enabled to view it..
Announcements

Track and Field Volunteers Needed
Here's your chance to support young track and field athletes! Two-hour clinics will be held at the Saskatoon Field House during the Sled Dog Open on Jan 11 and 12 to train people to be part of the city's volunteer officiating team. Clinics are Fri. Jan. 11 at 6:30 p.m. and Sat. Jan. 12 at 9:30 a.m. For more info or to register contact Ken by email at This email address is being protected from spambots. You need JavaScript enabled to view it. or by phone at 306-664-6744.

Saskatoon Road Runners Association Matching Donations to Improve Shakespeare on the Saskatchewan Site
Until Jan. 31, The Saskatoon Road Runners Association will match donations up to $50,000 to improve the Shakespeare on the Saskatchewan site and adjacent trails. Donate and learn more about the project through the Shakespeare on the Saskatchewan website.
Product of the Week

BILLY Footwear shoes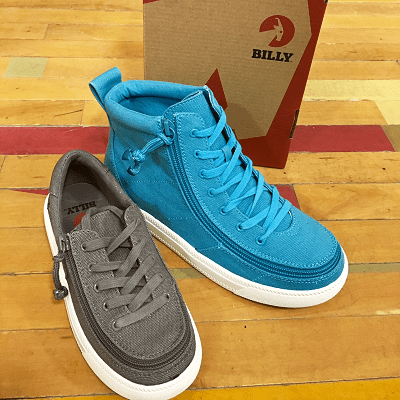 BILLY Footwear shoes feature zippers that go along the sides and around the toe, allowing the shoe to completely open up for ease of access.
The Brainsport Times brings you news and stories from Saskatoon's running community every Wednesday. If you have a story to share, an event you want featured or suggestions for future content, please email Brainsport Times editor This email address is being protected from spambots. You need JavaScript enabled to view it.This email address is being protected from spambots. You need JavaScript enabled to view it.
Related Posts
Comments
No comments made yet. Be the first to submit a comment