The selected editor codemirror is not enabled. Defaulting back to codemirror.
6 minutes reading time
(1244 words)
Brainsport Times Sept 7, 2016
The long weekend is now behind us, which means school has started and there's likely still some back-to-school shopping to get done. Beyond the jeans and stationary there are a whole bunch of other must-haves on the lists of many as they get settled into classes, and start up fall sports seasons.
In this week's Q&A we speak with Brainsport Manager Lisette Schermann to learn more about some cool back-to-school products in stock this year.Q&A with Lisette Schermann
Tara: With back-to-school shopping well underway, what some of the staple products in stock right now that may help parents check off their lists?
Lisette: Running shoes are number one. Often one pair for outside wear and one for indoors. It's also back to swim time, so we help kids find new goggles, suits and fins too.
Lisette showing off some of Brainsport's swim gear. Tara: Beyond the staple products, are there any unique products that stand out to you as being back-to-school friendly?
Lisette: We have kid sized versions of our favourite socks. For a lot of kids it's back to sock season too!
Tara: How about new products - are there any items in the store right now that may come as a pleasant surprise to customers?
Lisette: Back to school isn't just for little kids; post-secondary students are back and so are teachers. We have beautiful S'well water bottles for staying healthy, Ciele hats for staying cool, and comfortable teaching shoes for staying on your feet all day. We also have some great insoles, Kneed insoles, that will pump up the support of casual shoes like Van's and Con's.
Tara: You've helped countless parents with back-to-school shopping over the years. What is your advice for them?
Lisette: Always have your little one's feet measured, every time you buy shoes. Kids' feet grow so fast, sometimes they can skip a size between pairs. Be sure to talk about the way shoes feel, in addition to how they look. Kids really listen to what we say, and it's good to teach them that shoes are supposed to feel good.
Also, it can be tough to find time to come out and buy shoes. Remember that we're open some extended hours throughout the week: Sundays 12 p.m. - 5 p.m., Thursday nights until 9 p.m. and we're open at8 a.m. on Saturday mornings.
Tara: Is there anything else you would like to add?
Lisette: At this time of year, some people are dealing with sore feet and injuries from wearing less than supportive summer footwear. Oofos sandals, available as flip-flops, clogs or slides, are a really great way to support recovering feet around the house or in the yard. If your feet are really in trouble, we've got supportive insoles and compression arch sleeves that can help you get back on track.
UPCOMING EVENTS
Learn To Pole WalkSuitable for all ages and fitness levels, Nordic walking is a great way to build core and upper body strength all year long. Classes are being offered this year at the Saskatoon Field House on
Sunday Oct. 16
, 23, 30 from
1 p.m. – 2 p.m.
Cost: $15. Course Code: 45135
To register click here and use the above code. Or call the Saskatoon Field House at 306-975-3354.
Yoga for Triathletes ZONE Sports Physiotherapy bringing back another yoga class for triathletes this fall featuring RYT 200 yoga teacher and triathlete, Josh Safronetz. Fall and early winter is a great time to work on freeing up movement and increasing range of motion to all you to swim, bike and run with greater efficiency.
This years class will take place on Thursday nights starting on September 8 and run for 12 sessions untilDecember 22.
Classes will run from
6:15 p.m. to 7:30 p.m.
at ZONE Sports Physiotherapy. Cost for the 12 sessions is $240. Each participant must bring their own yoga mat, block and strap. If you're interested please contact Brad at
This email address is being protected from spambots. You need JavaScript enabled to view it.
for more information and to secure a spot. Yoga For Runners with BreathMoveBeHave you ever considered working yoga into your training routine? This is your opportunity to join a yoga class designed specifically for runners.There are two eight-week options available this fall:Wednesdays,
September 14 to November 2
from
7:30 p.m. to 8:45 p.m.
at the Brainsport Community Room. Tuesdays,
September 13 to November 1
from
6 p.m. to 7 p.m.
at Namaskar Yoga Studio (615 2nd Avenue North). Contact Leanne at
This email address is being protected from spambots. You need JavaScript enabled to view it.
or
306-251-2964
with questions, or to register.TRX Strength for Runners & TriathletesGain strength and alignment in the off-season with a focus on swim, bike and run movement patterns. Sessions will also include recovery techniques for injury prevention. Coached by Carly Priebe, certified triathlon and running coach with experience coaching at international level. Classes are Thursdays from
7:15 a.m. to 8 a.m.
for six weeks through September and October. Go to
www.transitionsportandfitness.ca
for more information. Ninth Annual KinSpin Run, Walk & Roll!The U of S College of Kinesiology is hosting its 9th Annual Kinspin 1K and 5K event on
Saturday, September 17 at 10 a.m.
at the U of S Bowl. Proceeds from the event are directed to special needs programming within the College of Kinesiology. For more information and to register go to
https://donate.usask.ca/online/kinspin.php
.Ryding for the STARS - STARS Air Ambulance Ryde-A-Thon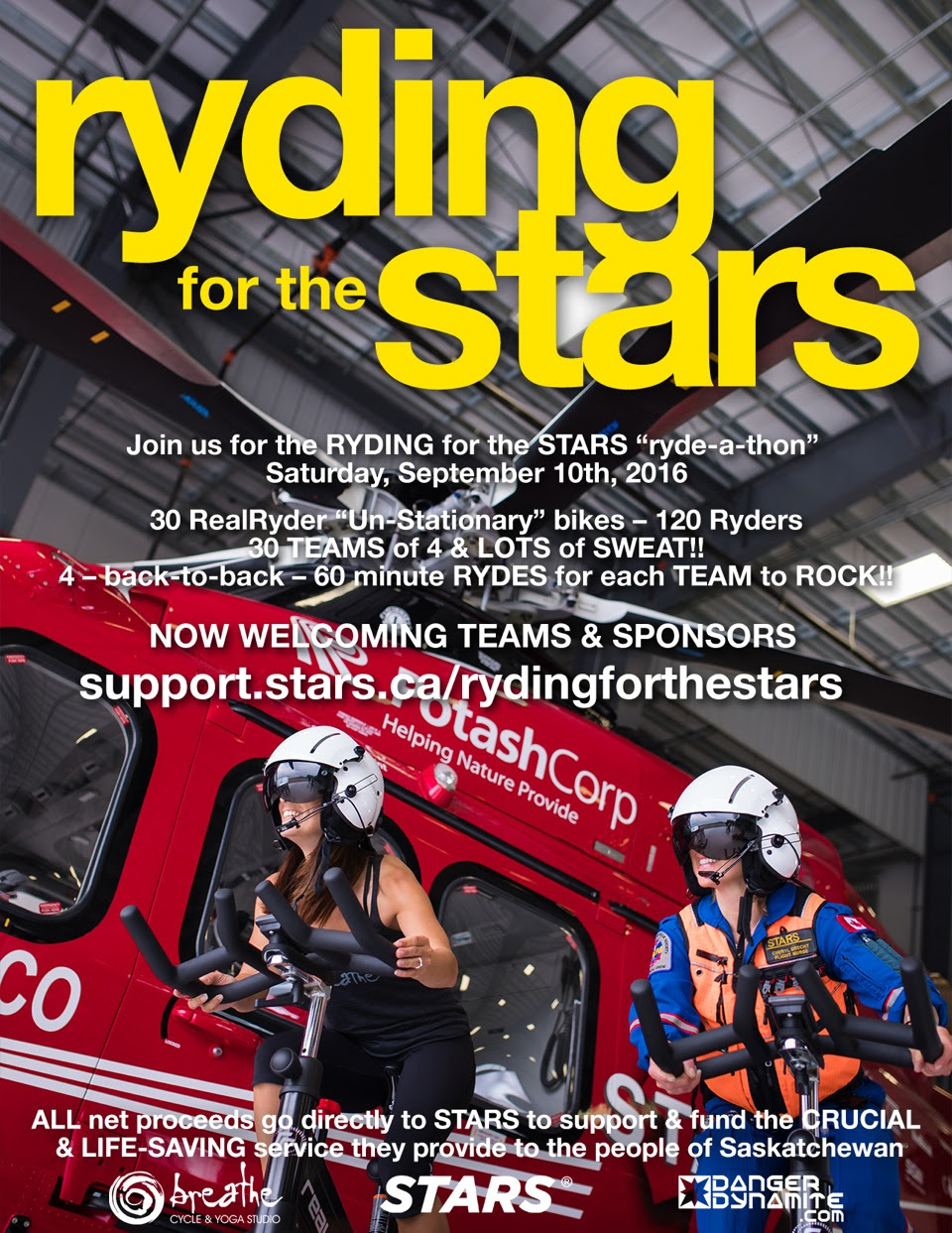 Get together a relay team of four riders and help raise funds for STARS Air Ambulance on September 10. The fundraising platform is online where pledges can be made through August. If you're interested in learning more details, or putting a team together contact Clay Sparks, Co-Creator of Breathe Cycle Studio & Advance-Tek Consulting at 306-230-1800.
Miles for SmilesThe Student Medical Society of Saskatchewan is hosting its 13th annual fundraising event on
September 10, 2016
- Miles for Smiles! Come out and run/walk 2.5K, or run a 5K or 10K (chip timing is available). All funds raised will go to the Children's Hospital Foundation of Saskatchewan. For more information on the event go to:
http://miles4smiles.usask.ca/
.Beaver Flat 50 - Ultra Trail Marathon
Saskatchewan's first ultra trail marathon will get underway on
September 17
at Saskatchewan Landing Provincial Park. With more than 2500 metres of vertical gain across 50 kilometres, there's nothing really flat about this race! The Beaver Flat 50 is a tough get-your-feet-wet, wreck-your-shins, and roll-your-ankle kind of run. For more information click
here
.
SRRA Trail Race SeriesThird and final race of the 2016 Trail Race Series will be held at Blackstrap on
September 18 at 9 a.m.
Race distance options are 5K, 10K and 15K. For more information on all the races visit:
https://srratrailraces.wordpress.com/
.

16th Annual Saskatchewan Credit Unions Queen City Marathon
The 16th Annual Saskatchewan Credit Unions Queen City Marathon takes place the weekend of
September 10 & 11
in Regina. This event includes races for people of all paces. Runners and walkers are welcome in the 42.2K, 21.1K, 10K, Team Relay and 5K events. Kids, as young as three-years-old, are encouraged to participate in the Mini Marathon. For more information or to register please visit:
http://runqcm.com
.
Product of the WeekOofos
The ultimate in recovery footwear, Oofos footwear will give your feet the relief your looking for, and ongoing support they need. The unique engineering of Oofos reduces shock and stress, while enabling a natural motion. Whether you're relaxing after a long day work, or after a weekend long run, you'll be happy you have a pair of Oofos to toss on.
---
Thanks for reading the Times this week . . gotta run . . .Tara
Related Posts
Comments
No comments made yet. Be the first to submit a comment