YourSaskatoon Blogs
YourSaskatoon provides you a place to voice issues dear to you on our site. If you have a blog idea for the local audience message us. Share your idea we may provide you the vehicle to reach your audience. We must respectfully reserve the right to not accept all ideas submitted.
6 minutes reading time
(1189 words)
Brainsport Times Nov. 16, 2016
For all of you out there looking for an opportunity to race on the track before Christmas, or who have children interested in running, this Times is for you!

In this week's Q&A we're speaking with meet director, Ivan Tam about the PR First Chance Track Meet coming up on December 3 at the Saskatoon Field House.

Q&A with Ivan Tam

Tara: For those unfamiliar with the First Chance Track Meet, would you mind giving us a brief overview of the event?
Ivan: This is a meet for athletes of all ages. We have had athletes that are three years-old to 85 years-old competing at this event.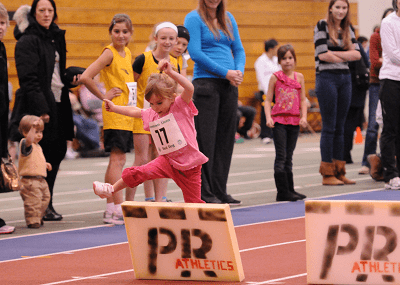 One little runner leaping over the hurdles at the PR First Chance Track Meet. Photo supplied

Tara: What was the motivation for starting the meet?
Ivan: We started this meet about 30 years ago when there was no local meet prior to Christmas, which meant athletes had to travel out of province if they wanted to compete prior to Christmas. The meet evolved as about 12 years ago when we added the little tykes event (children three to nine years-old). There was no meet with events for children of this age. I wanted something that the children would have fun doing. I had children under the age of five and was heavily involved in track. I wanted my kids to be able to run at a track meet and so I began this event.


It's a close race between these hurdlers flying down the track at the Saskatoon Field House. Photo Supplied

Tara: Can you tell us a bit about the balance between competition and creating a fun, learning experience for these young athletes?
Ivan: For us it's all about the fun and learning for the young children. The two practices prior to the meet are to get the children ready for the competition. Our coaching staff are great with kids. Many of them are parents themselves who have children or have had children in the program. We try to build self confidence as the children have to be out there on their own without a parent. Over the three-week period you can really see the growth in the kids as they become independent of their parents' at the event.


Reaching hard for that finish line. Photo Supplied
Tara: What do you believe makes this such a popular event?
Ivan: I believe that the children have fun and for the parents it's great to see kids compete at this fun level where winning is seeing your child grow. For each child the growth may be in a different area. It's not just physical growth, but seeing the children become independent of their parents and listening to others.
Tara: Is there anything else you would like to add?
Ivan: Just that this is a really fun event!

UPCOMING EVENTS

2016 PR Athletics First Chance Meet

This track meet is an opportunity for those born in 2007 or later to compete on December 3 at the Saskatoon Field House. All athletes will receive a medal. Entries will be limited to the first 50 entrants. For more information contact Ivan Tam at This email address is being protected from spambots. You need JavaScript enabled to view it.. For a taste of what's ahead check out a video from the event's previous years: www.youtube.com/watch?v=rvXCr5GvLq4

4th Annual Lighten Up Fun Run

Looking to get into the festive spirit? Get out your bells and battery-operated i.e.d lights and decorate yourself for a fun run on December 18 at 6:30 p.m. The run starts and finishes at D'lish. Hot beverages and dainties will be be provided by D'lish. No fee, no registration, just come have fun. Bike and well behaved pets are welcome too. This is a very easy pace 2.5 mile loop. For more details go to: https://www.facebook.com/events/394467787608552/.

Athletics Canada Road Running Survey
Athletics Canada is asking runners to take a moment to fill out the 2016 Athletics Canada Road Running Survey. These questions allow Athletics Canada to learn more about Canadian runners and provide a better experience in 2017. As a thank you, you can receive a coupon for 15% off at http://shop.athletics.ca that is good until December 31, 2016. Click the following link to get started: http://www.surveygizmo.com/s3/3028417/c3ba78016764.


Start2Finish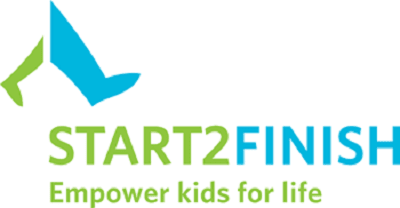 Every week, at one of Saskatoon's community schools, volunteers and children come together for a running and reading program called Start2Finish. The program aims to break the cycle of poverty by providing ongoing educational support to Saskatoon's at-risk children. You run, read, and share a word of the day with the group of kids. Start2Finish not only allows you the opportunity to give back to the community, and gain a rewarding experience, but also allows you to help children grow in a positive way. If you are interested in giving a couple hours of your time to read and run with these children please email: http://This email address is being protected from spambots. You need JavaScript enabled to view it. or http://This email address is being protected from spambots. You need JavaScript enabled to view it.. For more information go to http://www.start2finishonline.org.


Charity Challenge - Hike Machu Picchu, Peru

Hike to Machu Picchu, Peru May 13 to 20, 2017! This is an opportunity for a great adventure, while also funding life-saving research to beat blood cancers through the Leukemia & Lymphoma Society of Canada. Join challenge leader, Mavis Derksen at the Brainsport Run Club Wednesday's at 6 p.m. where she'll be leading a weekly walk in preparation for the hike! For more information go to: https://www.charitychallenge.ca/expedition2.html?id=1885&cid=3106.


Triathlon Training

Transition Sport and Fitness is offering Distance Group, or Personalized Coaching for anyone wanting to take their swim, bike, or run training to the next level. Visit www.transitionsportandfitness.ca for more info on all programs.

Product of the Week

Brooks Adrenaline GTS 17


Brooks has updated it's "Go To Shoe" with their latest installment of the Adrenaline GTS. The 17th version of this widely popular stability shoe has a sleek look and updated v-groove to provide a more natural release for a smooth feel while on the fly. There is a reason, actually plenty of reasons why this shoe is consistently among the most popular stability shoes around. It's fit and full-length crash pad tend to work very well for a lot of runners. Come check out them out for yourself!

---
Thanks for reading the Times this week . . gotta run . . .Tara
Stay Informed
When you subscribe to the blog, we will send you an e-mail when there are new updates on the site so you wouldn't miss them.
Comments
No comments made yet. Be the first to submit a comment