The selected editor codemirror is not enabled. Defaulting back to codemirror.
7 minutes reading time
(1321 words)
Brainsport Times Dec. 28, 2016
The countdown is on to New Year's Eve, hopefully you all had a wonderful Christmas Day and are continuing to enjoy the Holiday Season. There's nothing quite like sharing in a run with friends and family this time of year.

In this week's Q&A we speak with a new member of the Brainsport Run Club who definitely understands the spirit of camaraderie among runners. If you're a regular at Run Club you may have already met Shan Chao. If not, this will serve as an introduction and opportunity for everyone to learn a bit more about him.

Before we get to it though, a quick thank you to long-time Rub Club member, Don Cochrane, for connecting us with a translator to help make this interview possible.

Q&A with Shan Chao

Tara: Welcome to Saskatoon. We are very happy you found the Brainsport Run Club. You come to us from a great distance. Where in China do you live? What brought you to Saskatoon to visit?

Shan: I am from Hefei, the capital of Anhui Province, in eastern China, just west of Shanghai. My child is a graduate student at the University of Saskatchewan and might immigrate here in the future. I have come to see my son and daughter-in-law and their new-born child.
Shan with a very festive Linda at the Brainsport Run Club. Photo supplied
Tara: You're now 65 years-old, how long have you been running? And what motivates you to run on a regular basis?

Shan: I've been running for 11 years. So far, I have run a total of 25 marathons, of which 13 were full marathons, and 12 were half-marathons. I have traveled all over China, as well as to Singapore, Taiwan, Hong Kong, and other places. Although I have run in a lot of places, I do not run very fast. My best full marathon performance is only 4:27; in general, most of them are about 4:50 or so.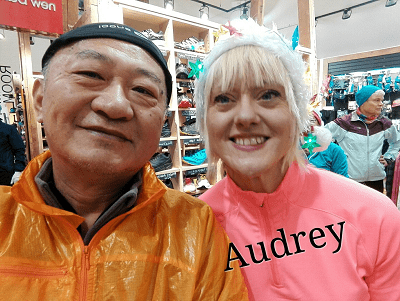 Shan and Audrey are all smiles at Run Club. Photo supplied

Tara: Were you involved with a running group in Hefei?

Shan: In China, the marathon craze started late and began to boom in about 2011. Before then only a few people took part in marathons. I first took part in a marathon in 2011 in the highest altitude marathon in China, located in Tibet plateau, Lhasa marathon, 3600 meters above sea level. In 2013, my friends and I formed the Happy Running group. It is still the largest running group in Hefei. I am also responsible for organizing various activities, for example, in 2015 I organized the largest private running event in Hefei. If you and your friends are interested in participating in the Hefei Marathon, I can welcome you on behalf of my friends. I can also contact the Hefei Marathon Organizing Committee. Now that China is in a marathon craze, a large marathon must draw to get places.


Brian holding the flag of the Happy Running group from China. Photo supplied
Tara: How long will you be staying here in Saskatoon?

Shan: I will return to China on April 13, because my visa is only half a year, but I will often come back here and run with everyone.


UPCOMING EVENTS

Brainsport Brainfreeze



The 9th Annual Brainfreeze, in support of the U of S Cross Country Team, is set for Sunday March 5, 2017! This year there will be the addition of a 5K race, along with the 10K and half-marathon distances. Start time is 10 a.m. in front of Brainsport (also the finish). Register by going to www.brainsport.ca.

Learn to Pole Walk (Nordic Walking)

Looking for a fun and effective way to get in shape and stay healthy through the winter? If so, maybe Nordic Walking is right for you. Classes are being held January 8, 15 and 29 at the Saskatoon Field House from 1:30 p.m. to 2:30 p.m. Cost for all three classes is $15.

Instructors, David and Sheila Taylor, will teach you about the different types of poles, how to size the poles, proper Nordic Walking technique, and how to use the poles going up or down hills. To register go to This email address is being protected from spambots. You need JavaScript enabled to view it. and use course code 45959, or call Saskatoon Field House at 306-975-3354. Poles are provided or bring your own. Brainsport has Urban Poles supplied at the store if you're interested in purchasing your own.

Breath Move Be - Yoga for Runners

Breath Move Be is back with more yoga for runners in the new year. Join in this runner specific yoga class starting January 10 through February 28. Classes will be held at Namaskar Yoga Studio on Tuesday nights from 6:05 to 7:05. For more information and to register email Leanne at This email address is being protected from spambots. You need JavaScript enabled to view it. or text 306-251-2964.


Athletics Canada Road Running Survey

Athletics Canada is asking runners to take a moment to fill out the 2016 Athletics Canada Road Running Survey. These questions allow Athletics Canada to learn more about Canadian runners and provide a better experience in 2017. As a thank you, you can receive a coupon for 15% off at http://shop.athletics.cathat is good until December 31, 2016. Click the following link to get started: http://www.surveygizmo.com/s3/3028417/c3ba78016764.


Triathlon Training

Transition Sport and Fitness is offering Distance Group, or Personalized Coaching for anyone wanting to take their swim, bike, or run training to the next level.

Visit www.transitionsportandfitness.cafor more info on all programs.


Start2Finish



Every week, at one of Saskatoon's community schools, volunteers and children come together for a running and reading program called Start2Finish. The program aims to break the cycle of poverty by providing ongoing educational support to Saskatoon's at-risk children. You run, read, and share a word of the day with the group of kids. Start2Finish not only allows you the opportunity to give back to the community, and gain a rewarding experience, but also allows you to help children grow in a positive way. If you are interested in giving a couple hours of your time email http://This email address is being protected from spambots. You need JavaScript enabled to view it. or http://This email address is being protected from spambots. You need JavaScript enabled to view it.. For more information on the program go to www.start2finishonline.org.


Product of the Week

Cobb Hill - Riley




Keep your feet in style and warm in the waterproof, lined Riley boot from Cobb Hill. With the snow likely here to stay for the winter, this boot will take you about the city in fashion and keep you on your feet with its grippy rubber sole. As Brainsport manager Lisette says, putting on this beauty of a boot "doesn't make it look like you're going ice fishing, even if you are."
---

Thanks for reading the Times this week . . gotta run .
Related Posts
Comments
No comments made yet. Be the first to submit a comment