The selected editor codemirror is not enabled. Defaulting back to codemirror.
8 minutes reading time
(1664 words)
Brainsport Times Apr. 18, 2018
It's been a long winter, but rest assured those spring-like temperatures will eventually make their way to Saskatoon! In the spirit of the soon-to-come warmer weather, we're featuring the Spring Run Off in this week's edition of the Times.

Just picture yourself running alongside beautiful Diefenbaker Lake with the warm sun touching down - it's a nice thought, right? Well, on May 12 the Spring Run Off is set to provide a wonderful experience for runners of all levels in Elbow, SK.

There's a lot to look forward to at this year's Spring Run Off, so we're getting all the details from event organizer Carlie Letts in this week's Q&A.

But we for we get to that, we're excited about the On Cloud Edge Launch Party happening tomorrow night at the store. This is going to be a fun evening with the chance to get in on On's latest in running shoe innovation, so be sure to check out the details in the Upcoming Events section if you'd like to join the party!

Alright, now on to our Q&A.

Q&A with Carlie Letts
Tara: The Spring Run Off is becoming a well-known event to kick of the season. What factors do you believe draw people to Elbow each spring to take part in this run?
Carlie: Elbow is a beautiful community nestled on the shores of Lake Diefenbaker, just one hour south of Saskatoon. Runners are taken along the scenic Elbow Recreational Trail, through the lakeside bluffs and picturesque golf course for either the 5K or 10K run/walk. After the race, runners are treated to a complimentary BBQ on the back deck of the Club House.It's a laid-back, family-friendly event with wonderful giveaways.



The scenery at Lake Diefenbaker makes for a great day of running with friends. Photo supplied
Tara: For those not familiar with the event would you mind sharing the details of the run in terms of distance options, age requirements, etc.?
Carlie: The race kicks off at 11 am on Saturday, May 12th and participants can choose between 5K or 10K courses. This event is for runners and walkers from ages 5 to 95! We also offer a reduced youth entrance fee of only $50 for those 18 and under.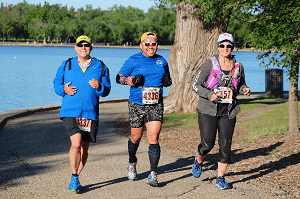 Everyone in the family is welcome at the Spring Run Off. Photo supplied

Tara: Are there any changes to the event this year?

Carlie: This year we're proud to be partnering with Rebellion Brewing and the Harbor Golf Club to provide runners with a complimentary pint (or juice) and burger post run. Since the event is held on the Mother's Day weekend, we also have mimosas for moms as they cross the finish line!

Tara: Is there anything else you would like to add?

Carlie: All proceeds from the race go to the Friends of the Elbow Trail, a non-profit organization mandated to construct and maintain the 7 km Elbow Recreational Trail. We're still accepting both runners and volunteers for the event. To register as a runner, visit us online: https://raceroster.com/events/2018/15233/brainsport-spring-run-off. For volunteer information please contact me at This email address is being protected from spambots. You need JavaScript enabled to view it.. Hope to see you in Elbow!
Upcoming Events

Brainsport Spring Run Off




Join us on Saturday, May 12 at Elbow for our annual Spring Run Off! Take the short drive to Elbow, or hop on the shuttle, and enjoy a 5K or 10K trail run on the beautiful and challenging Elbow Recreational Trail. Register here: raceroster.com/events/2018/15233/brainsport-spring-run-off.

Cloud Edge Launch Party




Join us in launching the Cloud Edge on April 19 at 6 p.m. The Cloud Edge is only available at a handful of the best retail stores around the world, with an incredibly limited release. Brainsport will sell out fast, so don't miss out and reserve your spot in line!

On has become a favorite not just among some of the world's best athletes, but with masters taking their craft to the edge. Inspired by Kaizen – the concept of continual improvement – On has created the Cloud Edge for these innovators. To sign up for this event go to https://www.eventbrite.com/e/cloud-edge-launch-at-brainsport-tickets-44426433659.

Canada Goose Ultra

The Canada Goose Ultra is a timed distance running event for all levels of fitness. The race welcomes new ultra runners and offers a fast course for seasoned ultra runners. Choose from the 6-hour, 12-hour, or 24-hour event. All events are run on a certified 4K loop. The course is a flat, paved route through a beautiful urban park. This race is officially the 2018 Canadian 24-hour Championship. The race takes place on May 12 through 13. For more information and to register click here.

Sweat Science - at Brainsport




Join author Alex Hutchinson at Brainsport on May 4 at 6:30 p.m. as he discusses his new New York Times-bestselling book, ENDURE Mind, Body, and the Curiously Elastic Limits of Human Performance, exploring the science of endurance and the surprising role of the brain in setting our physical limits.

Alex Hutchinson (@sweatscience) is an award-winning science columnist for Outside, the Globe and Mail, and Canadian Running, and a former national-team long-distance runner.

This event is free, but as space is limited please sign up through the link above or at the Eventbrite page: https://www.eventbrite.com/e/sweat-science-at-brainsport-tickets-44725979609.


Beads of Courage Colour Festival Fun Run

Beads of Courage is an Arts in Medicine program that supports children and infants living with chronic or life-threatening conditions by awarding them with glass beads each time they endure a medical test, procedure, or surgery.

On June 3 come out to the 5K walk/run and get covered with color to symbolize the colorful beads these children earn and support Beads of Courage-Canada programming. For more information and to register go to http://www.colourrunsask.ca/.

Saskatchewan Marathon




The 40th Annual Saskatchewan Marathon event takes place on May 27! There's still plenty of time to get registered and train for your event, whether it be the 5K, 10K, half-marathon or marathon. This is sure to be an exciting weekend featuring a pasta dinner, race expo and some of the best road racing in the province! To learn more about the event, including how to volunteer go to http://saskmarathon.ca/.

Yoga for Athletes - Instructor Training

Yoga for Athletes is the third training module of the FYI (Fitness Yoga Instructor) program. Yoga instructors looking to add athletic perspective to their current class offerings can participate in this training module and receive CEC's for SPRA and Yoga Alliance. BreathMoveBe will be offering this training on April 20-22 at Anytime Fitness Gym in Yorkton. If interested, move quick - there are only two spots still open. To register contact This email address is being protected from spambots. You need JavaScript enabled to view it. or text Leanne at 306-251-2964.

SIGA's Second Annual Good Food Run
On June 10, the Saskatchewan Indian Gaming Authority (SIGA) is hosting its second annual fun run in support of CHEP: Good Food Inc. Presented by SIGA's Long Runners, participants can choose between a 1K, 5K or 10K run. There are finisher medals for all participants! Family entertainment, water stations, swag and after-race snacks and refreshments provided.Registration is now open! To register or donate go to http://www.siga.sk.ca/goodfoodrun.

Brainsport Running Academy Spring Courses


Join our interactive and fun-filled training courses with expert guest speakers presenting on healthy running technique and injury prevention specific to runners. Our high-quality coaches will prepare a program for you which will help you reach your personal running goals.

#PatTrick Run Program: This is an on-going training group coached by Pat Sommerville. Participants can join at any time. Training will include preparation for the Saskatchewan Marathon and Queen City Marathon.

For more information on these courses, and to register go to www.brainsport.ca. Or call the store at 306-244-0955.

RIKI Walkathon 50th Year Celebration

The RIKI Walkathon is celebrating its 50th year on June 9. The entire family is welcome to come walk 22 miles along scenic Pike Lake. Gate fees are being waved for participants, and there will be refreshments and awards for the top fundraiser after the walk. All funds raised this year will go to the Riversdale Kiwanis Club. For more information about this event click here.

Canada Beer Run



The Canada Beer run is going coast to cost this year, hitting eight cities across the country, including Saskatoon! On June 3 the run stops in Saskatoon! Run your way through 10K making stops at six breweries along the way!
For more information about this event visit https://canadabeerrun.ca/products/saskatoon-beer-run.

Saskatoon Police Service Foundation Half Marathon




The 2018 Saskatoon Police Service Foundation Half Marathon is being held on April 29. This event features 5K, 10K, and half marathon distances - and is open to runners/walkers of all levels. For more information and to register go to https://saskatoonpoliceservicefoundation.org/. Volunteers are also needed for this event. If you would like to give some of your time please contact Sgt. Wade Bourassa at This email address is being protected from spambots. You need JavaScript enabled to view it..


Brainsport Run Club - Thursday Morning Run




The Brainsport Run Club is now gathering every Thursday morning at 10 a.m at the store. This session is in addition to the Wednesday, 6 p.m., and Saturday, 8:30 a.m. sessions. Run Club is free and open to all levels of runners. We look forward to seeing you out with us for a run!


Product of the Week

Saucony Xodus ISO 2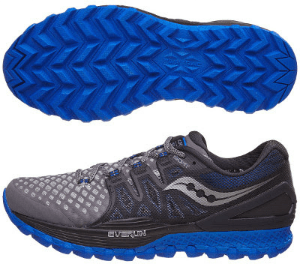 If you're looking for a new trail shoe this spring you might want to consider the Saucony Xodus ISO 2. This trail shoe features the best of Saucony's comfort features, including their ISOFIT upper and EVERUN cushioning for a smooth ride. It will also keep you feeling solid on the trails with its ultra- grippy PWRTRAC outsole. Come check them out in-store!

Thanks for reading the Times.
Gotta run,
Tara
Related Posts
Comments
No comments made yet. Be the first to submit a comment