YourSaskatoon Blogs
YourSaskatoon provides you a place to voice issues dear to you on our site. If you have a blog idea for the local audience message us. Share your idea we may provide you the vehicle to reach your audience. We must respectfully reserve the right to not accept all ideas submitted.
7 minutes reading time
(1328 words)
Brainsport Times Jan22, 2020
Brainsport has partnered with lululemon to offer a new free run club on Monday evenings.

Brainsport employee Ali Bergeron is leading the club from the lululemon store downtown starting at 7 p.m.



Participants at the first Brainsport-lululemon run club earlier this month.

The runs will last from 30 minutes to an hour and are designed to ensure no one gets left behind.

Olivia Bird, the assistant store manager of lululemon Saskatoon, said the store wanted to start the club "as a new way to sweat, grow, and connect with our local community through run.

"We know that Brian and the Brainsport team are experts in this, and couldn't think of anyone better to collaborate with," she said.

Bergeron and Bird say they aim to make the run club as inclusive as possible.

Anyone is welcome to participate and the group is particularly geared toward beginners.

"We want everybody to feel very welcome at any level," Bergeron said.

On top of the weekly runs, the group will occasionally meet in lululemon for educational sessions focussed on things like running form and how to dress for running.

The inaugural Monday night run was held Jan. 6, just as the cold snap was settling over the province. But Bergeron said seven runners still showed up and had fun.

"It was minus-14 with a windchill so it wasn't very pleasant, but it was still OK. People were still very enthusiastic and really enjoyed it," she said.

She said she hopes the number of people attending the Monday night group will eventually grow. If numbers permit, the group may start splitting off with group leaders running at different paces, as is seen at Brainsport's larger Wednesday night and Saturday morning run clubs.

Come the spring, the group will be led by Jen Kripki, a certified personal trainer, certified fitness instructor and registered massage therapist with Inner Strength Fitness and Training.

In addition to joining forces with lululemon to offer a new run club, Brainsport also started selling some of lululemon's running-related apparel earlier this month. Stop by the store to see what we have in stock.
Events

Maurten Talk
Local physiotherapist, triathlete, and coach Brad Spokes will give a 30-minute presentation on Maurten hydrogel sports fuel, a Swedish-designed product that is helping athletes break records around the world.
When: Sat. Feb. 1 at 4:30 p.m.
Where: Brainsport community room
This event is free to attend but space is limited so reserve your spot by registering online.
——————
Upcoming Races

Sunday Jan. 26: Resolution Tri
This free event features sprint and "super sprint" triathlon distances. For more information or to register, go online.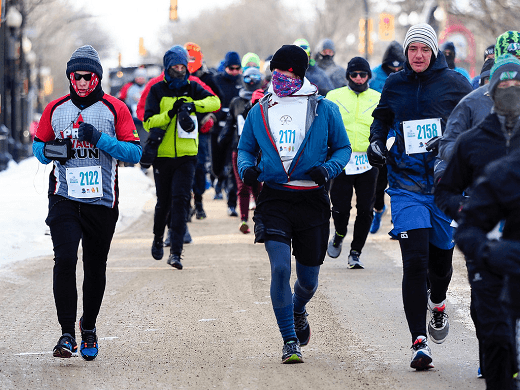 Sunday Mar. 1: Brainsport Brainfreeze
Sign up for a five-kilometre, 10-kilometre or half marathon event in support of the University of Saskatchewan's cross-country team.

Friday Apr. 10 (Good Friday): Campbell Safety Consulting Gopher Attack (Regina)
Sign up for a 10-kilometre, half marathon or marathon distance.

Sunday May 3: I Love Regina Run (Regina)
Sign up for a three-, five- or 10-kilometre run or walk.

Saturday May 9: Step Up For Mental Health
Powered by Cameco, this event features five- and 10-kilometre runs and walks. Money made on registration fees is matched by Cameco and used to support mental health projects in Saskatchewan. Sign up now.

Saturday May 9: Royal Road Race (Regina) SOLD OUT
Featuring a five- and 10-kilometre race, a five-kilometre walk, five-kilometre wheelchair event and a one-kilometre Mini-Mountie for children.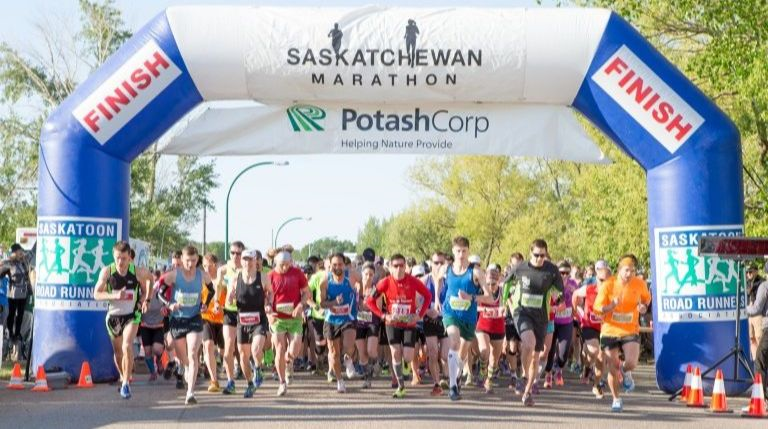 Sunday May 31: Saskatchewan Marathon
The Saskatchewan Marathon, the oldest marathon in the province, is organized and produced each year by the Saskatoon Road Runners Association. The 2020 Saskatchewan Marathon features five-kilometre, 10-kilometre, half-marathon and marathon event distances. The Saskatchewan Marathon is a qualifier for the Boston Marathon. Sign up today.

Sunday, June 7: Run Regina First Responders Run (Regina)
Support first responder mental health initiatives in Regina by registering for a five-, 15-, or 30-kilometre race.

Wednesday July 1: Run Regina Canada Day Run (Regina)
Celebrate Canada Day by taking part in a three- or five-kilometre fun run or walk.

Sunday Sept 13: GMS Queen City Marathon (Regina)
Saskatchewan's largest road race has something for everyone. Sign up for a range of distances from a mini-marathon for kids to 42.2 kilometres.

See all events at the Brainsport events calendar.
——————
Brainsport Running Academy

Half and full marathon clinic
Coach: Pat Somerville
When: Mondays at 6 p.m. from Jan. 27 to May 25 (18 weeks)
Location: Brainsport (616 10th Street East, Saskatoon)
Prerequisite: This clinic is ideal for less experienced runners or those looking to improve previous half or full marathon time. It is recommended you be able to run 40 minutes consecutively before joining this clinic.
Register online now.

***NOTE: The McGuire's back-of-the-pack running clinic for beginners, previously advertised as a coached running academy, will now be offered as a free run club led by Mike McGuire. Interested runners can meet at Brainsport Mondays at 6 p.m. starting Jan. 20.
——————
Courses and Programs

Swimming with Transition Fitness
When: Thursdays from 7 to 8 p.m. from Jan. 9 to Mar. 19
Where: Shaw Centre
Cost: $180
For more information and to register, go online.

Virtual pilates and cycling with Transition Fitness
When: Virtual pilates is held Mondays from 8:15 to 9 p.m. Virtual cycles are on Sundays from 9 to 10 a.m. and Tuesdays from 7:15 to 8:15 p.m. until April.
Cost: $25 a month for one live class per week, $50 a month for two live classes per week, $20 per month for one recorded video per week, $35 per month for two recorded videos per week, $12 per class, $75 for a 10-class pass
For more information and to register, go online.

Indoor cycling with the Saskatoon Triathlon Club Inc.
When: Eight Saturdays between Jan. 4 and March 21 from 7:30 a.m. to 9 a.m.
Where: Saskatoon Field House
Cost: $120 for all eight sessions, $80 for four rides, $25 to drop in
For more information and to register, go online.

Just Tri It training program with the Saskatoon Triathlon Club Inc.
This is an eight-week women's-only program designed to get people ready to participate in a triathlon.
When: Swims Sunday mornings starting at 8:10 a.m., bikes Monday evenings at 6:30 p.m., runs Thursdays at 6:45 p.m. The program runs March 15 to May 10.
Where: Saskatoon YWCA
Cost: $175 until Jan. 31, $200 after
For more information and to register, go online.

Yoga for athletes
Join Leanne Parsons of Breathe Move Be for a 10-week of yoga for athletes session on Thursday evenings starting Jan. 9.
When: Thursdays from 5:40 to 6:40 p.m. from Jan. 9 to March 12.
Where: Midwest Karate (506 Duchess Street)
Cost: It's $140 to sign up for the whole 10-week session. Drop-in to individual sessions for $18.
Register: Email Leanne Parsons at This email address is being protected from spambots. You need JavaScript enabled to view it..
——————
Announcements

Track and Field: Training for Volunteer Officials
Volunteers are needed for track and field events this winter at the Saskatoon Field House. By attending a two-hour session you will become a valuable member of the volunteer officials team. Attend a clinic on Fri. Jan. 24 at 6:30 p.m. as part of the K of C Meet. For more information or to register email Saskatchewan Athletics at This email address is being protected from spambots. You need JavaScript enabled to view it..
——————
Product of the Week
Lululemon Hooded Define Jacket (Nulu)
Brainsport started carrying some lululemon apparel earlier this month. The hooded Define jacket in soft Nulu fabric is a warm, lightweight layer. Great for a run or casual wear.
Stay Informed
When you subscribe to the blog, we will send you an e-mail when there are new updates on the site so you wouldn't miss them.
Comments
No comments made yet. Be the first to submit a comment