YourSaskatoon Blogs
YourSaskatoon provides you a place to voice issues dear to you on our site. If you have a blog idea for the local audience message us. Share your idea we may provide you the vehicle to reach your audience. We must respectfully reserve the right to not accept all ideas submitted.
9 minutes reading time
(1741 words)
Brainsport Times Jan. 9, 2019
When first-time runners look at winter running gear, they are often amazed by how thin and lightweight it is, says Brainsport fit specialist Colin Federow.

"They say 'How is that going to keep you warm?' Well we're forgetting the factor that we're generating heat," Federow says.

"Whatever the temperature is outside, add 10C to it and that's what it's going to feel like when you're running … If you dress for -20C because that's the temperature, you're going to be too hot by the time you get running because it's going to feel more like -10C."

Federow spoke with the Brainsport Times to share some tips about how to dress for winter running.

Layering

For both pants and tops, layering is key. Federow recommends people wear one to three layers on their legs and torsos depending on the temperature and whether they tend to feel hot or cold when outside.

On the legs, this could involve running tights or running pants with thin wind pants over top. On the coldest days, some runners may put running pants over running tights and then put wind pants over both. Another option for exceptionally cold days is insulated wind pants, which offer an all-in-one option for colder temperatures.

Similarly, on the torsos, runners on the coldest day can wear a base layer of wool or synthetic fabrics, a middle fleece layer and a wind-breaking layer, which can be a thin material or a more insulated jacket, if you tend to be cold when outdoors. Federow likes to wear a base layer with a one-quarter zip, which he can unzip to let heat escape when he overheats.

Accessories

Toques are important for keeping the head and ears warm and balaclavas can seal heat in on the face on colder days.


Brainsport carries a wide selection of buffs, touques, mittens and gloves.

When it comes to keeping hands warm, Federow recommends mittens over gloves. "Mitts are just going to keep the fingers a lot warmer and you don't need those big seal-skin mitts to keep your hands warm like people think when we're walking outside," Federow said. "You're generating heat when you're out running and that's what's keeping the hand warm. If you go into gloves, the fingers are isolated and there's just not enough heat from one finger to keep it warm over the long haul so gloves usually aren't the better option."

Socks

Ankle socks don't cut it in the winter. Look for socks that go at least up to mid-calf so you don't have exposed skin around your ankles.

Lighting

Winter running isn't just done in the cold; it's often done in the dark. Most running gear features reflective elements around logos and zippers, which can make runners more visible to oncoming traffic. Some runners also like to wear headlamps for morning or evening runs. The more lumens a light has, the brighter it will be. "Headlamps not only light up the ground for you, but they also provide light to others, for runners or vehicles to see you," Federow said. "The more visible you are, the less likely you're going to get smoked by a car or something out there."

Running gear is for running

If you attempt to spend a whole day outside in running clothes, you'll likely be uncomfortably cold Federow warns. "The gear's designed to be run in and that's what's going to keep you warm," Federow says. "A lot of running gear doesn't have thermal properties to it, it's just really thin materials to try to trap that air in while you're out exercising, and then once you stop, because it's wet, those things just start to freeze and now you're in the trouble zone."

With those tips in mind good luck layering up this week and enjoy some cold-weather runs.

Upcoming Events

Sunday Mar. 3, 2019: Brainsport Brainfreeze
Brainsport's Brainfreeze is a winter run that raises money for the University of Saskatchewan cross country team. Enjoy the snow-coated scenery as you choose from a five-kilometre, 10-kilometre or half marathon distance along the beautiful South Saskatchewan River. Register now.

Sunday May 5, 2019: Saskatoon Police Service Foundation Half Marathon
Featuring 21-kilometre,10-kilometre and five-kilometre routes, this annual event raises money for various Saskatoon charities. Register now.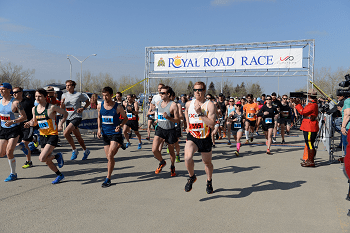 Saturday May 11, 2019: Royal Road Race (Regina)
The ninth-annual Royal Road Race, hosted by the Jaleta Pacers and the RCMP is once again being held on Mother's Day weekend. Since it began, this race has contributed over $161,549 to local charities. Held on the RCMP Training Academy grounds in Regina, this fast course has something for everyone with five-kilometre and 10-kilometre races, a five-kilometre walk, a five-kilometre wheelchair and a one-kilometre Mini-Mountie run for children. This race sells out fast so make sure to register soon. Prices increase Mar. 31. Register by Jan. 18 to be entered in a draw to win a pair of Hillberg & Berk sparkle ball earrings.

Sunday May 26, 2019: Saskatchewan Marathon
The Saskatchewan Marathon is the oldest marathon in Saskatchewan. The event is organized and produced by the Saskatoon Road Runners Association. The 2019 Saskatchewan Marathon features Craven SPORT services five-kilometre, Goodlife Fitness 10-kilometre, half-marathon and marathon event distances along a scenic course highlighting the world-renowned Meewasin Valley. Easily deemed one of the most scenic running events in Canada, the Saskatchewan Marathon is also a qualifier for the Boston Marathon. Sign up today. Prices increase Mar. 1.
Courses and programs

Brainsport Running Academy: Full Marathon and Half Marathon Clinic
This clinic, coached by Pat Somerville, is ideal for less experienced runners or those looking to improve their previous half or full marathon times. It is recommended you be able to run 40 minutes consecutively before joining this clinic. The clinic runs Monday evenings from Brainsport starting at 6 p.m. It runs from Jan. 21 to May 20 and will prepare runners for the 2019 Saskatchewan Marathon on May 26. In addition to weekly coached runs, there will be informational sessions on topics such as injury prevention, core stability, running technique, nutrition, yoga for runners, and more. Register online now.

Transition Sport and Fitness Triathlon Training Group
The three-month winter program began Jan. 8. Choose from one-, two- or three-times-per week options. Register here. Email This email address is being protected from spambots. You need JavaScript enabled to view it. for more information or to register for a distance triathlon training group.

Virtual Cycle Sundays and Virtual Pilates Mondays
Take part in a fitness class from the comfort of your home through virtual classes hosted by Transition Sport and Fitness. The Sunday rides run from 9 a.m. to 10 a.m. and the Monday pilates go from 8:15 p.m. to 9 p.m. The pilates class is tailored towards triathletes. Visit www.transitionsportandfitness.ca or email This email address is being protected from spambots. You need JavaScript enabled to view it. for more information.

Breathe Move Be Yoga for Athletes
Breathe Move Be offers a Yoga for Athletes course Thursday evenings from 5:45 to 6:45 p.m. from Jan. 10 to March 14 at Midwest Karate Studio. $140 to pre-register for all classes. Drop-in spots will be made available for $18 when space is available. For more information and to register contact Leanne Parsons at This email address is being protected from spambots. You need JavaScript enabled to view it..
Announcements

Track and Field Volunteers Needed
Here's your chance to support young track and field athletes! Two-hour clinics will be held at the Saskatoon Field House during the Sled Dog Open on Jan 11 and 12 to train people to be part of the city's volunteer officiating team. Clinics are Fri. Jan. 11 at 6:30 p.m. and Sat. Jan. 12 at 9:30 a.m. For more info or to register contact Ken by email at This email address is being protected from spambots. You need JavaScript enabled to view it. or by phone at 306-664-6744.

Saskatoon Road Runners Association Matching Donations to Improve Shakespeare on the Saskatchewan Site
Until Jan. 31, The Saskatoon Road Runners Association will match donations up to $50,000 to improve the Shakespeare on the Saskatchewan site and adjacent trails. Donate and learn more about the project through the Shakespeare on the Saskatchewan website.

Saskatchewan Marathon Seeking Pace Bunnies
Pace bunnies are needed for the five-kilometre, 10-kilometre, half-marathon and marathon distances for the May 26 races. The most important bunnies are at the 0:30, 1:00, 2:00 and 4:00 times in the respective distances. Organizers will then look for bunnies in five-, 10- or 15-minute increments on either side of the milestone times. If you're interested, please contact pace bunny wrangler Dave Stark by email at This email address is being protected from spambots. You need JavaScript enabled to view it.. Your event registration will be free!
Product of the Week

Brooks Dash 1/2 Zip


Colin Federow shows off the Brooks Dash 1/2 Zip base layer. Federow prefers to run in base layers with a zipper because they give him more control over his temperature
Stay Informed
When you subscribe to the blog, we will send you an e-mail when there are new updates on the site so you wouldn't miss them.
Comments
No comments made yet. Be the first to submit a comment