YourSaskatoon Blogs
YourSaskatoon provides you a place to voice issues dear to you on our site. If you have a blog idea for the local audience message us. Share your idea we may provide you the vehicle to reach your audience. We must respectfully reserve the right to not accept all ideas submitted.
5 minutes reading time
(1016 words)
Brainsport Times Feb 19, 2020
For Celeste and Tarrant Cross Child, the arrival of spring means it's time to train for the Saskatchewan Marathon.

The speedy husband and wife both have their names immortalized on the Meewasin Valley Authority trail as Saskatchewan Marathon victors; Celeste won the race last year, while Tarrant was first across the finish line in 1998. Both boast numerous podium and top-age-group finishes in the marathon and the event's shorter distances and are also very involved in the Saskatchewan running community; when not running themselves, they volunteer at a variety of events and lead running clinics across the province through their Child of the Cross organization.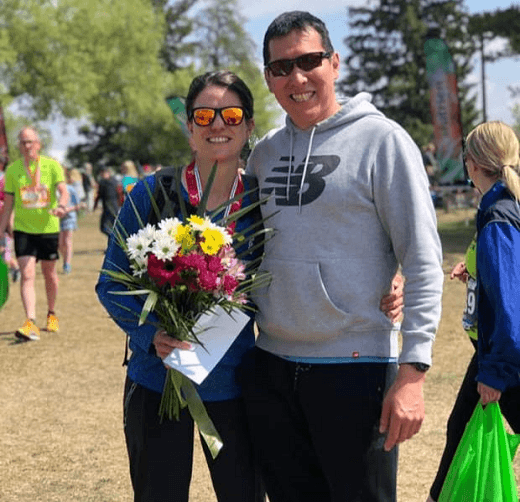 Celeste and Tarrant Cross Child pictured after the 2019 Saskatchewan Marathon.

With less than 15 weeks to go until Saskatoon's biggest race weekend, Celeste and Tarrant spoke with the Brainsport Times to share tips on how to train for the Saskatchewan Marathon.

Set a realistic goal
For your first marathon, this may be simply to finish the race. Maybe you want to better your time from your last race. Whatever the goal, Tarrant recommends backing it up by registering, writing it down and telling someone so that you're kept accountable. Another benefit of registering when you set your goal is you can save money on your registration fee; prices go up March 1.

Embrace winter running
Training for the Saskatchewan Marathon, which happens May 31, means starting to log mileage in February when conditions can be cold, snowy and icy. Celeste says she layers up and tries to train outside regardless of the temperature. She often runs on the Meewasin Valley Authority trails because they tend to be ploughed quickly after a snowfall. This also gives her the opportunity to familiarize herself with parts of the Saskatchewan Marathon course.

Believe in yourself
Visualize yourself accomplishing your goal and don't allow negativity to creep into your thoughts. "When you believe in yourself you are focused," Tarrant says.

Surround yourself with positive people
Celeste and Tarrant train with a coached running group twice a week and run with friends throughout the week. The fact that the Saskatchewan Marathon is in Saskatoon means they can get friends and family to cheer them on throughout the race. "One year my parents and kids were all cheering for me near Ravine Drive where the race gets hard. Seeing them there really helped me pick up my pace," Celeste recalls.

Have a plan
Whether you're working with a coach or off of an online training plan, have a plan, trust the plan, commit to it and be consistent, says Tarrant.

Sign up for a tune-up race
Racing a shorter distance a few weeks out from a marathon can help give you a gauge of your fitness and how your training is going. It can also help you determine a goal marathon time and allows you to test out your morning race routine, race shoes and apparel. Celeste and Tarrant are looking forward to running in the Step Up for Mental Health run in early May and enjoy dropping in for the Mendel Riverbank park run, which hosts a five-kilometre time trial every Saturday.

Enjoy the process
"All of it. Highs and the lows. It makes crossing that finish line arms up head held high that much more victorious," Tarrant says.
Upcoming Races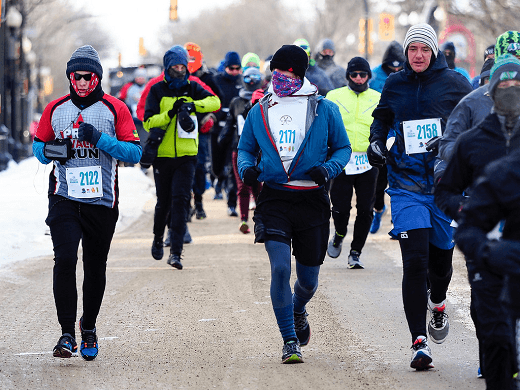 Sunday, Mar. 1: Brainsport Brainfreeze
Sign up for a five-kilometre, 10-kilometre or half marathon event in support of the University of Saskatchewan's cross-country team.

Sunday, Mar. 8: University of Saskatchewan Triathlon Club IndoorMan
A time-based event that sees participants swim 10 minutes, hop on a spin bike for 15 minutes and run 15 minutes. For more information and to register go online.

Friday, Apr. 10 (Good Friday): Campbell Safety Consulting Gopher Attack (Regina)
Sign up for a 10-kilometre, half marathon or marathon distance.

Sunday, May 3: I Love Regina Run (Regina)
Sign up for a three-, five- or 10-kilometre run or walk.

Saturday, May 9: Step Up For Mental Health
Powered by Cameco, this event features five- and 10-kilometre runs and walks. Money made on registration fees is matched by Cameco and used to support mental health projects in Saskatchewan. Sign up now.

Saturday, May 9: Royal Road Race (Regina) SOLD OUT
Featuring a five- and 10-kilometre race, a five-kilometre walk, five-kilometre wheelchair event and a one-kilometre Mini-Mountie for children.

Saturday, May 23: Grande Ultra Series: The Grisly 26 (Grande Cache)
Starting at 8 a.m., participants have one hour to complete a loop of approximately 6.5 kilometres. The loops continue every hour on the hour until only one runner remains. For more information and to sign up go online.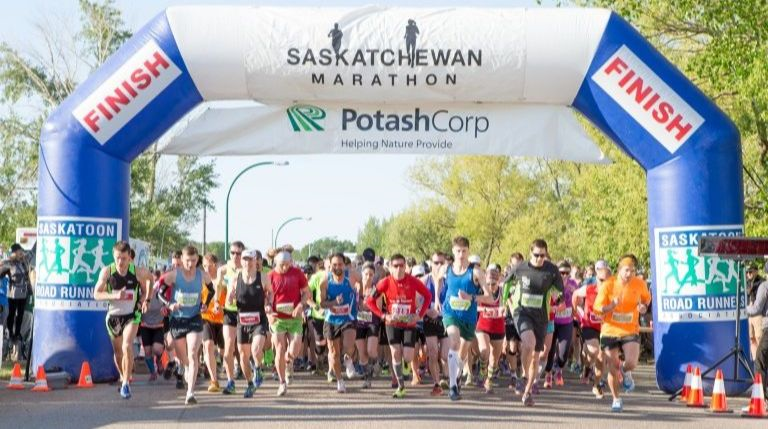 Sunday, May 31: Saskatchewan Marathon
The Saskatchewan Marathon, the oldest marathon in the province, is organized and produced each year by the Saskatoon Road Runners Association. The 2020 Saskatchewan Marathon features five-kilometre, 10-kilometre, half-marathon and marathon event distances. The Saskatchewan Marathon is a qualifier for the Boston Marathon. Sign up today.

Sunday, June 7: Run Regina First Responders Run (Regina)
Support first responder mental health initiatives in Regina by registering for a five-, 15-, or 30-kilometre race.

Wednesday, July 1: Run Regina Canada Day Run (Regina)
Celebrate Canada Day by taking part in a three- or five-kilometre fun run or walk.

Sunday, Sept 13: GMS Queen City Marathon (Regina)
Saskatchewan's largest road race has something for everyone. Sign up for a range of distances from a mini-marathon for kids to 42.2 kilometres.

See all events at the Brainsport events calendar.
——————
Courses and Programs

Just Tri It training program with the Saskatoon Triathlon Club Inc.
This is an eight-week women's-only program designed to get people ready to participate in a triathlon.
When: Swims Sunday mornings starting at 8:10 a.m., bikes Monday evenings at 6:30 p.m., runs Thursdays at 6:45 p.m. The program runs from March 15 to May 10.
Where: Saskatoon YWCA
Cost: $175 until Jan. 31, $200 after
For more information and to register, go online.
——————
Product of the Week
New Balance 880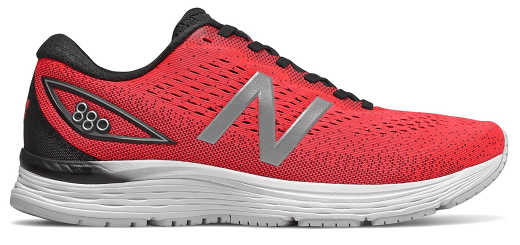 Both Celeste and Tarrant train in the New Balance 880. They love that the shoe provides cushioning, but feels light, perfect for marathon training.
Stay Informed
When you subscribe to the blog, we will send you an e-mail when there are new updates on the site so you wouldn't miss them.
Comments
No comments made yet. Be the first to submit a comment