YourSaskatoon Blogs
YourSaskatoon provides you a place to voice issues dear to you on our site. If you have a blog idea for the local audience message us. Share your idea we may provide you the vehicle to reach your audience. We must respectfully reserve the right to not accept all ideas submitted.
5 minutes reading time
(1066 words)
Brainsport Times Feb 12, 2020
When Cameco launched its first Step Up for Mental Health Run last spring, the race sold out weeks in advance as people hurried to sign up for the event that pledged to donate all profits to mental health programs throughout the province.

So this year, Step Up is getting bigger.



Participants at the inaugural Step Up for Mental Health Run. Provided photos.

"The community really rallied behind it," says Race Director Jonathan Huntington. "We heard so many stories of people being involved because of a personal cause or because of a family cause or because they simply wanted to help others in the community that they didn't even know, but wanted to help in the mental health space."

Huntington said the event, which starts and finishes in downtown Saskatoon on May 9, has doubled its capacity in 2020. There is now space for 4,000 runners in the five- and 10-kilometre distances.




And the race is on track to sell out again; more than 1,000 people signed up on the first day of registration when it opened in early January.

"It smashed any expectation we had," Huntington said.

All money raised from entry fees is matched by Cameco and then made available for mental health initiatives across the province. Last year, the run raised $400,000, which was doled out as grants to various organizations across the province.




Huntington said Cameco received "a stunning amount" of applications for the money.

"There's such a need in the community for mental health support programs and funding," he said.

All of last year's profits have been distributed to community groups, with a full list of funded organizations listed on Cameco's website.




In addition to raising money for mental health, Step Up aims to offer a memorable race-day experience. Like last year, runners and walkers can expect to see bands, DJs and dance troupes lining the course to provide on-site entertainment.

"I had people tell me in the first year when they ran the event that they almost floated through the first kilometre or two of the race just because of the atmosphere," Huntington said. "In year two, we're looking to add even more live music, live bands, live DJs on the course. We're looking at adding more colour, more pizzazz … We're trying to make it the best race day atmosphere in the province to give people just that added boost as they try to get through their five- or 10-kilometre."

For more information or to register for Step Up for Mental Health, visit the event website.
Upcoming Races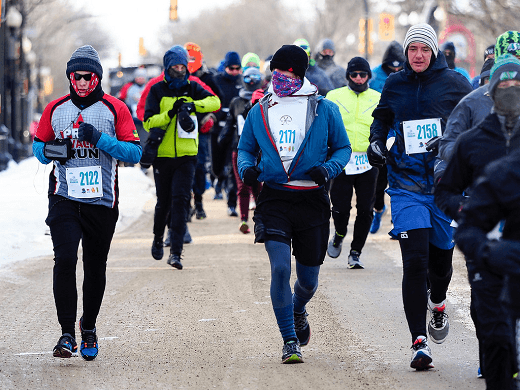 Sunday, Mar. 1: Brainsport Brainfreeze
Sign up for a five-kilometre, 10-kilometre or half marathon event in support of the University of Saskatchewan's cross-country team.

Friday, Apr. 10 (Good Friday): Campbell Safety Consulting Gopher Attack (Regina)
Sign up for a 10-kilometre, half marathon or marathon distance.

Sunday, May 3: I Love Regina Run (Regina)
Sign up for a three-, five- or 10-kilometre run or walk.

Saturday, May 9: Step Up For Mental Health
Powered by Cameco, this event features five- and 10-kilometre runs and walks. Money made on registration fees is matched by Cameco and used to support mental health projects in Saskatchewan. Sign up now.

Saturday, May 9: Royal Road Race (Regina) SOLD OUT
Featuring a five- and 10-kilometre race, a five-kilometre walk, five-kilometre wheelchair event and a one-kilometre Mini-Mountie for children.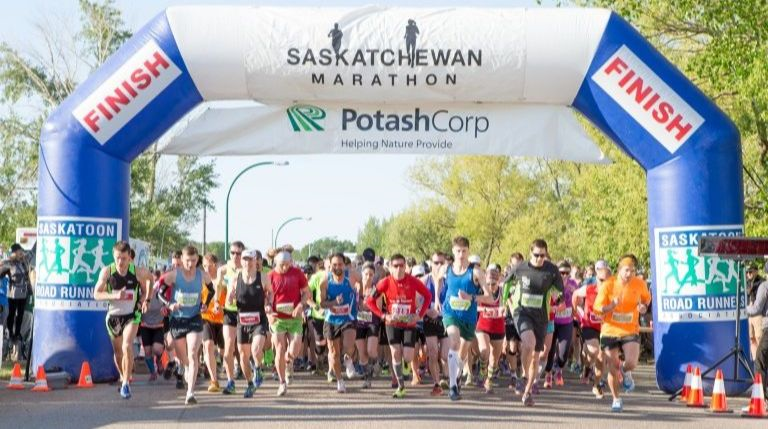 Sunday, May 31: Saskatchewan Marathon
The Saskatchewan Marathon, the oldest marathon in the province, is organized and produced each year by the Saskatoon Road Runners Association. The 2020 Saskatchewan Marathon features five-kilometre, 10-kilometre, half-marathon and marathon event distances. The Saskatchewan Marathon is a qualifier for the Boston Marathon. Sign up today.

Sunday, June 7: Run Regina First Responders Run (Regina)
Support first responder mental health initiatives in Regina by registering for a five-, 15-, or 30-kilometre race.

Wednesday, July 1: Run Regina Canada Day Run (Regina)
Celebrate Canada Day by taking part in a three- or five-kilometre fun run or walk.

Sunday, Sept 13: GMS Queen City Marathon (Regina)
Saskatchewan's largest road race has something for everyone. Sign up for a range of distances from a mini-marathon for kids to 42.2 kilometres.

See all events at the Brainsport events calendar.
Courses and Programs

Just Tri It training program with the Saskatoon Triathlon Club Inc.
This is an eight-week women's-only program designed to get people ready to participate in a triathlon.
When: Swims Sunday mornings starting at 8:10 a.m., bikes Monday evenings at 6:30 p.m., runs Thursdays at 6:45 p.m. The program runs from March 15 to May 10.
Where: Saskatoon YWCA
Cost: $175 until Jan. 31, $200 after
For more information and to register, go online.
——————
Product of the Week
Mizuno Wave Sky Waveknit 3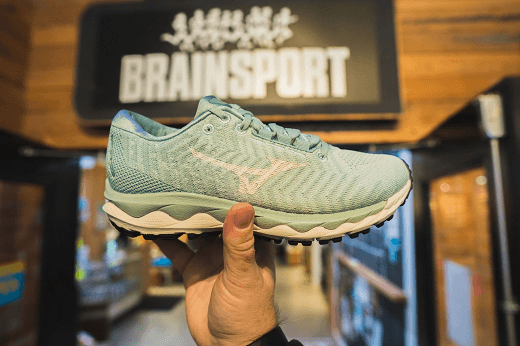 The Mizuno Wave Sky Waveknit 3 is a great long-distance shoe which boasts being plush, sculpted and responsive.
——————
The Brainsport Times brings you news and stories from Saskatoon's running community every Wednesday. If you have a story to share, an event you want to be featured or suggestions for future content, please email Brainsport Times editor This email address is being protected from spambots. You need JavaScript enabled to view it.This email address is being protected from spambots. You need JavaScript enabled to view it..
——————
In all our initiatives we aim to create an open and inviting environment for all people who love to walk, run and live a healthy lifestyle.

Get in Touch
616 - 10 Street East
Saskatoon, SK S7H 0G9
www.brainsport.ca
306-244-0955

Free off-street parking is available along the side of the building.

Free Brainsport Run Clubs
Mon @ 6 p.m. (McGuire's back-of-the-pack run club; 35 - 45 min.)
Wed @ 6 p.m. (35 - 45 min.)
Thu @ 10 a.m. (35 - 45 min.)
Thu @ 12:08 p.m. (25 - 30 min.; meet at the clock tower by the Bessborough)
Sat @ 8:30 a.m. (60 - 90 min.)

Store Hours
Mon/Tue/Wed/Fri: 10 a.m. — 6 p.m.
Thu: 10 a.m. — 9 p.m.
Sat: 8 a.m. — 6 p.m.
Sun: 12 p.m. — 5 p.m.
Stay Informed
When you subscribe to the blog, we will send you an e-mail when there are new updates on the site so you wouldn't miss them.
Comments
No comments made yet. Be the first to submit a comment