YourSaskatoon Blogs
YourSaskatoon provides you a place to voice issues dear to you on our site. If you have a blog idea for the local audience message us. Share your idea we may provide you the vehicle to reach your audience. We must respectfully reserve the right to not accept all ideas submitted.
7 minutes reading time
(1313 words)
Brainsport Times Oct. 4, 2018
We have a fun and informative event coming up this weekend at Brainsport! On Saturday from 10 a.m. to 1 p.m. we're hosting Brooks Run Signature Day. This is an opportunity to have your individual running style assessed using the Brooks Signature Run app. Here to tell us all about this event is Brainsport's Colin Federow, so let's get right to it! Q&A with Colin Federow

Tara: Brooks is committed to making shoes that work for each individual runner, and getting each individual into the proper shoe. Tell us about how Brooks approaches the categorization of their shoes, and how that helps ensure the right fit for people.
Colin: One of the core beliefs at Brooks is that they "make the best running gear in the world." And boy do they deliver! Our friends that are walkers might argue they make the best walking gear in the world too!
Brooks has four main categories of shoes: Cushion, Energize, Connect, and Speed. Within those categories, they offer both neutral and support solutions, so there is bound to be something to suit your unique biomechanics and preferences.
Brooks is all about your run experience. Their motto "Run Happy" says it all!
Tara: What is the purpose of the Run Signature assessment?
Colin: The ultimate purpose of the Run Signature app is to help select the perfect shoe for the individual's unique running style. Through the use of reflective sensors and video caption, the app assesses the differences between an unloaded state (squats) and a loaded state (running). The subtle changes at our ankles and knees between an unloaded state and a loaded state are used to help select the right shoe for you.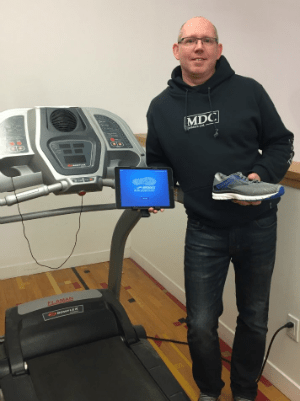 Colin will be at Brainsport this Saturday from 10 a.m. to 1 p.m. ready to help you out with the Brooks Signature App and get you into the right shoe for your individual running style. Photo supplied
Tara: What is required of people during the assessment? And, who is a good candidate for being assessed?
Colin: The total time required should be less than 15 minutes per person (if it takes longer it's probably because I'm talking too much). Once I have the sensors applied to your leg, you will be required to do some easy squats while the app records. Following that, you will run barefoot or in socks on the treadmill for less than five minutes total. Again, the software will be recording during this time.
This app is suitable for anyone that is comfortable running on a treadmill (sorry, the app does not work for walkers).
Tara: What are you most looking forward to about the Brooks Run Signature Day?
Colin: Mostly, I'm excited to introduce people to this new technology. The tech geek in me loves playing with this stuff. One of the highlights reported from the people I've tested so far, has been watching the slow-mo of their run. It is a neat opportunity to see what your legs and feet are doing while in motion.Tara: Is there anything else you would like to add?
Colin: In order for the sensors to work properly it is important to wear tighter fitting shorts or leggings. You are welcome to change at the store if you need to. The app is voice activated so it is important for you to sing show tunes as loud as you can to activate the app. I may have made that last part up.
Upcoming Events
Brooks Run Signature DayJoin the Brainsport team on Saturday, October 6 for Brooks Signature Day. Celebrate your individual running style and discover how your body moves! Then choose an experience (shoe) you love so every run feels just the way you like.Anyone interested is welcome to come and try the Brooks Run Signature app from 10 a.m. to 1 p.m at Brainsport (upstairs at the treadmill). Here's what to expect: You'll need to wear shorts or tights, you'll required to do some squats, you'll have to run barefoot or in socks on the treadmill for about five minutes, the total time of assessment will be less than 15 minutes.
Swim Check-Ups with Transition Sport and FitnessAre you an adult looking to improve your swim skills? Whether or not you're a triathlete, beginner or advanced swimmer, Swim Check-Ups will give you valuable tips you can take and apply when you lane swim on own or train with a larger group. Above and below video analysis and individualized feedback/assessment are included.There are three bi-weekly sessions on October 4, 18, and November 1. To learn more and to register click here.
Transition Sport and Fitness will also be offering $30-for-30-minute private or semi-private lessons throughout October. Email This email address is being protected from spambots. You need JavaScript enabled to view it. to claim your spot.
PC Children's Charity Halloween Fun Run
On October 14, bring out the whole family including your kids, cousins, nieces and nephews and the grandparents to take part in a 2K or 5K walk or run on an out-and-back route along the South Saskatchewan River.Wear a Halloween costume and be entered into the costume contest as well. And, get in on some BBQ and snacks, provided by Independent Grocer.
For more information and to register click here.

Saskatoon Triathlon Club Free Fall DuathlonOn Saturday, October 13 at 10:30 a.m. those with a 2019 STCI membership are welcome to compete in a duathlon and BBQ social for free. The event takes place at Meewasin Park North and kicks off the first in the three-part Duathlon Trifecta Series.To learn more about the event, and to register clickhere.
For those interested in volunteering, contact Susan at http://This email address is being protected from spambots. You need JavaScript enabled to view it..

Special Olympics Youth Programs


Registration is now open for the 2018 Fall session of the Special Olympics youth programs! The Active Start Program (ages 2-7) and FUNdamentalsprogram (ages 7-12) will run Thursday evenings from September 20 to December 6. To register click here.
Run for Justice Fundraiser
On October 20, join U of S College of Law students in kicking-off Access to Justice Week in the student-led Run For Justice - a 5K run (or walk) at the U of S. Everyone is welcome to this event, which is intended to invite the community together to raise awareness and encourage conversations about challenges in accessing justice. All proceeds from this run will be donated to CLASSIC (Community Legal Assistance Services for Saskatoon Inner City Inc.), an organization committed to working toward access to justice for low-income, marginalized Saskatchewan residents. Registration is $35 plus processing fees.
Register at https://raceroster.com/events/2018/19490/run-for-justice.
Breath Move Be Yoga ClassesBreathe Move Be Yoga started its 10-week Yoga For Runners class last week, but you can still get in on the action when drop-in opportunities are available. Breath Move Be Yoga also started an 8-week Level I Fitness Yoga class on September 13.Both courses offer drop-on when available. For more information on these courses, and to register, email running@breathemovebe.ca, or text Leanne: 306-251-2964.

Product of the Week
Brooks Adrenaline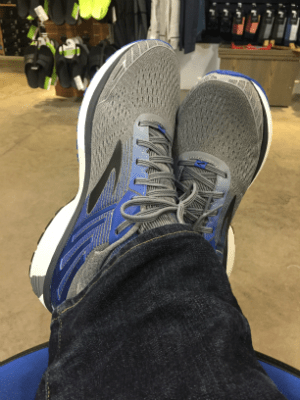 Colin's sporting the Brooks Adrenaline in the photo above - it's his pick for this weeks feature product.
"The Brooks Adrenaline 18 has become my workhorse running shoe over the last year. The soft, seamless upper hugs my foot like a dream with no pressure points. This shoe is very lightweight and offers the perfect amount of stability while I am out running. I'm also digging the fresh, updated look!" - Colin Federow

Thanks for reading the Times this week.
Gotta run,
Tara
Stay Informed
When you subscribe to the blog, we will send you an e-mail when there are new updates on the site so you wouldn't miss them.
Comments
No comments made yet. Be the first to submit a comment