YourSaskatoon Blogs
YourSaskatoon provides you a place to voice issues dear to you on our site. If you have a blog idea for the local audience message us. Share your idea we may provide you the vehicle to reach your audience. We must respectfully reserve the right to not accept all ideas submitted.
5 minutes reading time
(920 words)
Brainsport Times Oct. 17, 2018
In this week's Times we're pleased to be speaking with Chelsea Guebert of Summit Sport and Health. As a physical therapist, Chelsea has seen her fair share of runners who neglect strength work and she has some great insights, and tips to share with us today about staying strong and healthy. So, let's get right to it!Q&A with Chelsea Guebert Tara: With the colder weather hitting hard, a lot of runners will be cutting back their miles over the winter making it an excellent time to get into a strength training routine. Before we get into the details of this, can you explain why strength training is important for runners?Chelsea: Strength training is critical for runners to balance out muscle groups that are otherwise not addressed through the linear mechanics of their sport. Building strength around joints and surrounding ligaments not only plays a huge roll in the prevention of injury, but can also help to increase the overall efficiency of your running and training. The off-season training routine (and ideally in-season as well) should include aspects of strength, flexibility and balance training for overall health and sport benefits.

Planks are one of the strength exercises Chelsea recommends for runners. Please note all diagrams shown are basic instructions. To be safe you should consult with a professional before beginning a new exercise program.Tara: As a PT who's seen many runners in your office, what are the most common mistake you see runners making that lead to injury?Chelsea: A lot of the missteps runners are making are usually around general programming involving too much running volume and poor training balance. For example, a client presenting with a repetitive strain injury who runs 8 to 10K most days of the week: this person is in excellent cardiovascular shape, but his/her musculoskeletal system is breaking down in the absence of any strength training, cross-training, flexibility or balance training, and most of all adequate rest and recovery.

Squats using one's bodyweight go a long way in keeping your lower body and core in top shape. Tara: Of course each individual is different, but can you tell us what some of the go-to exercises are that runners should be doing year-round?Chelsea: Everyone's training needs are unique, but generally speaking core and hip stability exercises are very important amongst the running population. These include fundamental core exercises like dead bugs to higher level plank variations, hip bridges, hip abduction variations, and general lower body strength work from squats or deadlifts to higher level single leg stability drills like step-ups or single leg squats.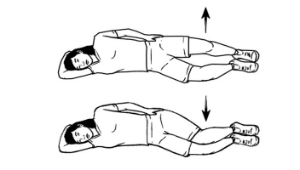 Clamshells help to target those glute muscles that runners often neglect. Tara: How many days a week should runners be putting in some strength work?Chelsea: Ideally building strength work into your training routine two to three times per week is a great place to start. The timing and frequency of your strength workouts obviously depends on other aspects of your training routine such as running/cardio workouts. At the end of the day, doing some strength work is always better than none. Busy schedules always seem to be a barrier, but even doing bodyweight exercises at home (some mentioned previously) can be very beneficial.Tara: Is there anything else you would like to add?Chelsea: Not to sound cheesy, but variety really is the spice of life. Use the "off-season" as a chance to try to some different activities that keep you engaged in your training and help to provide more well-rounded balance to your current programming.Upcoming EventsRun for Justice FundraiserOn October 20, join U of S College of Law students in kicking-off Access to Justice Week in the student-led Run For Justice - a 5K run (or walk) at the U of S. Everyone is welcome to this event, which is intended to invite the community together to raise awareness and encourage conversations about challenges in accessing justice. All proceeds from this run will be donated to CLASSIC (Community Legal Assistance Services for Saskatoon Inner City Inc.), an organization committed to working toward access to justice for low-income, marginalized Saskatchewan residents. Registration is $35 plus processing fees. Register at https://raceroster.com/events/2018/19490/run-for-justice.

Gingerbread Run
Brainsport's Gingerbread Run is back again this year in support of SaskAbilities!
Enjoy the scenery and the festive atmosphere as you choose from a 5K or 10K run along the beautiful South Saskatchewan River on Nov. 18. After your run, enjoy a hot beverage and some delicious gingerbread cookies in your free souvenir bunnyhug! Click here to learn more, and to register.Transition Sport & Fitness Triathlon TrainingTransition's Fall Triathlon Training program runs from November 6 to December 22. The program includes three coached group workouts a week, as well as weekly coach's emails, monthly clinics on topics such as equipment, clothing, nutrition and injury prevention, a guaranteed spot in the winter tri program, and a super supportive environment for newbies and experienced triathletes alike. Limited spots left. To learn more go to www.transitionsportandfitness.ca.

SaskFit 2018 Expo
Brainsport will be at the Shaw Centre November 2 to 4 for theSaskFit Expo. Come visit us and learn more about running shoes, training shoes and all the amazing ways that Brainsport can make your fitness journey better. SaskFit is Saskatchewan's premiere fitness and health conference that reflects the energy and dedication that our provincial Fitness Leaders have towards promoting active, healthy lifestyle choices in our communities.Special Olympics Youth Programs

Registration is now open for the 2018 Fall session of the Special Olympics youth programs! The Active Start Program (ages 2-7) and FUNdamentalsprogram (ages 7-12) will run Thursday evenings from September 20 to December 6. To register click here.

Product of the Week
Salomon Drifter Mid Hoodie
The Salomon Drifter Mid Hoodie is with top quality materials in both men's and women's styles. This packable, breathable, warm, soft and lightweight hoodie is sure to become of favourite this season. It's also reversable, making it even more versatile. Come check it out in your size at the store!

Thanks for reading the Times this week.
Gotta run,
Tara
Stay Informed
When you subscribe to the blog, we will send you an e-mail when there are new updates on the site so you wouldn't miss them.
Comments
No comments made yet. Be the first to submit a comment