YourSaskatoon Blogs
YourSaskatoon provides you a place to voice issues dear to you on our site. If you have a blog idea for the local audience message us. Share your idea we may provide you the vehicle to reach your audience. We must respectfully reserve the right to not accept all ideas submitted.
13 minutes reading time
(2515 words)
Brainsport Times Mar. 6, 2019
After Aberdeen teacher Kelli White finished running a 10 kilometre race at the Saskatchewan Marathon weekend in 2010, she saw lots of children excitedly getting ready to start their own run.

She learned that they were part of the MaraFun program, which gives students aged six to 13 an opportunity to run the marathon distance — 42.2 kilometres — over the course of 10 weeks, with the last 2.2 kilometres being run as part of the Saskatchewan Marathon weekend.




White was so impressed by what she'd seen that she signed up her own students at Aberdeen Composite School the following year. And she's continued to be involved ever since, leading about 35 students a year in grades three to eight through the program in each of the last eight years. She's had so much fun that she's encouraging other teachers to sign up their students as well this year.

"MaraFun is a great program that promotes health and wellness in our schools, as well as builds team spirit within your school. The organizers provide great tips each week to help keep your training sessions moving along with good information and running techniques to pass along to your participants," she said.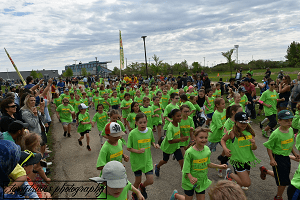 As a MaraFun team leader, White receives a training plan each week from Craven SPORT Services and leads her students through the exercises and drills outlined in the plan. She also receives information on nutrition and running technique that she's able to pass on to her young charges. Over the course of 10 weeks she helps students log their kilometres as they gradually build up to 40 kilometres in advance of the race weekend.

Race weekend is always a big hit for White, the students and everyone involved in the program.

"Cheering on our young runners at the finish line is a feeling that's hard to describe, but it definitely includes a lot of pride and excitement from our staff and their families," White says.

"It's actually motivated some of our staff and parents to sign up and run in the five-kilometre or 10-kilometre race the following year."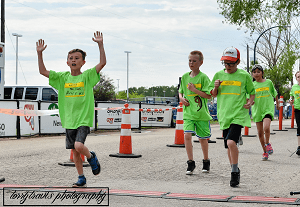 Though White's students tell her the best part about the MaraFun is being able to go to the food tent on race day after completing their 2.2-kilometre run, she says she her favourite thing about the program is seeing the young runners push themselves to reach their running goals. The students also encourage her to run more as well.

"The energy from the student runners in infectious," she says.

Jeff Culbert, who has directed the MaraFun for the last five years, says he loves watching MaraFun participants cross the finish line at the Saskatchewan Marathon after running 2.2 kilometres on the race course.

"They are just so unbelievably proud of themselves and I'm proud of them," he says. "It's so cute seeing them cross the finish line."

Teachers or parent volunteers can register a MaraFun team here. The cost to participate is $20 per student, which includes a t-shirt, medal and trip to the food tent on race day. The program runs March 11 to the Saskatchewan Marathon weekend on May 26.




Last year, 1,556 runners on 98 teams from 70 schools participated in the MaraFun and Culbert says he hopes to hit 1,600 students this year.

Students too old to take part in MaraFun are able to participate in OnTrack, an eight-week program that prepares youth to run the five-kilometre race at the Saskatchewan Marathon weekend.

"It's kind of like a MaraFun graduation, sort of the next step, but also we're really hoping to find new runners," Culbert says. "Because sometimes being a teenager, the last thing you want to do is start something new, but that's our biggest goal, is to really go out there and really encourage new runners to join."

OnTrack is for students aged 12 to 18 and runs from March 25 to May 26. Register here. The cost is $25 per student. Team leaders should contact Jeff at This email address is being protected from spambots. You need JavaScript enabled to view it. before registering.
---
Upcoming Events

Saturday May 11, 2019: Step Up for Mental Health
This inaugural race hosted by Cameco offers five- and 10-kilometre run and walk distances. Cameco is matching every dollar from entry fees to fund local mental health projects. Register now.
NOTE: The Saskatoon Police Foundation Half Marathon, previously scheduled for May 5, has been cancelled in support of this new event. The foundation is expected to announce a new "challenge" soon.




Saturday May 11, 2019: Royal Road Race (Regina) SOLD OUT
The ninth-annual Royal Road Race, hosted by the Jaleta Pacers and the RCMP is once again being held on Mother's Day weekend. This event is sold out.

Sunday May 26, 2019: Saskatchewan Marathon
The Saskatchewan Marathon is the oldest marathon in Saskatchewan. The event is organized and produced by the Saskatoon Road Runners Association. The 2019 Saskatchewan Marathon features Craven SPORT services five-kilometre, Goodlife Fitness 10-kilometre, half-marathon and marathon event distances along a scenic course highlighting the world-renowned Meewasin Valley. Easily deemed one of the most scenic running events in Canada, the Saskatchewan Marathon is also a qualifier for the Boston Marathon. Sign up today.

Sunday June 2, 2019: RunRegina First Responders Run (Regina)
Featuring five- and 15-kilometre distances, the inaugural event supports first responders and mental health initiatives for first responders. Register now.

Sunday June 23: Brainsport Donut Dash
Register now for a timed, family-friendly five-kilometre race that starts from the new track at the Gordie Howe Sports Complex. This event is a fundraiser for the Gordie Howe Sports Complex.

Friday Sept. 6 — Sun. Sept. 8: GMS Queen City Marathon (Regina)
Saskatchewan's largest road-racing festival features three days of races from Friday to Sunday. There are mini marathons ranging in distance from one- to three-kilometres for kids and distances from the five-kilometre to the marathon for runners of all ages. Register now.

See all events at the Brainsport events calendar.
Announcements



Sign up now for the Brooks Run Signature Event
Dates and times: March 16 and 23, 10 a.m. to 2 p.m.
Cost: Free
What: At Brainsport we continually strive to give our customers the best experience possible. We have added another tool to our shoe-fitting process: the Brooks Run Signature app! This system allows us to do a quick analysis of your running gait and ultimately help determine the proper shoe type for your specific running style. We provide this service free to our customers, however you must sign up for one of the available time slots if you are interested. (Sign up for day one here and day two here)
What you need to know:
1) This system is designed to analyze running gait. It does not work for walking.
2) You will be required to run on a treadmill barefoot or in sock feet. Typically the run portion is complete in a couple of minutes and the whole process is done in 5 - 10 minutes.
3) You must bring/wear the proper gear in order to participate. Shorts or tights work best. Loose fitting clothing does not work.
4) If you are currently injured, or have any condition that may prevent you from running naturally on a treadmill, it is advised that you wait for one of our future Run Signature events.

Track and Field volunteers needed
Here's your chance to support young track and field athletes. Attend a two-hour training session to become a valuable member of the officiating team at future track and field meets. A clinic is being held Friday April 5 at 6:30 p.m. at the Saskatoon Field House in conjunction with the Aboriginal Indoor Track and Field Championships. For more info or to register email This email address is being protected from spambots. You need JavaScript enabled to view it. or phone Saskatchewan Athletics at 306-664-6744.
Courses and programs

MaraFun
The Marafun program gives students aged six to 13 an opportunity to run a marathon in a novel way.
For 10 weeks starting in March, students will walk, run or wheel 40 kilometres. This training will lead them to the Saskatchewan Marathon race day on Sunday, May 26 when all participants come together to cap off their hard work by running or walking a fun 2.2-kilometre race on part of the marathon course.
Throughout the program, the young athletes learn about an active lifestyle, how they can maintain an activity program to promote health, and the importance of having personal goals.
Being involved requires is a team leader and young participants. Team leaders get children to run, walk or wheel a specific number of kilometers per week and coordinates attendance to the Saskatchewan Marathon on May 26.
The fee is $20 per student, which includes a t-shirt, medal and trip to the food tent on race day, along with other things to encourage them to complete the program and build a lifelong love of being physically active.
Team leaders can get more information and register their schools for a 10-week program here.

OnTrack
This high school running program is geared toward MaraFun grads and new runners. The eight-week program prepares students aged 12 to 18 to run a five-kilometre race at the Saskatchewan Marathon. Team leaders can organize students who are attending high school, home-schooled, or who are part of an organization or group. Team leaders should contact Jeff at This email address is being protected from spambots. You need JavaScript enabled to view it. before registering. Registration can be done here.

Spring Learn to Run
Coach: Kimberlee Galus
Date and time: Wednesdays starting at 6 p.m. from March 20 until May 8
Location: Brainsport (616 10th Street East, Saskatoon)
Cost: $80
Prerequisite: No previous running experience is required to join this clinic. Just show up ready to have some fun!
This clinic is ideal for anyone interested in learning how to run, or those that need a refresher. If you have ever wanted to start running, Coach Kim is here to help you with that goal! This eight-week program will teach you the essentials of running in a safe and fun environment. This clinic will culminate in a special event designed just for you on Saturday, May 18th. In addition to the weekly coached run, we will be offering informational sessions on topics such as injury Prevention core stability, running technique, and more. Register now.

10-kilometre Clinic
Coach: Ian Klassen
Date and time: Wednesdays starting at 6 p.m. from March 20 until May 22
Location: Brainsport (616 10th Street East, Saskatoon)
Cost: $100
Prerequisite: It is recommended you be able to run 30 minutes consecutively before joining this clinic.
This clinic is ideal for less experienced runners or those looking to improve their previous 10-kilometre time. This 10-week program coincides with the 2019 Saskatchewan Marathon on May 26, which offers a 10-kilometre event. In addition to the weekly coached run, we will be offering informational sessions on topics such as injury prevention, core stability, running technique and more. Register now.

PatTrick Running Clinic (12-week marathon training program for the Saskatchewan Marathon)
Coach: Pat Somerville
Date and time: Tuesdays starting at 6 p.m. from March 5 until May 21
Location: Brainsport (616 10th Street East, Saskatoon)
Cost: $120
Prerequisite: You must be able to run 10 kilometres easily prior to joining
This clinic will get you ready for the Saskatchewan Marathon at the end of May. Register now.

PatTrick Running Clinic (27-week marathon training program for the Saskatchewan and Queen City marathons)
Coach: Pat Somerville
Date and time: Tuesdays starting at 6 p.m. from March 5 until Sept. 3
Location: Brainsport (616 10th Street East, Saskatoon)
Cost: $200
Prerequisite: You must be able to run 10 kilometres easily prior to joining
This clinic provides continuous training for events like the Saskatchewan Marathon (May) and the Queen City Marathon (September). Register now.

Just Tri-It (JTI) Women-Only Introduction to Triathlon Training
This eight-week triathlon program runs from March 17 to May 12. Visit http://www.triathlonsaskatoon.org/just-tri-it/introduction-program for more information or to register.

Virtual Cycle Sundays and Virtual Pilates Mondays
Take part in a fitness class from the comfort of your home through virtual classes hosted by Transition Sport and Fitness. The Sunday rides run from 9 a.m. to 10 a.m. and the Monday pilates go from 8:15 p.m. to 9 p.m. The pilates class is tailored towards triathletes. Visit www.transitionsportandfitness.ca or email This email address is being protected from spambots. You need JavaScript enabled to view it. for more information.

Breathe Move Be Yoga for Athletes
Breathe Move Be offers a Yoga for Athletes course Thursday evenings from 5:45 to 6:45 p.m. until March 14 at Midwest Karate Studio on 506 Duchess St. Drop in for $18 when space is available.
A second course at Midwest Karate Studio will be offered for eight weeks on Thursdays from March 7 to April 25 from 7:15 p.m. to 8:15 p.m. $105 to register for the whole session.
For more information and to register contact Leanne Parsons at This email address is being protected from spambots. You need JavaScript enabled to view it..
Product of the Week

On Cloudswift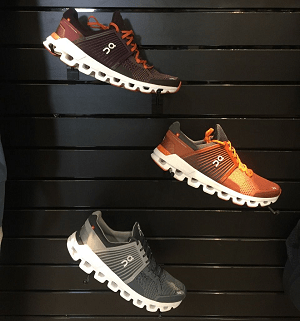 The newest addition of the On fleet is the Cloudswift, which features a mesh sock upper with improved air flow for hot summer days (when they finally arrive...). There's a more durable rubber outsole for soft landings and high traction. The Cloudswift also features the new Helion superfoam, which is light, but big on energy return. This is great for runners who like to keep their shoes light and swift, yet want superior cushioning and road protection.
Stay Informed
When you subscribe to the blog, we will send you an e-mail when there are new updates on the site so you wouldn't miss them.
Comments
No comments made yet. Be the first to submit a comment