YourSaskatoon Blogs
YourSaskatoon provides you a place to voice issues dear to you on our site. If you have a blog idea for the local audience message us. Share your idea we may provide you the vehicle to reach your audience. We must respectfully reserve the right to not accept all ideas submitted.
11 minutes reading time
(2278 words)
Brainsport Times Mar. 20, 2019
Lanni Marchant never imagined she would have to stop running in order to run fast.

The 34-year-old Olympian and former Canadian women's marathon record holder underwent hip surgery in May 2018 and has spent the ensuing months focussing on recovery, strength training and technique.

Marchant is from London, Ont., but much of her rehab work is being done in Saskatoon, where she is working with sport physiotherapist Bruce Craven who was described to her as a "movement whisperer."




Marchant made her first trip to Saskatoon in August 2018, three months after her surgery. She was off crutches and had been cross-training four hours a day. She had packed her aqua-jogging belt and clothes so she could bike and train on the ElliptiGO, but Craven told her to take it easy and walk instead.

"Had he tried to tell me that in 2016 or 2017 I wouldn't have listened, I wouldn't have believed that I could accomplish what I wanted to in running by stopping and by not cross training to maintain fitness or some illusion of fitness," Marchant said.

Marchant's sessions with Craven focus on proper running form heavy lifting. Running has been incorporated into her training plan slowly.




"If I'm going to get back to a point where I can run well and hopefully compete at some level, I have to just respect the process," Marchant said. "I'm going to get frustrated with some of it sometime, but there's no rushing to the finish line in this."

Marchant went for her first post-surgery walk-run in September 2018 and has slowly been upping her mileage since. Though still on a run-walk program, she now runs up to 15 kilometres on recovery days and can hit sub-3:15-minutes-per-kilometre pace on kilometre repeats.

"It's going to be a long time before I see 100-mile weeks I feel like, but any run I do is quality," she said.

Craven has drilled into Marchant the importance of taking rest days and of doing recovery runs slowly. Marchant used to do her recovery runs at four-minute-per-kilometre pace. Now she's not allowed to run faster than five minutes per kilometre.

She's also been doing more strength training than ever before. Weightlifting used to be part of her training, but she stopped in 2016 when she was gearing up to run the 10,000 metres and marathon in the Rio Olympics and struggling with health issues that she later learned stemmed from an infected cyst around a kidney stone.

"I fell into the trap. In reality, we should have probably canned half my running workouts and just put me in the gym doing my strength program," she says in hindsight.

Before Christmas, the slight athlete was deadlifting 100 pounds, something she says is in line with the new trend toward incorporating heavy lifting into marathon training.




"The biggest shock was how big my butt got once I started working with Bruce," Marchant says with a laugh.

"Right now, I'm lifting in-shape Lanni, which is like 100 to 105 pounds. My goal is, as I get to in-shape Lanni, I need to be able to lift out-of-shape Lanni, which is like 115 pounds."

Marchant has not raced since early 2018 and says she's thinking about eventual comeback races, but will try to fly under the radar whenever she's ready to line up for her first race back.

"Yes, I'm looking to do some races. But I probably won't do any big ones or ones that really garner much attention because I kind of don't really want it just yet," she said.

She says she still hopes to represent Canada at the 2020 Tokyo Olympics. As for the distance she hopes to chase? "Whatever my body will let me do," she says.
---
Upcoming Events

Saturday May 11, 2019: Step Up for Mental Health
This inaugural race hosted by Cameco offers five- and 10-kilometre run and walk distances. Cameco is matching every dollar from entry fees to fund local mental health projects. Register now.
NOTE: The Saskatoon Police Foundation Half Marathon, previously scheduled for May 5, has been cancelled in support of this new event. The foundation is expected to announce a new "challenge" soon.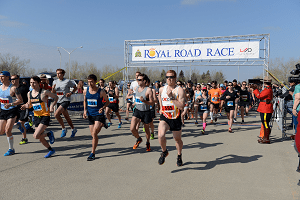 Saturday May 11, 2019: Royal Road Race (Regina) SOLD OUT
The ninth-annual Royal Road Race, hosted by the Jaleta Pacers and the RCMP is once again being held on Mother's Day weekend. This event is sold out.

Sunday May 26, 2019: Saskatchewan Marathon
The Saskatchewan Marathon is the oldest marathon in Saskatchewan. The event is organized and produced by the Saskatoon Road Runners Association. The 2019 Saskatchewan Marathon features Craven SPORT services five-kilometre, Goodlife Fitness 10-kilometre, half-marathon and marathon event distances along a scenic course highlighting the world-renowned Meewasin Valley. Easily deemed one of the most scenic running events in Canada, the Saskatchewan Marathon is also a qualifier for the Boston Marathon. Sign up today.

Sunday June 2, 2019: RunRegina First Responders Run (Regina)
Featuring five- and 15-kilometre distances, the inaugural event supports first responders and mental health initiatives for first responders. Register now.

Sunday June 23: Brainsport Donut Dash
Register now for a timed, family-friendly five-kilometre race that starts from the new track at the Gordie Howe Sports Complex. This event is a fundraiser for the Gordie Howe Sports Complex.

NEW: Saturday July 20: Runner's Soul Fifth Avenue Mile (Lethbridge, AB)
2019 is the 25th Anniversary of the Runner's Soul store in Lethbridge. Help celebrate by taking part in the Runner's Soul Fifth Avenue Mile. Runners will enjoy a fast, flat route and can compete for cash prizes. Post-race festivities include food trucks and vendors. Register now.

Friday Sept. 6 — Sun. Sept. 8: GMS Queen City Marathon (Regina)
Saskatchewan's largest road-racing festival features three days of races from Friday to Sunday. There are mini marathons ranging in distance from one- to three-kilometres for kids and distances from the five-kilometre to the marathon for runners of all ages. Register now.

See all events at the Brainsport events calendar.
---
Announcements




Sign up now for the Brooks Run Signature Event
Date and times: March 23, 10 a.m. to 2 p.m.
Cost: Free
What: At Brainsport we continually strive to give our customers the best experience possible. We have added another tool to our shoe-fitting process: the Brooks Run Signature app! This system allows us to do a quick analysis of your running gait and ultimately help determine the proper shoe type for your specific running style. We provide this service free to our customers, however you must sign up for one of the available time slots if you are interested.
What you need to know:
1) This system is designed to analyze running gait. It does not work for walking.
2) You will be required to run on a treadmill barefoot or in sock feet. Typically the run portion is complete in a couple of minutes and the whole process is done in 5 - 10 minutes.
3) You must bring/wear the proper gear in order to participate. Shorts or tights work best. Loose fitting clothing does not work.
4) If you are currently injured, or have any condition that may prevent you from running naturally on a treadmill, it is advised that you wait for one of our future Run Signature events.

Try out the newest Mizuno shoes at Brainsport's run club
Mizuno is bringing a demo fleet of Mizuno shoes to the store for you to try during Brainsport's regular Wednesday evening run club on March 27. This will be a great opportunity to put some Mizuno to the test!

Sign up for the Saskatoon Camino de Santiago Information Day
Register in advance for this all-day event on Sat. Mar. 23 at Grace-Westminster United Church. Sessions start at 9:30 a.m.

Track and Field volunteers needed
Here's your chance to support young track and field athletes. Attend a two-hour training session to become a valuable member of the officiating team at future track and field meets. A clinic is being held Friday April 5 at 6:30 p.m. at the Saskatoon Field House in conjunction with the Aboriginal Indoor Track and Field Championships. For more info or to register email This email address is being protected from spambots. You need JavaScript enabled to view it. or phone Saskatchewan Athletics at 306-664-6744.
---
Courses and programs

OnTrack
This high school running program is geared toward MaraFun grads and new runners. The eight-week program prepares students aged 12 to 18 to run a five-kilometre race at the Saskatchewan Marathon. Team leaders can organize students who are attending high school, home-schooled, or who are part of an organization or group. Team leaders should contact Jeff at This email address is being protected from spambots. You need JavaScript enabled to view it. before registering. Registration can be done here.

Spring Learn to Run
Coach: Kimberlee Galus
Date and time: Wednesdays starting at 6 p.m. from March 20 until May 8
Location: Brainsport (616 10th Street East, Saskatoon)
Cost: $80
Prerequisite: No previous running experience is required to join this clinic. Just show up ready to have some fun!
This clinic is ideal for anyone interested in learning how to run, or those that need a refresher. If you have ever wanted to start running, Coach Kim is here to help you with that goal! This eight-week program will teach you the essentials of running in a safe and fun environment. This clinic will culminate in a special event designed just for you on Saturday, May 18th. In addition to the weekly coached run, we will be offering informational sessions on topics such as injury Prevention core stability, running technique, and more. Register now.

10-kilometre Clinic
Coach: Ian Klassen
Date and time: Wednesdays starting at 6 p.m. from March 20 until May 22
Location: Brainsport (616 10th Street East, Saskatoon)
Cost: $100
Prerequisite: It is recommended you be able to run 30 minutes consecutively before joining this clinic.
This clinic is ideal for less experienced runners or those looking to improve their previous 10-kilometre time. This 10-week program coincides with the 2019 Saskatchewan Marathon on May 26, which offers a 10-kilometre event. In addition to the weekly coached run, we will be offering informational sessions on topics such as injury prevention, core stability, running technique and more. Register now.

PatTrick Running Clinic (27-week marathon training program for the Saskatchewan and Queen City marathons)
Coach: Pat Somerville
Date and time: Tuesdays starting at 6 p.m. from March 5 until Sept. 3
Location: Brainsport (616 10th Street East, Saskatoon)
Cost: $200
Prerequisite: You must be able to run 10 kilometres easily prior to joining
This clinic provides continuous training for events like the Saskatchewan Marathon (May) and the Queen City Marathon (September). Register now.

Just Tri-It (JTI) Women-Only Introduction to Triathlon Training
This eight-week triathlon program runs from March 17 to May 12. Visit http://www.triathlonsaskatoon.org/just-tri-it/introduction-program for more information or to register.

Breathe Move Be Yoga for Athletes
Sign up for an eight-week yoga class that takes place at Midwest Karate Studio on 506 Duchess St. for eight weeks on Thursdays from March 7 to April 25 from 7:15 p.m. to 8:15 p.m. $105 to register for the whole session.
A second 10-week class runs out of Midwest Karate Studio on Thursdays from 5:40p.m. to 6:40 p.m. from March 28 to May 10. Cost is $140 for 10 weeks or $18 to drop in.
For more information and to register contact Leanne Parsons at This email address is being protected from spambots. You need JavaScript enabled to view it..
---
Product of the Week

AfterShokz Trekz Titanium wireless headphones




These headphones — which come in regular and mini sizes and a variety of colours — use bone conduction technology, allowing you to hear what's going on around you while also listening to music or a podcast. They are also sweat proof.
The Brainsport Times brings you news and stories from Saskatoon's running community every Wednesday. If you have a story to share, an event you want featured or suggestions for future content, please email Brainsport Times
editor This email address is being protected from spambots. You need JavaScript enabled to view it.This email address is being protected from spambots. You need JavaScript enabled to view it..
Stay Informed
When you subscribe to the blog, we will send you an e-mail when there are new updates on the site so you wouldn't miss them.
Comments
No comments made yet. Be the first to submit a comment