YourSaskatoon Blogs
YourSaskatoon provides you a place to voice issues dear to you on our site. If you have a blog idea for the local audience message us. Share your idea we may provide you the vehicle to reach your audience. We must respectfully reserve the right to not accept all ideas submitted.
9 minutes reading time
(1785 words)
Brainsport Times Jan. 8, 2020
Looking for a way to spend a frigid Wednesday evening? Come to the Brainsport run club tonight at 6 p.m. Beaux Walton, On's Western Canadian tech rep, will have On Cloud and On Stratus demo shoes for you to run in. And to celebrate Ukrainian Christmas we will serve Perogie and Koubasa samples after the run.
After spending 13 years as president of the Saskatoon Road Runners Association, Peter Goode has stepped down from the organization's top job.

Goode joined the SRRA board in 1996 (or 1997 — it's been so long he can no longer remember) and became president roughly two years later. He has served as president twice in the last 20-some years.

Goode remains on the SRRA board, but Shona Iverson has taken over the role of president.

In the weeks following the move, Goode spoke with the Brainsport Times about his time on the SRRA board and about the challenges and opportunities facing the organization.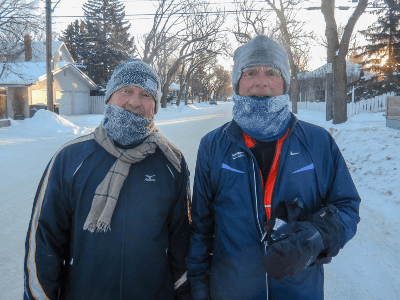 Peter Goode (right) and running buddy Dave Buchner pose for a photo after a frosty run
.Brainsport Times: Why do you believe the SRRA is an important organization in the city?
Peter Goode: We provide opportunities for runners and walkers to be physically active and participate in a sport that not only is healthy but also builds strong, long lasting friendships. There is nothing better than spending hours, days, and years running with great people who enjoy the social, physical, mental and emotional experiences provided by a good run.As the SRRA grew over the years we began to reach more people, develop new running opportunities/events, and become more financially stable. Through much support from a variety of sponsors and participants, we reached a situation where, as a not-for-profit organization, we were able to give back to the community. For example, the SRRA has provided about $300,000 to the Meewasin Valley Authority and that money has been targeted to trail development. We have also supported the Shakespeare on the Saskatchewan redevelopment and helped raise $100,000 to help redevelop the site, build an all-season washroom facility, and provide us with a venue for some of our events. In other years we have donated to the Saskatchewan Heart and Stroke Association and other charities. Essentially, we try to take our successes and reinvest back into the community in ways that not only benefit runners, but also residents and visitors to Saskatoon.
BT: What SRRA work are you most proud of during your time on the board?
PG: I am proud of many things. I have helped organize the Saskatchewan Marathon for years; I developed the trail series; began the Monday night workout series, was a team member in developing the Sask 50-kilometre Ultra, and have been race director of the Saskatchewan Marathon, the River Run, the 10-kilometre Classic, trail races, etc. I quit counting after 80 events. BUT — I am most proud of the people who have supported my ideas and have worked beside me as partners in many of these events. Lorrie Dobni (past SRRA president), Shona Iverson, Yvette Chartier, Lynn Cushway and the awesome Greg Fenty (and many others) have been beside me the entire way over the years. Prior to them were Carrie Tam and Michelle Morrison. I am most proud of our successes and the friendships we created.
BT: What are the biggest challenges facing the SRRA today?
PG: Today we face both challenges and opportunities. The big challenge is the increasing number of running events in the city. It becomes difficult to find volunteers and even a weekend where there is no conflict with another event. We are staying true to our roots as a member club within Saskatchewan Athletics and we continue to put on competitive running events. However, many runners aren't interested in the competition aspect as much as they are the participation aspect. The opportunities are somewhat related to the challenges – appealing to more people using social media is an opportunity we are focusing on now.
BT: What can people expect from the SRRA in 2020?
PG: 2020 continues with our old favorites. We are constantly making improvements to the Saskatchewan Marathon weekend and the River Run. We are adding new, fun participation events for our members (for example Bridges for Breakfast — organized by Shona Iverson, Dave Neuburger and Nan Lee — and STRAVA challenges). We are always trying to improve and to reach runners using new ideas and methods.

To learn more about the SRRA, to volunteer or to buy a membership, please visit the SRRA website.
Upcoming Races
Sunday, Jan. 26: Resolution Tri
This free event features sprint and "super sprint" triathlon distances.
For more information or to register, go online.
Sunday Mar. 1: Brainsport Brainfreeze
Sign up for a five-kilometer, 10-kilometer or half marathon event in support of the University of Saskatchewan's cross-country team.
Sunday, May 3: I Love Regina Run (Regina)
Sign up for a three-, five- or 10-kilometer run or walk.
Saturday, May 9: Royal Road Race (Regina) SOLD OUT
The 10th annual Royal Road Race, hosted by the Jaleta Pacers and the RCMP is once again being held on Mother's Day weekend. Held on the RCMP Training Academy in Regina, this event includes a five- and 10-kilometer race, a five-kilometer walk, five-kilometer wheelchair event and a one-kilometer Mini-Mountie for children. All participants in those races will receive a Hillberg & Berk sparkle ball necklace cluster or petite sparkle bracelet. This race tends to sell out fast so register soon.
Sunday, May 31: Saskatchewan Marathon
The Saskatchewan Marathon, the oldest marathon in the province, is organized and produced each year by the Saskatoon Road Runners Association. The 2020 Saskatchewan Marathon features five-kilometer, 10-kilometre, half-marathon and marathon event distances. The Saskatchewan Marathon is a qualifier for the Boston Marathon. Sign up today. Sunday,
June 7: Run Regina First Responders Run (Regina)
Support first responder mental health initiatives in Regina by registering for a five-, 15-, or 30-kilometer race.
Wednesday, July 1: Run Regina Canada Day Run (Regina)
Celebrate Canada Day by taking part in a three- or five-kilometer fun run or walk.
Sunday, Sept 13: GMS Queen City Marathon (Regina)
Saskatchewan's largest road race has something for everyone. Sign up for a range of distances from a mini-marathon for kids to 42.2 kilometers. See all events at the Brainsport events calendar.
——————
Brainsport Running AcademyHalf and full marathon clinic
Coach: Pat Somerville
When: Mondays at 6 p.m. from Jan. 27 to May 25 (18 weeks)
Location: Brainsport (616 10th Street East, Saskatoon)
Prerequisite: This clinic is ideal for less experienced runners or those looking to improve previous half or full marathon time. It is recommended you be able to run 40 minutes consecutively before joining this clinic.
Register online now.McGuire's back-of-the-pack running clinic for beginners
Coach: Harvey Weber
When: Mondays at 6 p.m. from Jan. 20 to Feb. 24 (six weeks)
Location: Brainsport (616 10th Street East, Saskatoon)
Prerequisite: This clinic is ideal for anyone interested in learning how to run, or those that need a refresher. No previous running experience is required, just show up ready to have some fun.
What: This program will teach you the essentials of running in a safe and fun environment with a focus on winter running. The clinic ends just in time for the Brainfreeze on March 1.
Read more about last year's McGuire's back-of-the-pack running clinic on the Brainsport blog.
Registration will open soon on the Brainsport Running Academy page.
——————
Courses and Programs Swimming with Transition Fitness
When: Thursdays from 7 to 8 p.m. from Jan. 9 to Mar. 19
Where: Shaw Centre
Cost: $180
For more information and to register, go online.
Virtual pilates and cycling with Transition Fitness
When: Virtual pilates is held Mondays from 8:15 to 9 p.m. Virtual cycles are on Sundays from 9 to 10 a.m. and Tuesdays from 7:15 to 8:15 p.m. until April.
Cost: $25 a month for one live class per week, $50 a month for two live classes per week, $20 per month for one recorded video per week, $35 per month for two recorded videos per week, $12 per class, $75 for a 10-class pass
For more information and to register, go online.
Indoor cycling with the Saskatoon Triathlon Club Inc.
When: Eight Saturdays between Jan. 4 and March 21 from 7:30 a.m. to 9 a.m.
Where: Saskatoon Field House
Cost: $120 for all eight sessions, $80 for four rides, $25 to drop-in
For more information and to register, go online.
Just Tri It training program with the Saskatoon Triathlon Club Inc.
This is an eight-week women's only program designed to get people ready to participate in a triathlon.
When: Swims Sunday mornings starting at 8:10 a.m., bikes Monday evenings at 6:30 p.m., runs Thursdays at 6:45 p.m. The program runs from March 15 to May 10.
Where: Saskatoon YWCA
Cost: $175 until Jan. 31, $200 after
For more information and to register, go online.
Yoga for athletes
Join Leanne Parsons of Breathe Move Be for a 10-week of yoga for athletes session on Thursday evenings starting Jan. 9.
When: Thursdays from 5:40 to 6:40 p.m. from Jan. 9 to March 12.
Where: Midwest Karate (506 Duchess Street)
Cost: It's $140 to sign up for the whole 10-week session. Drop-in to individual sessions for $18.
Register: Email Leanne Parsons at This email address is being protected from spambots. You need JavaScript enabled to view it..
——————
AnnouncementsTrack and Field: Training for Volunteer Officials
Volunteers are needed for track and field events this winter at the Saskatoon Field House. By attending a two-hour session you will become a valuable member of the volunteer officials team. Clinics will be held Fri. Jan. 10 at 6:30 p.m., Sat. Jan. 11 at 9:30 a.m. and Fri. Jan. 24 at 6:30 p.m. as part of the Sanderson Classic and K of C Meets. For more information or to register email Saskatchewan Athletics at This email address is being protected from spambots. You need JavaScript enabled to view it..
——————
Product of the Week
On Cloud
Photo from https://www.on-running.com/Try out this lite cushioned running shoe for yourself. On's Western Canadian tech rep will have On Cloud and On Stratus demo shoes for you to run in at the Brainsport run club this evening, Jan. 8.
Stay Informed
When you subscribe to the blog, we will send you an e-mail when there are new updates on the site so you wouldn't miss them.
Comments
No comments made yet. Be the first to submit a comment