YourSaskatoon Blogs
YourSaskatoon provides you a place to voice issues dear to you on our site. If you have a blog idea for the local audience message us. Share your idea we may provide you the vehicle to reach your audience. We must respectfully reserve the right to not accept all ideas submitted.
9 minutes reading time
(1735 words)
Brainsport Times Jan. 2, 2019
very winter, Colin Federow hears the same question over and over again: How can I run without slipping on ice?

The Brainsport fit specialist says there's no one-size-fits-all solution that works for every runner, but Brainsport carries a variety of shoes and accessories that people can choose from so they can keep moving even when snow and ice cover their favorite running paths.

He sat down with the Brainsport Times to lay out the three most popular options.

Pull-on grips
Products like the Due North Everyday G3 Ice Snow Traction Aid ($26) and Nordic Grip running traction aid ($40) fit over your favorite shoes to provide grip. "The reason I like that is that you can be out running and if you feel that it's icy you can slip it on quick and away you go," Federow says. Pull-on grips allow you to turn your favorite shoes into winter runners so you don't need to worry about adjusting to a new shoe brand or model. But the grips are designed to come on and off, which means it's possible they could slip off while running.




Shoes with steel studs
The unisex Saloman Speedspike and Spikecross feature embedded metal spikes and are designed to offer runners good grip on snow and ice. Though these shoes can't be matched when it comes to traction on ice, Federow says runners have to be careful when moving inside because the same studs that gripped the ice will cause you to slip on concrete or linoleum floors. "So moving from outdoors to indoors can be a bit of a problem with a built in steel stud, not to mention wrecking the mats in your car and things like that if they're cloth or fabric mats," Federow says. Both shoes cost $200.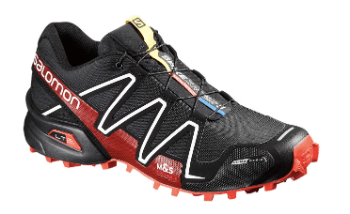 Saucony Peregrine Ice with Vibram Arctic Grip Sole
The Vibram Arctic Grip technology built into the soles of Saucony Peregrine Ice shoes is designed to give runners grip on icy surfaces — without the side effect of slipping on indoor surfaces. You can also find Vibram Arctic Grip technology on some Merrell winter boots. Men's and women's Saucony Peregrine Ice shoes can be purchased for $190.




Just because those are the most popular options, doesn't mean they're the only ones. "With any footwear, being anti-slip is very subjective. What works for one person might not work for someone else," Federow says. When choosing winter footwear, it's important to consider how and where you run. For example, Federow recently had a client who purchased trail running shoes because she does her winter running on grid roads where loose snow and gravel is more of a concern than ice.

Whatever you choose to run in, have a great one to start the new year.
Upcoming EventsSaturday January 5: Transition Sport and Fitness is hosting an indoor "Bring in the New Year" Brick workout
This workout runs from 9 a.m. to 10 a.m. at the Saskatoon Field House. $20 individual drop in and $25 family options available. There will be a triathlete/duathlete option as well as a no-biking strength/run circuit that will be family friendly. Register here.Sunday, Mar. 3, 2019: Brainsport Brainfreeze
Brainsport's Brainfreeze is a winter run that raises money for the University of Saskatchewan cross country team. Enjoy the snow-coated scenery as you choose from a five-kilometer, 10-kilometer or half marathon distance along the beautiful South Saskatchewan River. Register now.

Saturday, May 11, 2019: Royal Road Race (Regina)
The ninth-annual Royal Road Race, hosted by the Jaleta Pacers and the RCMP is once again being held on Mother's Day weekend. Since it began, this race has contributed over $161,549 to local charities. Held on the RCMP Training Academy grounds in Regina, this fast course has something for everyone with five-kilometer and 10-kilometer races, a five-kilometer walk, a five-kilometer wheelchair, and a one-kilometer Mini-Mountie run for children. This race sells out fast so make sure to register soon. Prices increase Mar. 31.Sunday, May 26, 2019: Saskatchewan Marathon
The Saskatchewan Marathon is the oldest marathon in Saskatchewan. The event is organized and produced by the Saskatoon Road Runners Association. The 2019 Saskatchewan Marathon features Craven SPORT services five-kilometer, Goodlife Fitness 10-kilometre, half-marathon, and marathon event distances along a scenic course highlighting the world-renowned Meewasin Valley. Easily deemed one of the most scenic running events in Canada, the Saskatchewan Marathon is also a qualifier for the Boston Marathon. Sign up today. Prices increase Mar. 1.
Courses and programs

Brainsport Running Academy: Full Marathon and Half Marathon Clinic
This clinic, coached by Pat Somerville, is ideal for less experienced runners or those looking to improve their previous half or full marathon times. It is recommended you be able to run 40 minutes consecutively before joining this clinic. The clinic runs Monday evenings from Brainsport starting at 6 p.m. It runs from Jan. 21 to May 20 and will prepare runners for the 2019 Saskatchewan Marathon on May 26. In addition to weekly coached runs, there will be informational sessions on topics such as injury prevention, core stability, running technique, nutrition, yoga for runners, and more. Register online now.Transition Sport and Fitness Triathlon Training Group
The three-month winter program starts Jan. 8. Choose from one-, two- or three-times-per-week options. Register here. Email This email address is being protected from spambots. You need JavaScript enabled to view it. for more information or to register for a distance triathlon training group.Virtual Cycle Sundays and Virtual Pilates Mondays
Hosted by Transition Sport and Fitness, the Sunday rides run from 9 a.m. to 10 a.m. and Monday pilates go from 8:15 p.m. to 9 p.m. The pilates class is tailored towards triathletes. Visit www.transitionsportandfitness.ca or email This email address is being protected from spambots. You need JavaScript enabled to view it. for more information.

Breathe Move Be Yoga for Athletes
Breathe Move Be offers a Yoga for Athletes course Thursday evenings from 5:45 to 6:45 p.m. from Jan. 10 to March 14 at Midwest Karate Studio. $140 to pre-register for all classes. Drop-in spots will be made available for $18 when space is available. For more information and to register to contact Leanne Parsons at This email address is being protected from spambots. You need JavaScript enabled to view it..
Announcements

Track and Field Volunteers Needed
Here's your chance to support young track and field athletes! Two-hour clinics will be held at the Saskatoon Field House during the Sled Dog Open on Jan 11 and 12 to train people to be part of the city's volunteer officiating team. Clinics are Fri. Jan. 11 at 6:30 p.m. and Sat. Jan. 12 at 9:30 a.m. For more info or to register contact Ken by email at This email address is being protected from spambots. You need JavaScript enabled to view it. or by phone at 306-664-6744.Saskatoon Road Runners Association Matching Donations to Improve Shakespeare on the Saskatchewan Site
Until Jan. 31, The Saskatoon Road Runners Association will match donations up to $50,000 to improve the Shakespeare on the Saskatchewan site and adjacent trails. Donate and learn more about the project through the Shakespeare on the Saskatchewan website.

Saskatchewan Marathon Seeking Pace Bunnies
Pace bunnies are needed for the five-kilometer, 10-kilometre, half-marathon and marathon distances for the May 26 races. The most important bunnies are at the 0:30, 1:00, 2:00 and 4:00 times in the respective distances. Organizers will then look for bunnies in five-, 10- or 15-minute increments on either side of the milestone times. If you're interested, please contact pace bunny wrangler Dave Stark by email at This email address is being protected from spambots. You need JavaScript enabled to view it.. Your event registration will be free!
Product of the WeekSaucony Peregrine Ice with Vibram Arctic Grip Sole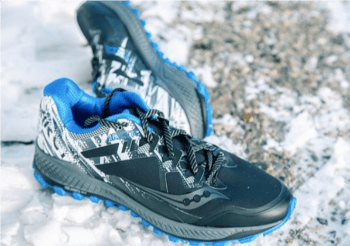 The Vibram Arctic Grip technology on the soles of these shoes has made them one of the most popular options for runners looking to run outside throughout the winter.
The Brainsport Times brings you news and stories from Saskatoon's running community every Wednesday. If you have a story to share, an event you want featured or suggestions for future content, please email Brainsport Times editor This email address is being protected from spambots. You need JavaScript enabled to view it.This email address is being protected from spambots. You need JavaScript enabled to view it..
Stay Informed
When you subscribe to the blog, we will send you an e-mail when there are new updates on the site so you wouldn't miss them.
Comments
No comments made yet. Be the first to submit a comment