YourSaskatoon Blogs
YourSaskatoon provides you a place to voice issues dear to you on our site. If you have a blog idea for the local audience message us. Share your idea we may provide you the vehicle to reach your audience. We must respectfully reserve the right to not accept all ideas submitted.
5 minutes reading time
(1038 words)
Brainsport Times Feb 5, 2020
Registration is open for the 12th annual Brainsport Brainfreeze, which takes place snow or shine on March 1.

This event, which features five-kilometre, 10-kilometre and half marathon races, is the main fundraiser for the University of Saskatchewan Huskies cross-country team.




Here are five reasons you should sign up:
1. The event is a huge boost for the Huskies

The Brainfreeze has capacity for 400 runners and, if it sells out, could bring in more than $10,000 for the Huskies cross country team.

Race Director Taryn Heidecker says the race is so important because the Huskie cross country team struggles to fundraise like some of the more spectator-friendly university sports that charge people to watch games. Money raised from the Brainfreeze goes toward scholarships, team travel, training camps and program development.

The cost of registration for each distance is $75, which includes an ArroWhere vest.

2. There are lots of photo opportunities with special guests

Howler the Huskie mascot is expected to be at the event and available for photos before and after the race, which should start and finish beside Jake, the giant inflatable Huskie. Speedy Huskies athletes in treat-themed costumes — including a popsicle — will also be running in the event.

3. The racers are very friendly

Heidecker has volunteered with the Brainfreeze for several years and the thing he loves most about the event is the atmosphere.



Runners at the 2019 Brainsport Brainfreeze. Photo by Louis Christ.

"I really enjoy being out on the course on race day because, no matter the weather, there is always a large proportion of the participants who are happy to wave back and thank us for being there," he says. "I think that says something about the road racing culture in Saskatoon, but also the camaraderie around this event (possibly due to the weather)."

4. Even if it snows, the race crew will try to make sure the route is clear

The Brainfreeze has never been cancelled or rescheduled due to weather. Some years the weather is perfect, but last year the windchill was -33C when the race started and, in previous years, race volunteers have had to deal with dumps of snow on race day.

"This event always seems to throw an environmental element of some kind at our participants," Heidecker said. "I'm not sure how many people that end up scaring away, but I think that any road racer who has done the Brainfreeze will tell you it's all part of the fun of our event."



Runners at the 2019 Brainsport Brainfreeze. Photo by Louis Christ.

Heidecker remembers a year when what seemed to be a foot of snow fell the day before the race. Volunteers went out with shovels the morning of the event to clear paths.

"The racecourse crew has been quite proactive at limiting hazards along the course, and every year we review our list of places along the course which will likely require some salt and sand," Heidecker said.

All race distances start and end at Brainsport.

5. The food is going to be delicious

Race volunteers will be baking all the post-race snacks. The race committee wants to thank Saskatoon Co-op for in-kind donations that will allow volunteers to whip up a wide variety of tasty treats.

For more information and to register go online.
Upcoming Races




Sunday Mar. 1: Brainsport Brainfreeze
Sign up for a five-kilometre, 10-kilometre or half marathon event in support of the University of Saskatchewan's cross-country team.

Friday, Apr. 10 (Good Friday): Campbell Safety Consulting Gopher Attack (Regina)
Sign up for a 10-kilometre, half marathon or marathon distance.

Sunday, May 3: I Love Regina Run (Regina)
Sign up for a three-, five- or 10-kilometre run or walk.

Saturday, May 9: Step Up For Mental Health
Powered by Cameco, this event features five- and 10-kilometre runs and walks. Money made on registration fees is matched by Cameco and used to support mental health projects in Saskatchewan. Sign up now.

Saturday, May 9: Royal Road Race (Regina) SOLD OUT
Featuring a five- and 10-kilometre race, a five-kilometre walk, five-kilometre wheelchair event and a one-kilometre Mini-Mountie for children.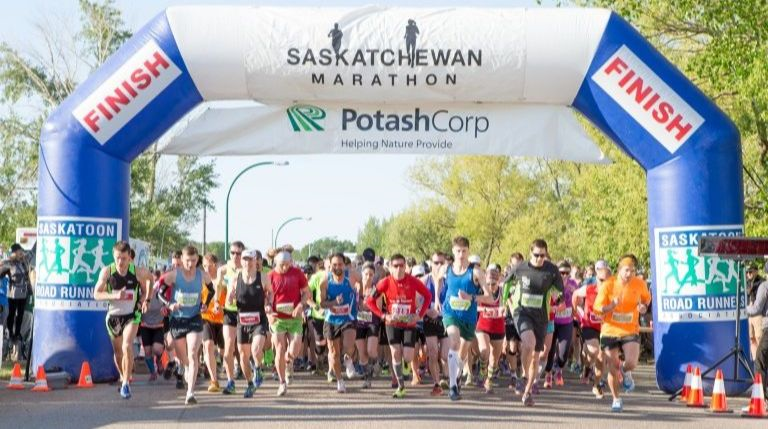 Sunday, May 31: Saskatchewan Marathon
The Saskatchewan Marathon, the oldest marathon in the province, is organized and produced each year by the Saskatoon Road Runners Association. The 2020 Saskatchewan Marathon features five-kilometre, 10-kilometre, half-marathon and marathon event distances. The Saskatchewan Marathon is a qualifier for the Boston Marathon. Sign up today.

Sunday, June 7: Run Regina First Responders Run (Regina)
Support first responder mental health initiatives in Regina by registering for a five-, 15-, or 30-kilometre race.

Wednesday, July 1: Run Regina Canada Day Run (Regina)
Celebrate Canada Day by taking part in a three- or five-kilometre fun run or walk.

Sunday, Sept 13: GMS Queen City Marathon (Regina)
Saskatchewan's largest road race has something for everyone. Sign up for a range of distances from a mini-marathon for kids to 42.2 kilometres.

See all events at the Brainsport events calendar.
Brainsport Running Academy

Half and full marathon clinic
Coach: Pat Somerville
When: Mondays at 6 p.m. from Jan. 27 to May 25 (18 weeks)
Location: Brainsport (616 10th Street East, Saskatoon)
Prerequisite: This clinic is ideal for less experienced runners or those looking to improve the previous half or full marathon time. It is recommended you be able to run 40 minutes consecutively before joining this clinic.
Register online now.

***NOTE: The McGuire's back-of-the-pack running clinic for beginners, previously advertised as a coached running academy, will now be offered as a free run club led by Mike McGuire. Interested runners can meet at Brainsport Mondays at 6 p.m.
Courses and Programs

Just Tri It training program with the Saskatoon Triathlon Club Inc.
This is an eight-week women's-only program designed to get people ready to participate in a triathlon.
When: Swims Sunday mornings starting at 8:10 a.m., bikes Monday evenings at 6:30 p.m., runs Thursdays at 6:45 p.m. The program runs March 15 to May 10.
Where: Saskatoon YWCA
Cost: $175 until Jan. 31, $200 after
For more information and to register, go online.
——————
Product of the Week
ArroWhere
All registrants in this year's Brainsport Brainfreeze will receive an ArroWhere vest, designed to keep people visible during dark runs. Not running the Brainfreeze? No problem. We have some in-store for non-racers to purchase.
n-racers to purchase.
Stay Informed
When you subscribe to the blog, we will send you an e-mail when there are new updates on the site so you wouldn't miss them.
Comments
No comments made yet. Be the first to submit a comment