It's hard to believe, but we're already nearing the end of August. The summer months have been flying by. It was just three months ago we were saying goodbye to our friend and colleague Ian Colvine as he and his wife headed off to retire in Cochrane, Alta. closer to their grandchildren. If you are Facebook friends with Ian you have likely been getting a look at what he's been up to — he often posts fun photos. For this week's Q&A we thought it would be nice to go beyond the social media posts and get caught up with Ian for this week's Q&A.

Q&A with Ian Colvine

Tara: Let's jump right into the running scene -- how is it out there? Have you found a good group of runners?

Ian: It's been three months since I retired from Brainsport and we've been in Cochrane for two and a half months now. Nice community and summer has been quite nice except maybe for the wind. It is often windy here. The first few weeks I ran on my own which was a big change from running with the Brainsport Run Club that I'd run with since 1991. I wanted to acclimatize to the altitude before joining up with a group.

Tara: What's the best part of running in that area? And what do you miss most about running here in Saskatoon?

Ian: I met a lot of great people over the years (in Saskatoon) and keep in touch with some via Facebook now. I've since joined the Cochrane Red Rock Running & Tri Club and have been out several Saturdays for a run with them and a few bike rides too. It is really hilly here of course so lots of opportunity to hill-train on the run or bike. Like Saskatoon we have a river running through town and a nice paved (hilly) trail alongside as well. Being close to the mountains it's hard to beat the scenery here. I'm really enjoying trail running here and my favourite shoe these days is the Brooks Cascadia 10. I can see why this has been such a popular shoe. They are great on pavement or dirt.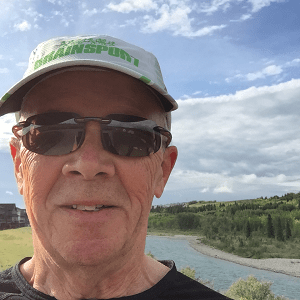 Ian just after an 11K morning run along the riverside trails in Cochrane, Alta.

Tara: You're closer to your grandchildren now — how has that been so far?

Ian: Part of our motivation to move here was to be much closer to our granddaughters. We've had lots of sleepovers this summer with more to come. It's only a 25 minute drive to see them now instead of seven hours.

Tara: What has surprised you the most about the move?

Ian: I can't really think of anything that's been a surprise. Actually the transition has been remarkably smooth, oh, maybe that's the surprise (haha).

Tara: Is there anything else you'd like to mention? Any trips to Saskatoon planned?

Ian: Might have to make a trip back to Saskatoon this Fall. Will have to make sure I've got time to come to Run Club and stock up on supplies at Brainsport. Nobody sells Gu in Cochrane and you know I like my Gu.
Upcoming Events:

Brainsport Learn to Run Clinics
Brainsport is offering two Learn to Run Clinics beginning September 28 and September 30. These eight-week clinics are designed to safely take a non-runner through a walk/run progression so that by completion participants are able to run 30 minutes at a time.

Clinics Include: Experienced coaches, proven program to follow, guest speakers, and souvenir tech shirt.

Benjamin Rempel is coaching the Monday clinic. Ben is an experienced ultra-runner. He looks forward to bringing his knowledge and experience to those looking to add running to their lifestyle.

Stacey Mortenson-Spokes is coaching the Wednesday clinic. Stacey is a three-time Boston Marathoner. She's excited to make running fun and enjoyable for our participants.

For more information and to register go to www.brainsport.ca/clinics.html.

Brainsport 10K Running Clinic

This 10-week clinic begins on September 15 and will be coached by the very-experienced Pat Sommerville.

Clinic includes: A proven program to follow, guest speakers on topics ranging from injury prevention to nutrition, plus a souvenir tech shirt. If you're wondering how you can take your training and racing to the next level, this clinic is a great way to achieve your goals.

Note: You must be able to run 25 minutes continuously for this clinic.

For more information and to register go to www.brainsport.ca/clinics.html.


Learn to Clinic - Nordic Walking
Have you ever wanted to learn more about Nordic Walking — it's an excellent cross training option. The clinic will cover: how to size poles, proper poling technique, different types of poles, how to use poles on different terrains such as grass, gravel, asphalt or indoors, how to use poles to safely descend and ascend hills, how to warm up, cool down using poles.

August 18, 20, 25 and 27 from 6:30 - 7:45 p.m. at Rotary Park
$50.00 per person
Poles are available for sale at Brainsport.

Instructors: David and Sheila Taylor, SPRA Certified, Trained in Leki and Urban Poles
To register call 306-374-3737 or email: This email address is being protected from spambots. You need JavaScript enabled to view it..

Crown The King Openwater Swim
This openwater swim race is held in Waskesiu on September 7. It features 1.6K and 4K distances. For more information click here.

Queen City Marathon
There are plenty of distance options at the Queen City Marathon with a 5K, 10K, half-marathon, mini-marathon and relay. Race dates are September 12 and 13. From more information click here.

Miles for Smiles
Support the Saskatchewan Children's Hospital Foundation at the 12th Annual Miles for Smiles on September 12. There's a 2.5K fun run, a 5K walk/run and a 10K run. For more information visit www.miles4smiles.usask.ca.

Melfort Multi-k
The 5th Annual Melfort Multi-k get's underway September 19. This event was named by Canadian Running Magazine as one of the Top 10 Fall Races to attend in Canada last year!


There's a distance for everyone: Scotiabank 1K Fun Run Free for 150 kids 10 and under. 5K and 10K walk/run and 21.1 K run. For more information go to www.melfortmultik.ca.

The 8th Annual KIN Spin Walk, Run, and Roll
This event raises money for the College's Special Needs Trust Fund, which provides much needed funding for Special Needs programming within the College. September 19 at the University of Saskatchewan Bowl.
To register go to: https://give.usask.ca/online/kinspin.php

SRRA Trail Series - Race #3 Blackstrap
The Saskatoon Road Runners Association Trail Series ends on September 20 with a race at Blackstrap. Distances are approximately 5K, 10K, 15K. For more information and to register click here.

Before wrapping it up here's a photo sent to us by Team Brainsport coach, Jen Kripki. This is team at the Berry Barn after a 30K run.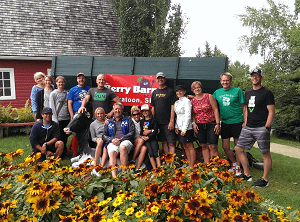 Thanks for reading the Times this week . . .gotta run . . . Tara