Last week's sale was a great success and such an energizing week! Thanks to everyone who came out to take part. It was very cool to see so many people investing in their health and being active — "Walk, Run, Live!"

In this week's Q&A we are talking about a run you may, or may not have, heard of. Either way we think you should know more about the Day of the Dead Fun Run. It's founded and organized by Lisette and her husband, Neil. They are both super passionate about it — check out my conversation with Neil.

Q&A with Neil Boone

Tara: For readers out there who aren't familiar with the run, what are the basics: location, distance, terrain, etc.?

Neil: The run is always in the evening on November 1. The route is about a 5K loop and runners have the option of doing one or two laps. The route changes a bit each year to use some of the great trails out at Blackstrap. It's always in the dark though, and that makes it pretty unique. It doesn't have anything to do with zombies! The Day of The Dead holiday is like the flip side of Halloween. The ghosts are your friends and family and the day is about staying connected with them.

Tara: What gave you the idea to start this run?

Neil: We heard about all kinds of different Day of The Dead celebrations around the world, and lots of them include a parade or walk to a cemetery. We thought, that's a cool idea for a run. The first couple of years even included a cemetery on the trail, but we moved the run out to Blackstrap a few years ago.

Tara: What motivates you every year to organize the event?

Neil: The runners do! They have so much fun with the theme and we have so much fun entertaining them.

Tara: Who should sign up for this event? Are kids welcome?

Neil: It's not a competitive event, but the people signing up should be prepared to climb some hills and work a little. For lots of runners this is their first trail event. They're often surprised by how tough it is, and we're always surprised by how fast people run it. Kids are welcome, but they should have an adult with them during the run.

Tara: Is there anything else you'd like to add about the run?

Neil: You can enter online by going to mudfirstracing.com and following the link. We'll have paper entries available at Brainsport too if you want to use cash or a cheque. If you want to be guaranteed your t-shirt size, you'll need to enter before October 1. We always need a few volunteers to help make it happen too, so if you want to be involved without running, we'd love to have your help.

Upcoming Events:

All Party Marathon
On Wednesday September 2 at 5:45 p.m. you are invited to participate at the "All Party Marathon" at Brainsport. Come out to Running and Walking Club and go for a run/walk with local federal election candidates. Afterwards you'll have the opportunity to chat with the candidates over refreshments. The goal of this event is to promote all citizens to take an interest in federal politics and have an opportunity to meet all the candidates running in the 2015 election.


Brainsport Learn to Run Clinics
Brainsport is offering two Learn to Run Clinics beginning September 28 and September 30. These eight-week clinics are designed to safely take a non-runner through a walk/run progression so that by completion participants are able to run 30 minutes at a time.

Clinics Include: Experienced coaches, proven program to follow, guest speakers, and souvenir tech shirt.

Benjamin Rempel is coaching the Monday clinic. Ben is an experienced ultra-runner. He looks forward to bringing his knowledge and experience to those looking to add running to their lifestyle.

Stacey Mortenson-Spokes is coaching the Wednesday clinic. Stacey is a three-time Boston Marathoner. She's excited to make running fun and enjoyable for our participants.

For more information and to register go to www.brainsport.ca/clinics.html.

Brainsport 10K Running Clinic

This 10-week clinic begins on September 15 and will be coached by the very-experienced Pat Sommerville.

Clinic includes: A proven program to follow, guest speakers on topics ranging from injury prevention to nutrition, plus a souvenir tech shirt. If you're wondering how you can take your training and racing to the next level, this clinic is a great way to achieve your goals.

Note: You must be able to run 25 minutes continuously for this clinic.

For more information and to register go to www.brainsport.ca/clinics.html.


Learn to Clinic - Nordic Walking
Have you ever wanted to learn more about Nordic Walking — it's an excellent cross training option. The clinic will cover: how to size poles, proper poling technique, different types of poles, how to use poles on different terrains such as grass, gravel, asphalt or indoors, how to use poles to safely descend and ascend hills, how to warm up, cool down using poles.

August 18, 20, 25 and 27 from 6:30 - 7:45 p.m. at Rotary Park
$50.00 per person
Poles are available for sale at Brainsport.

Instructors: David and Sheila Taylor, SPRA Certified, Trained in Leki and Urban Poles
To register call 306-374-3737 or email: This email address is being protected from spambots. You need JavaScript enabled to view it..

Crown The King Openwater Swim
This openwater swim race is held in Waskesiu on September 7. It features 1.6K and 4K distances. For more information click here.

Queen City Marathon
There are plenty of distance options at the Queen City Marathon with a 5K, 10K, half-marathon, mini-marathon and relay. Race dates are September 12 and 13. From more information click here.

Miles for Smiles
Support the Saskatchewan Children's Hospital Foundation at the 12th Annual Miles for Smiles on September 12. There's a 2.5K fun run, a 5K walk/run and a 10K run. For more information visit www.miles4smiles.usask.ca.

Family-Friendly Fitness
This 8-week (September 9 - October 31) program targets individuals who are new to exercise right up to runners and triathletes hoping to gain strength, alignment, and fitness in the off-season. We'll use TRX suspension straps, Pilates-based exercises, Medicine Balls, and more in cardio-strength circuits and fun outdoor workouts sure to get your heart pumping. While participating as couples and families is not a requirement, this program is designed to be "family friendly" with reduced cost for couples/families and kid-friendly activities like scavenger hunts. Program led by Coach Carly Priebe (Ph.D. Kinesiology, 10 plus years experience coaching triathlon, running, and promoting fitness, and mother of two little ones). Visit www.transitionsportandfitness.ca for more information. Register at: https://www.registrationlogic.com/secure/Registration.aspx?E=1808

The 8th Annual KIN Spin Walk, Run, and Roll
This event raises money for the College's Special Needs Trust Fund, which provides much needed funding for Special Needs programming within the College. September 19 at the University of Saskatchewan Bowl.
To register go to: https://give.usask.ca/online/kinspin.php

SRRA Trail Series - Race #3 Blackstrap
The Saskatoon Road Runners Association Trail Series ends on September 20 with a race at Blackstrap. Distances are approximately 5K, 10K, 15K. For more information and to register click here.

Before I sign off today — a quick note. As some of you may know I write a weekly blog for Canadian Running Magazine chronicling my journey back into competitive sport. In addition to that I also write for their print publication. Most recently I had the exciting opportunity to write about the best running city in the country — the Bridge City! The latest edition of Canadian Running Magazine, which includes this feature, is now available at Brainsport!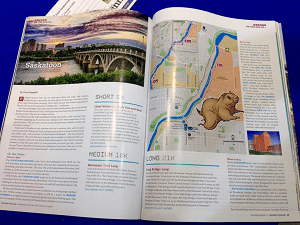 Thanks for reading the Times this week . . .gotta run . . . Tara